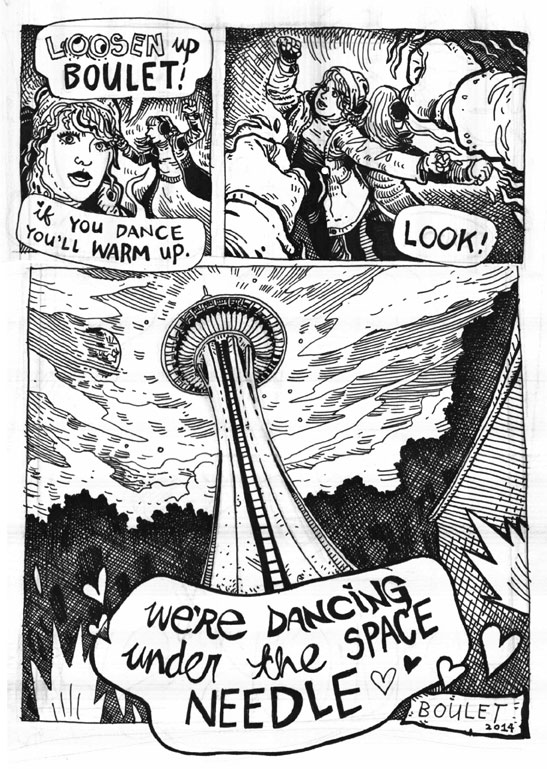 Boulet loves his mom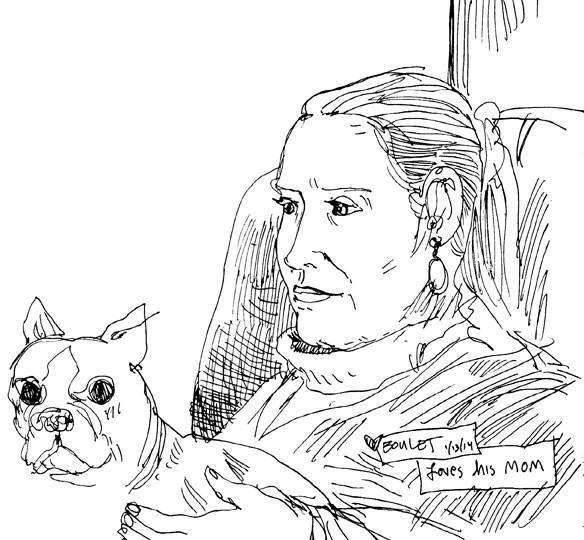 but not necessary her dog
well, maybe a little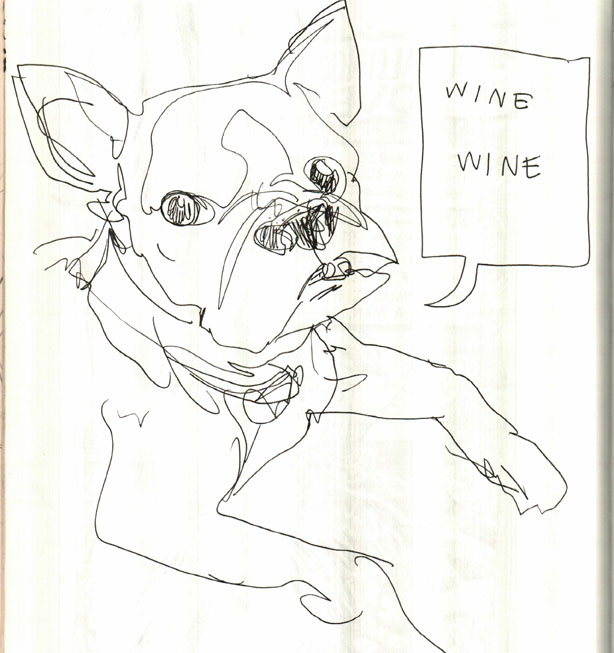 Buckshot
New comic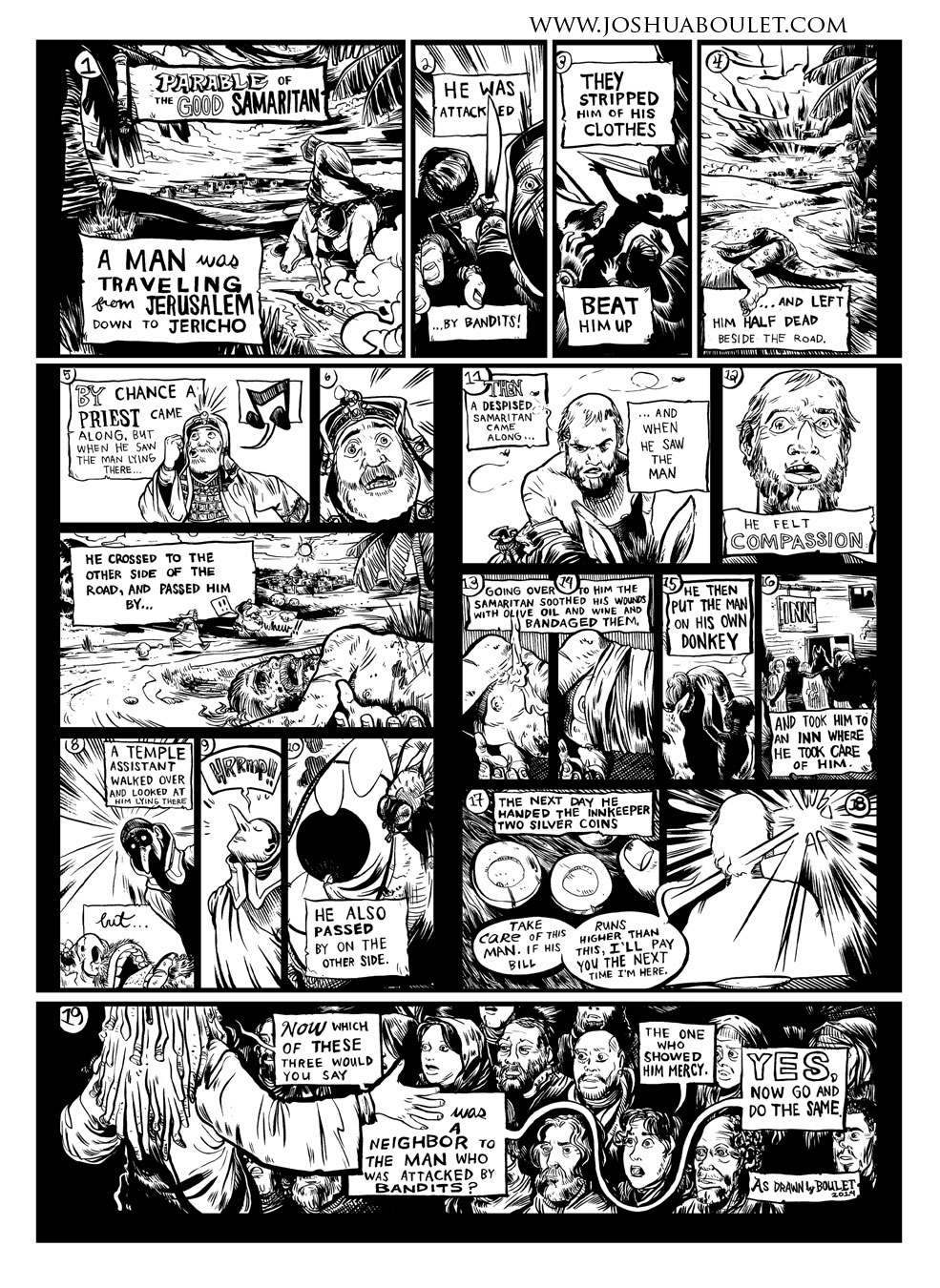 THE POST ALLEY ART TAKE OVER
12.12.13
What happened last night in Seattle Washington.
A group of artists gather at the famous Pike Market/ Post alley. The plan is to remove the gum from the "art wall", designate both gum wall and art wall, and then paste our art all over the Post Alley Art wall. Hence the TAKE OVER.
Hitting metal on cement, the girls get dirty first- showing up all us boys.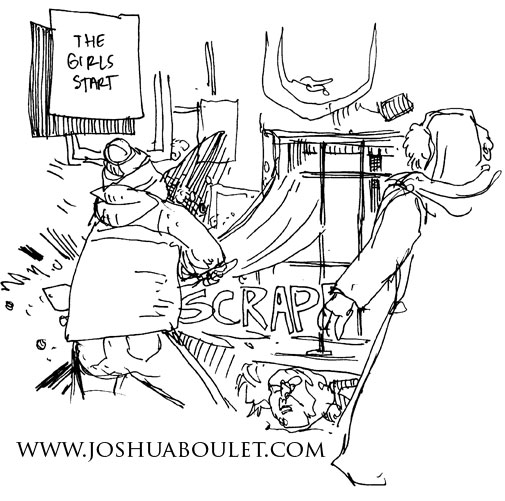 Security doesn't mind, cause it's kinda like a community service we're doing, but with art as our reward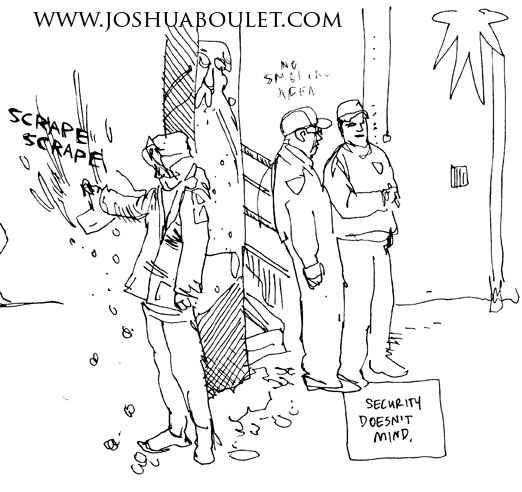 Justin sweeps, and sings.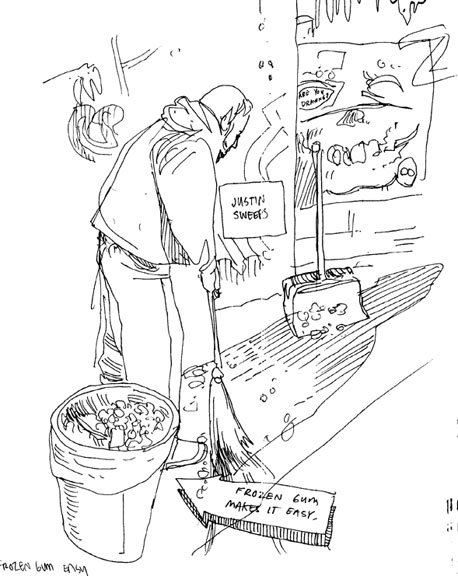 The art is laid out and ready to be wheat pasted on Post Alley.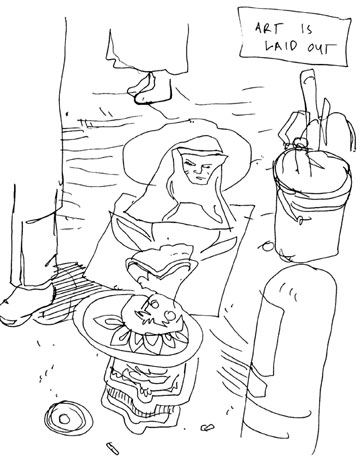 And now we're ready for something....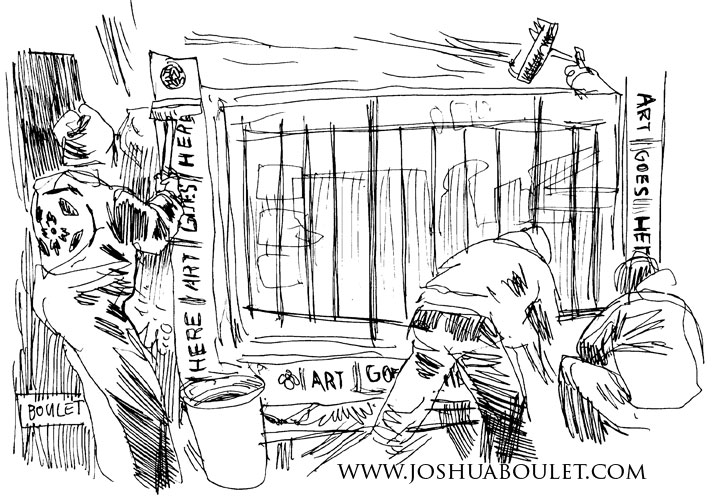 BEAUTIFUL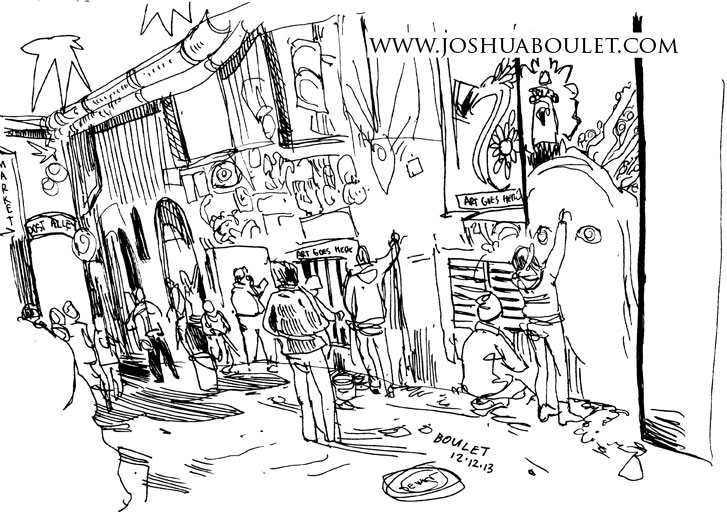 UPDATED 12.10.2013
I did the cover for the new NW Leaf,a nd they liked it so much they did an spread on me
use this Paypal button to get a copy of the NorthWest Leaf with BOULET
I'll sign it for you. WARNING: this is a PRO Cannabis Mag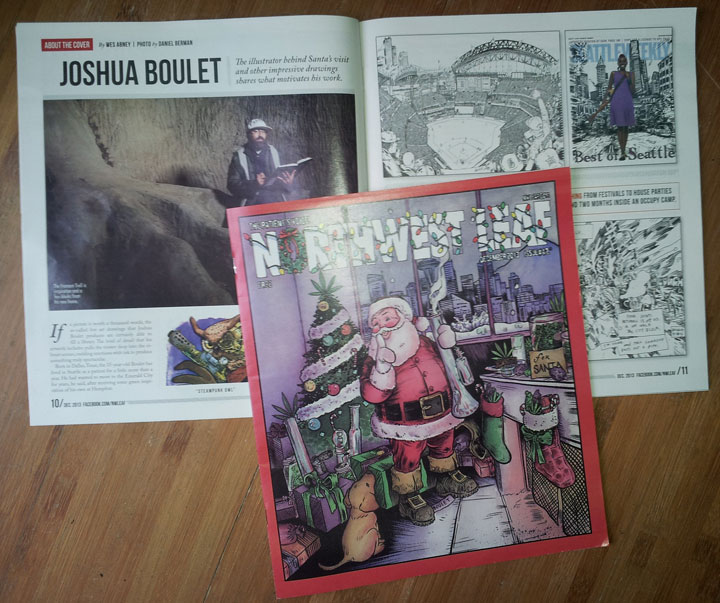 use this Paypal button to get a copy of the NorthWest Leaf with BOULET
UPDATED 10.21.2013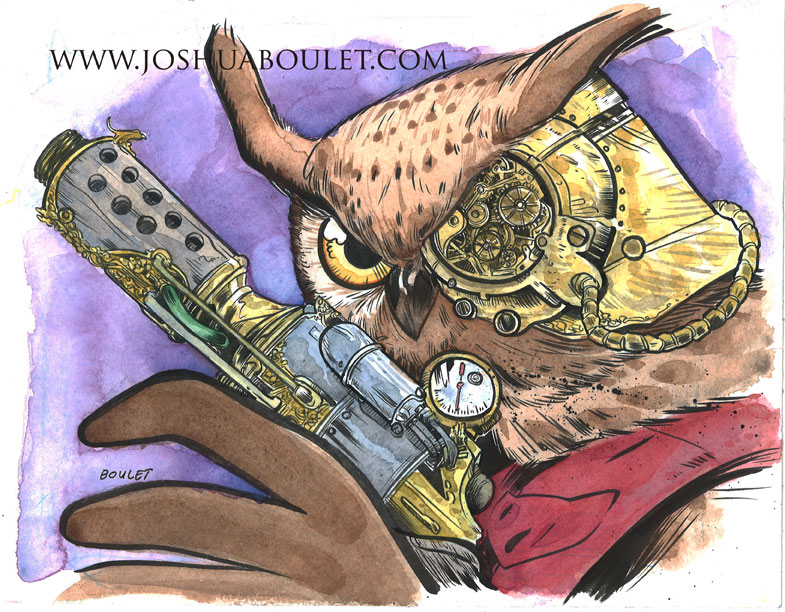 UPDATED 10.12.2013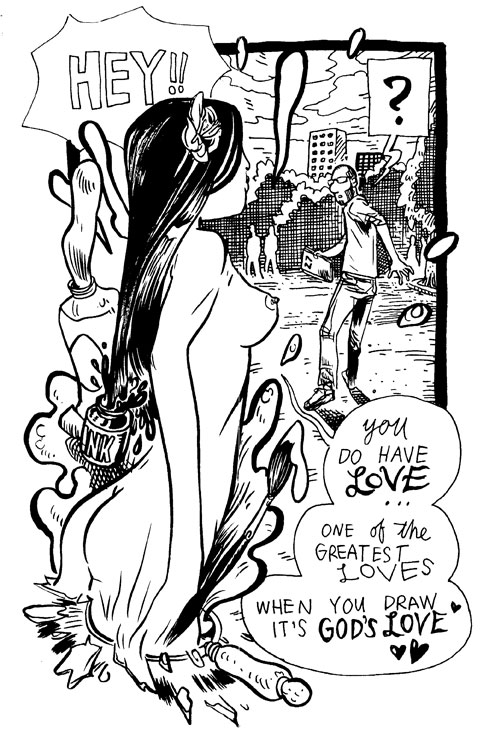 NEW COMIC!!!!
http://www.joshuaboulet.com/Seattle/something_beautiful.htm
UPDATED 09.19.2013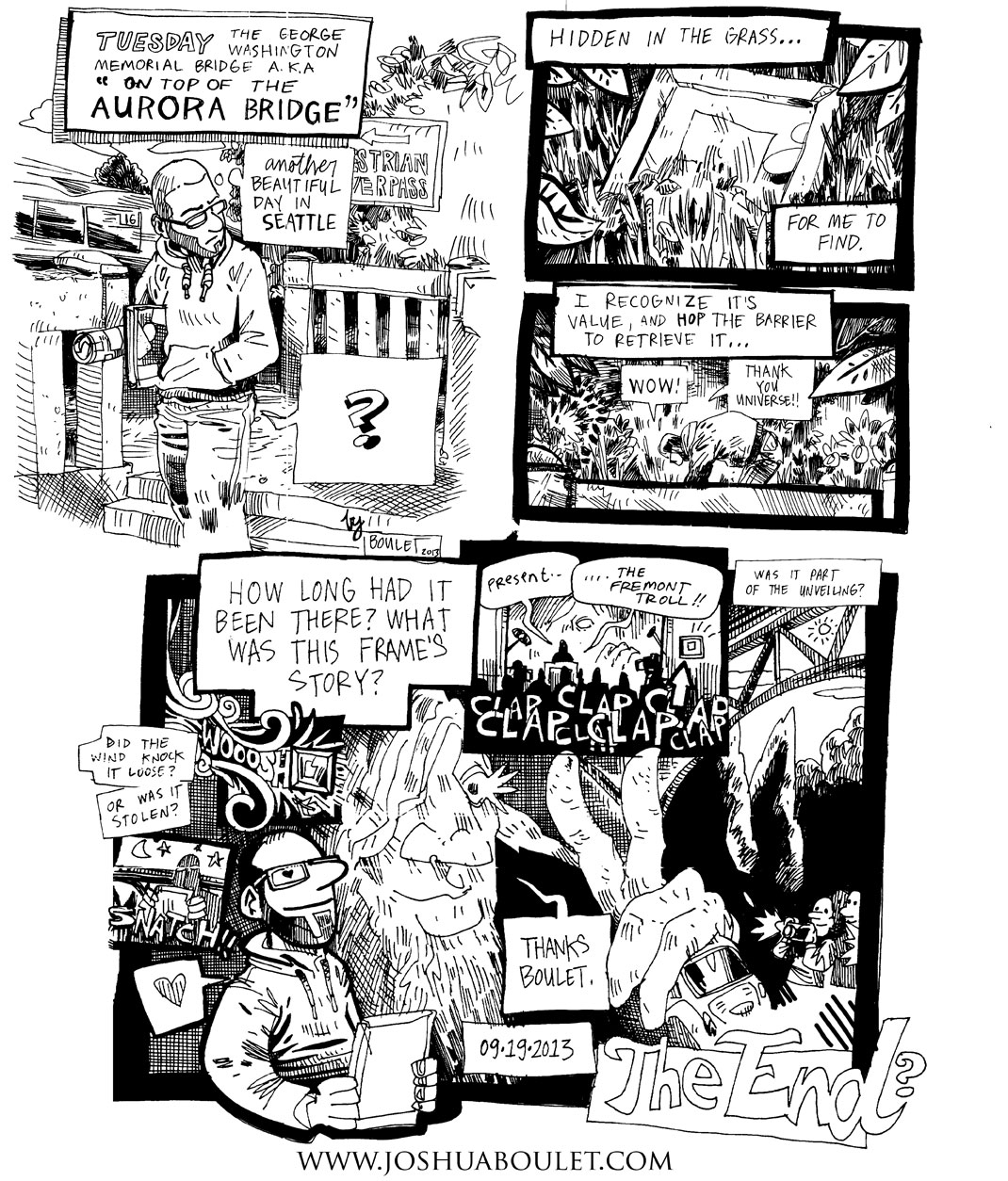 The frame the comic is about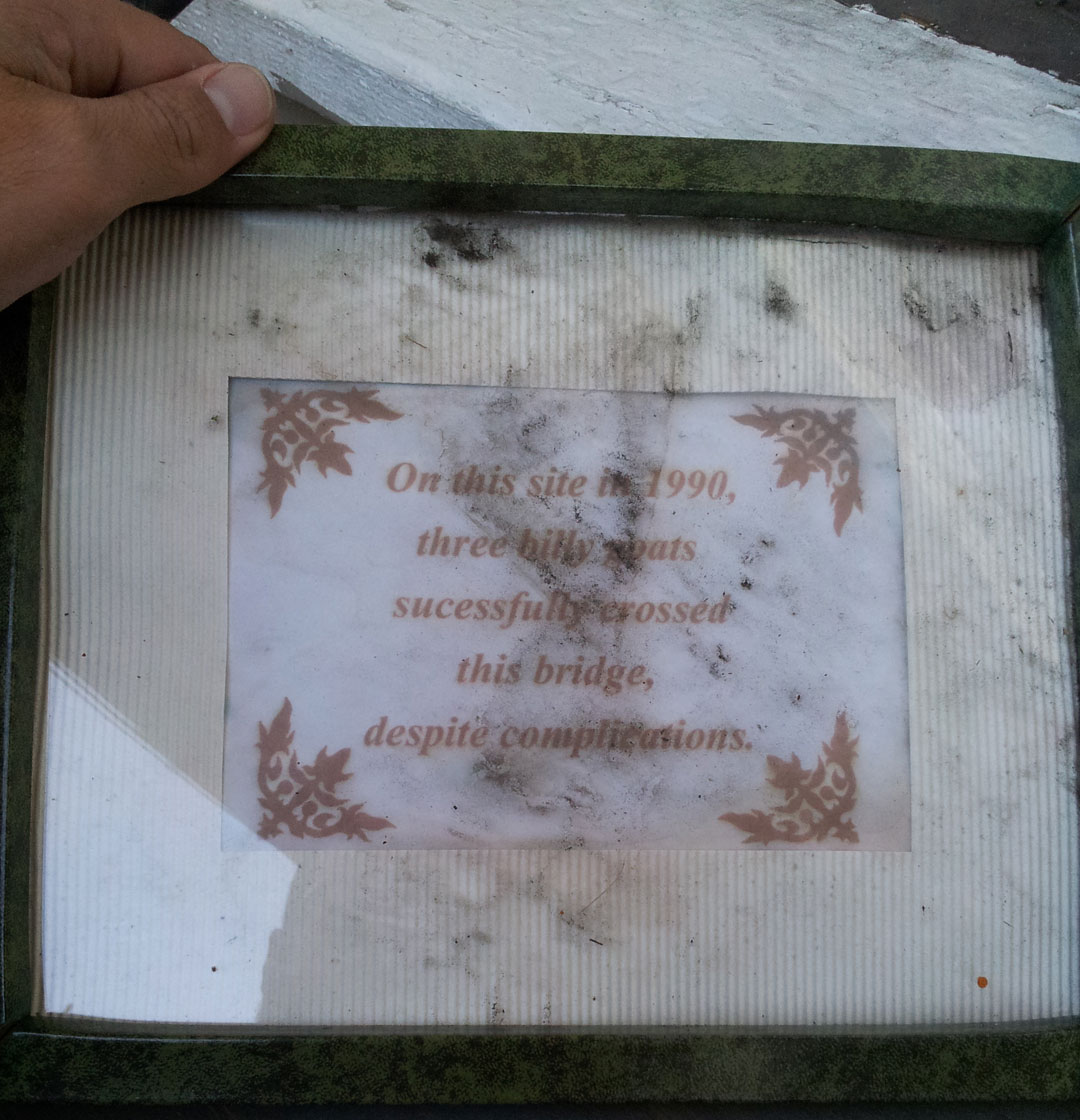 The Auroa Bridge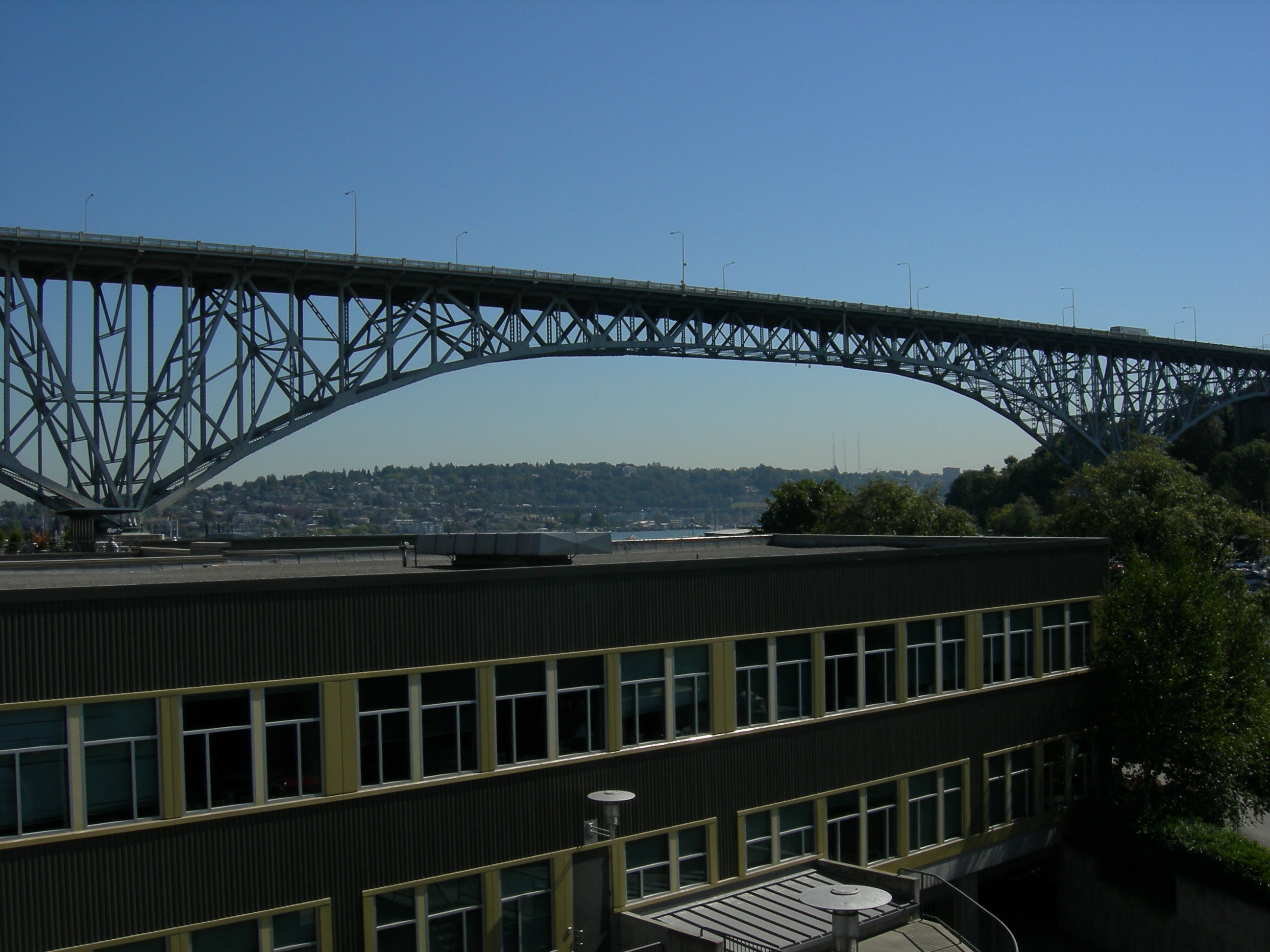 UPDATED by BOULET 08.23.2013
PORTLAND 2013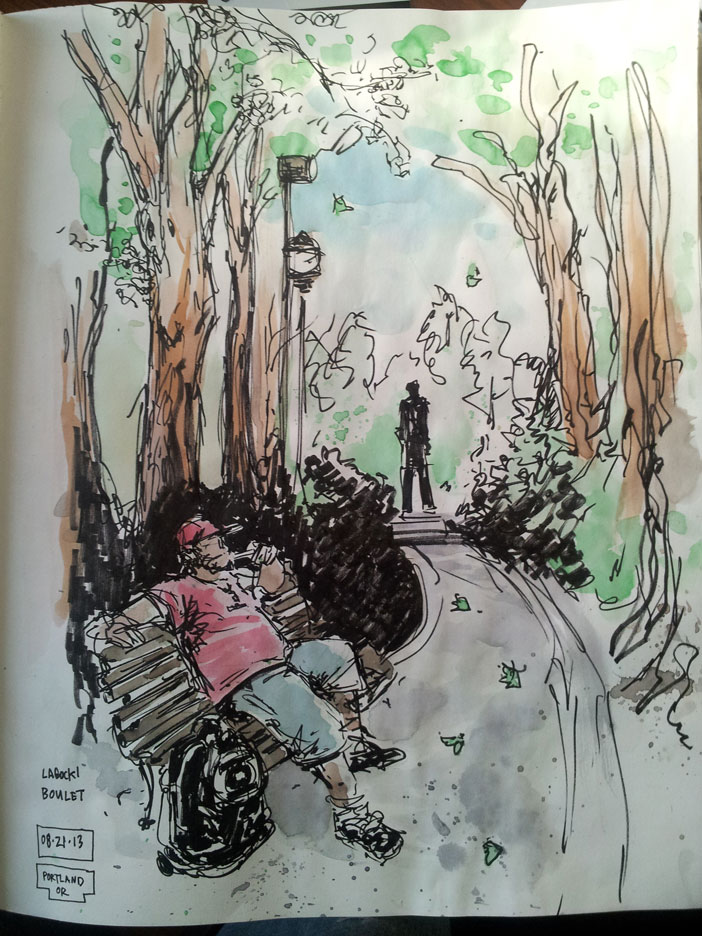 We've just arrive in Portland. A quick walk around the city, and then a short break to draw.
Inks my Lagocki. Watercolors by Boulet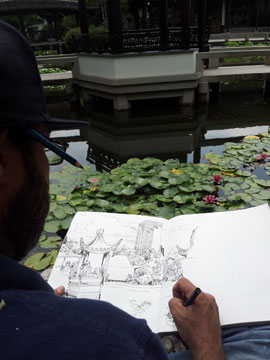 Chinese Gardens Portland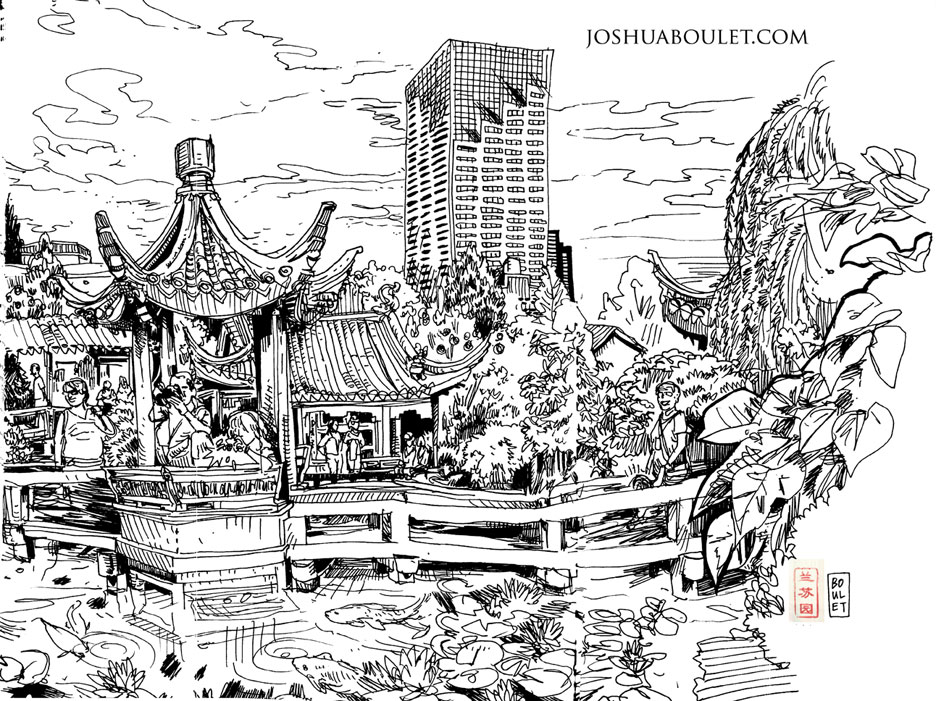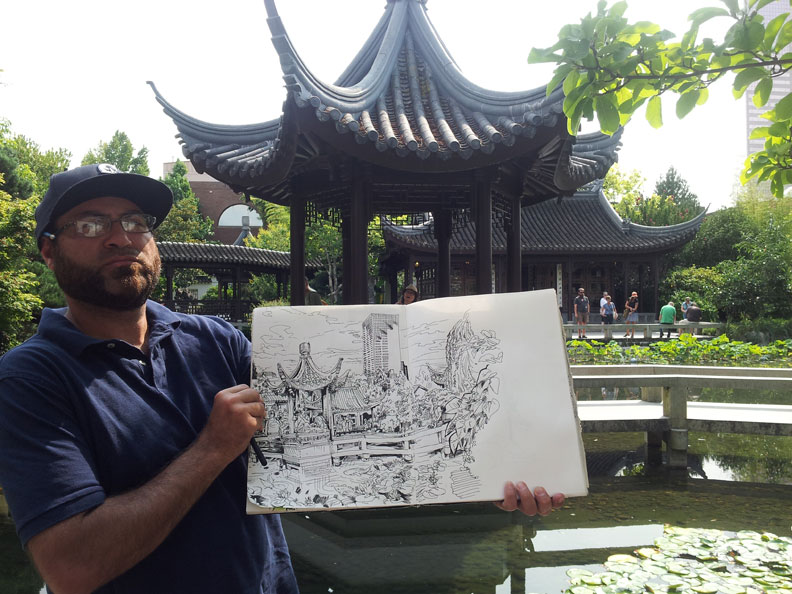 This Dragon Fly chilled on the BlackBook long enough for Mike and I to both draw em.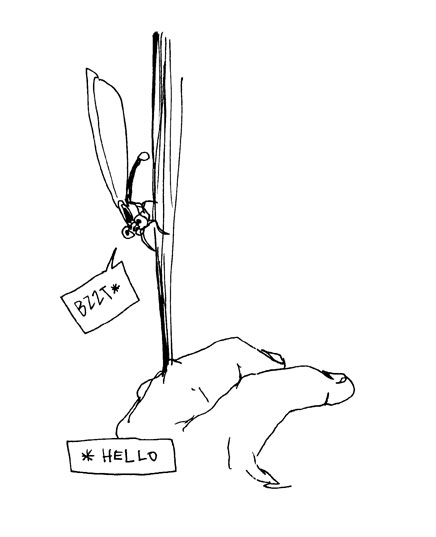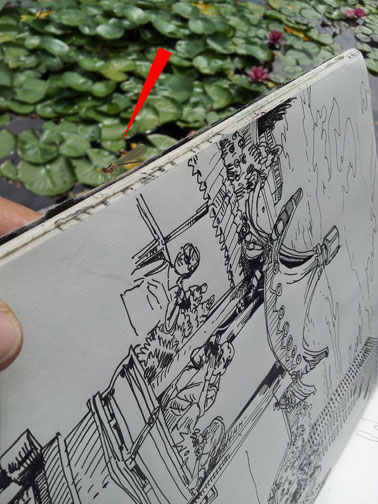 The Gorilla Draws.....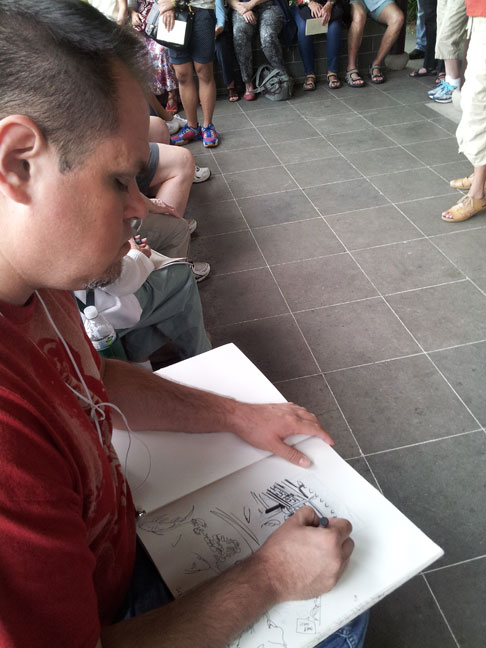 The Chinese Gardens by Mike. BlackBook 25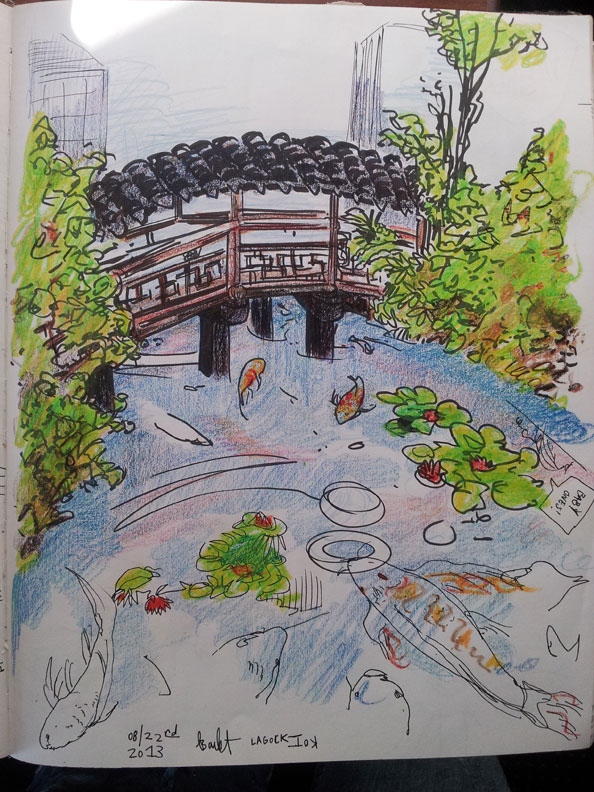 After spending a few hours in the garden, we take time to walk around ROSE CITY.
A cute blonde suggests we check out VOODOO DONUTS. supposedly they're famous.
All right. I GPS it and we head that way, to get a maple bacon dough- WHAT?
VOODOO DOUGHNUTS - NEITHER MIKE NOR I WANT TO WAIT IN THAT LINE.
No doughnut can be worth that.... right?
maybe next time time.....
Next we get blessings and enter Portland's WORLD FAMOUS CANNABIS CAFE.
of course we came to draw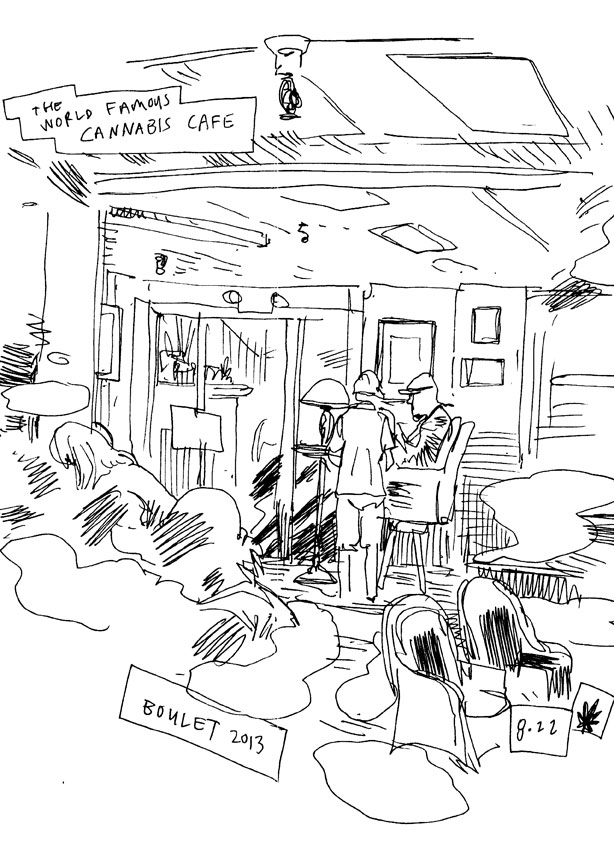 Mike's Drawing: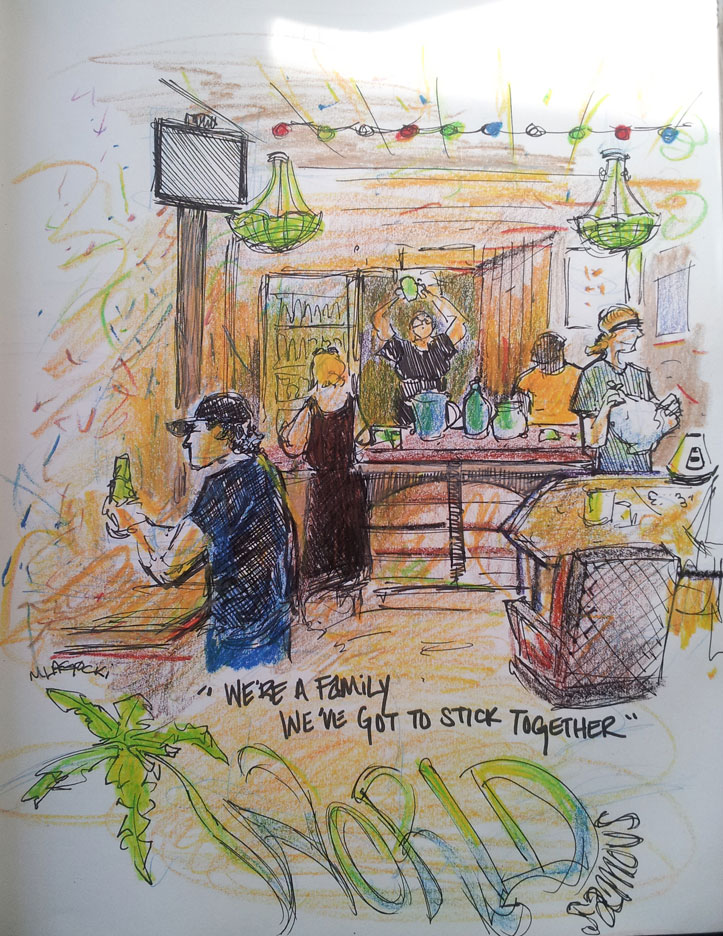 Madeline, the boss, lets us know she enjoyed out company, and we enjoyed hers.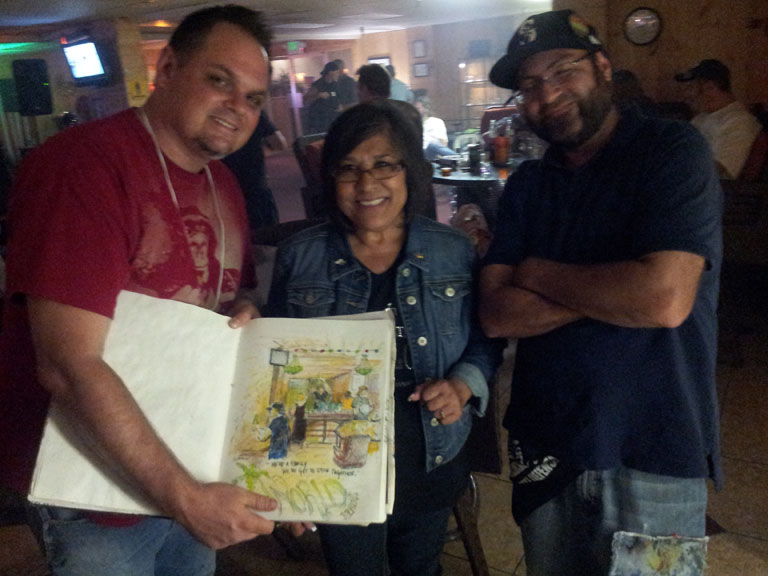 My Drawing of the Cafe and House Band;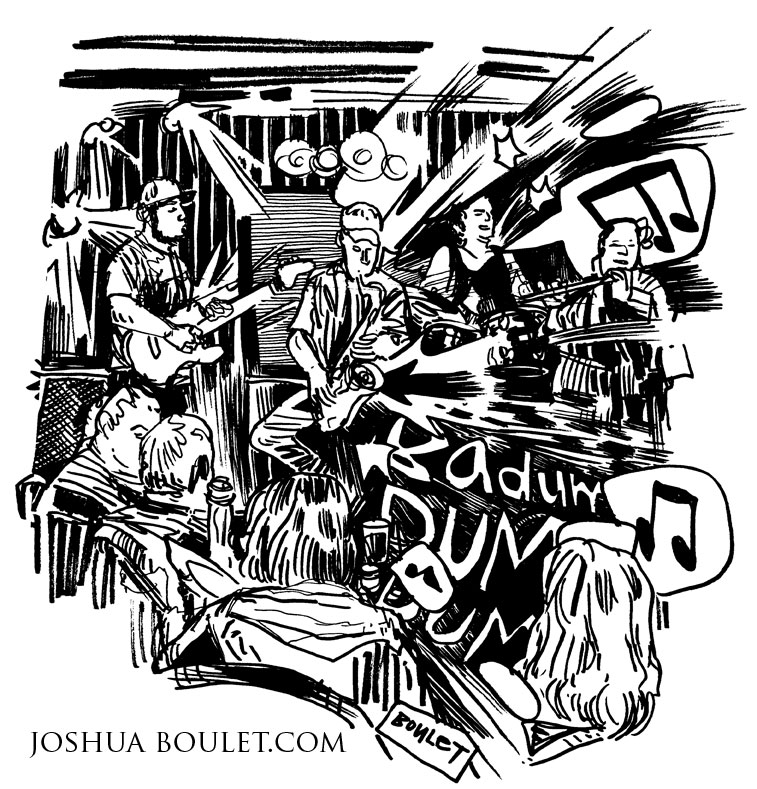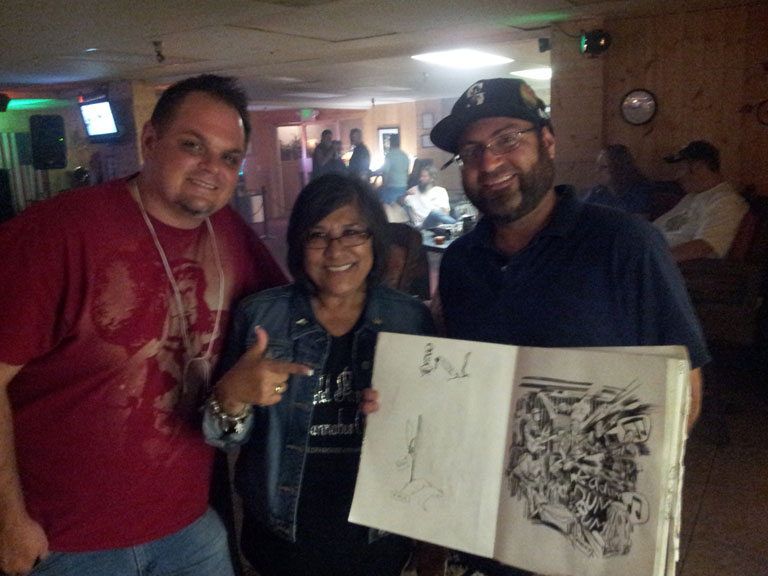 Despite being a self destructive artist, I love myself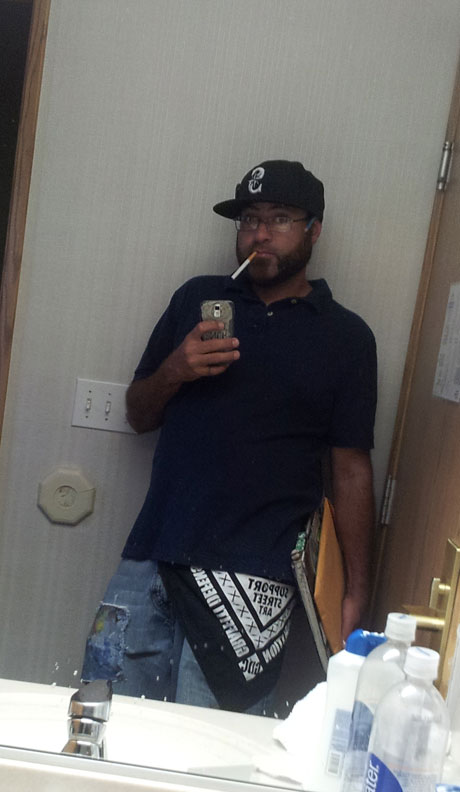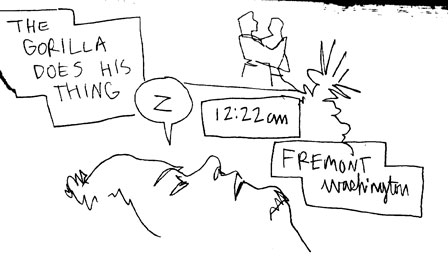 UPDATED by BOULET 08.17.2013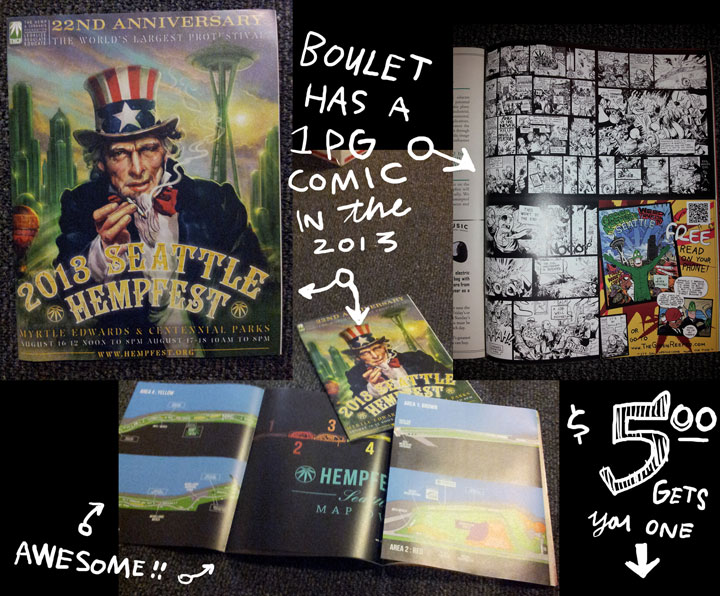 Use this PayPal button below to order the 2013 Hempfest guide
Joshua Boulet is published in the Seattle Weekly newspaper!!
Don't live in Seattle, but want a copy? Use this PAYPAL button below.
$5 covers shipping and I'll throw in a few extra goodies, and sign the newspaper.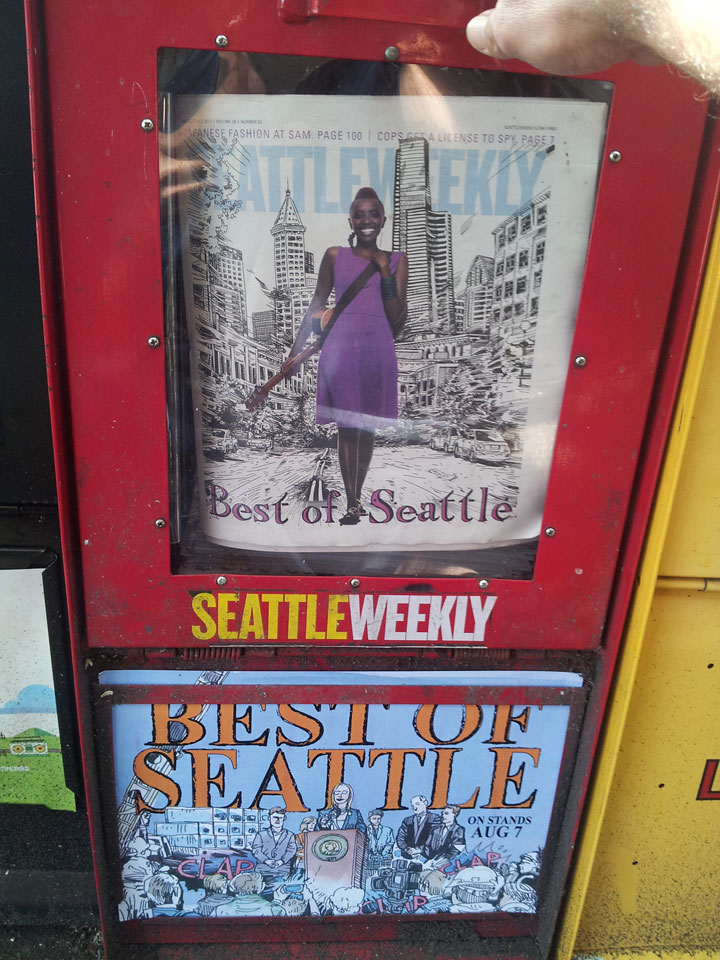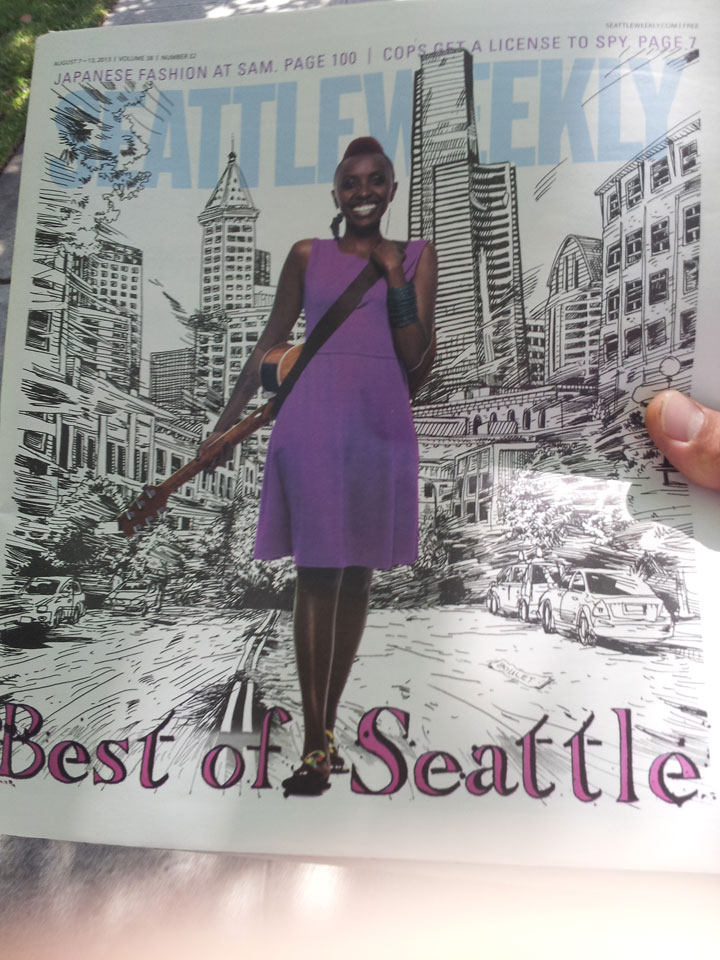 UPDATED by BOULET 08.04.2013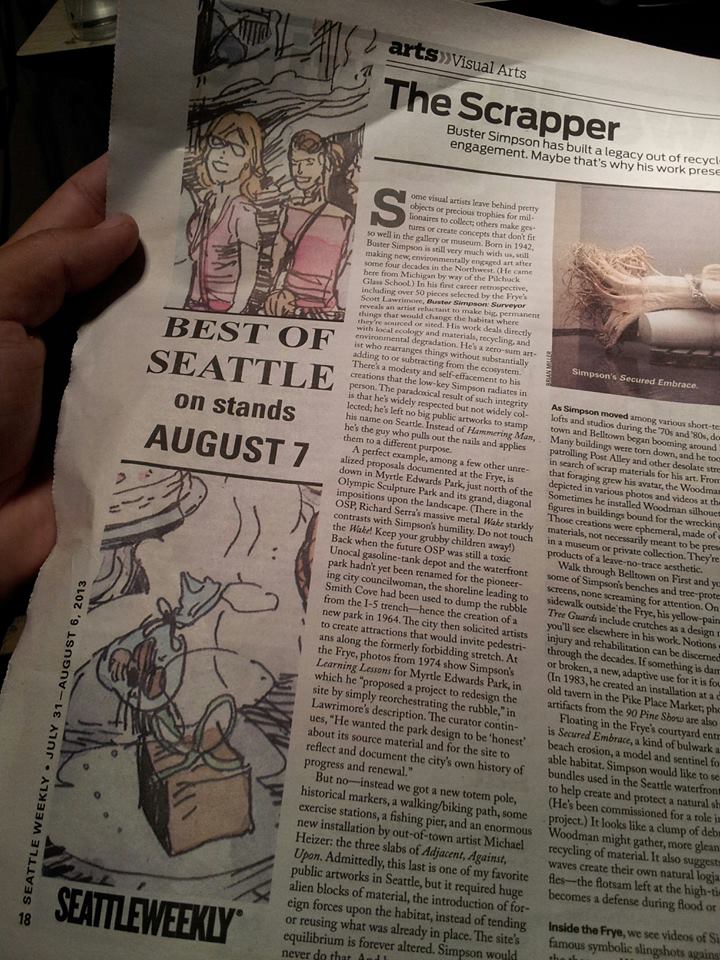 UPDATED by BOULET 07.15.2013
Sub-Pop Jubilee in Georgetown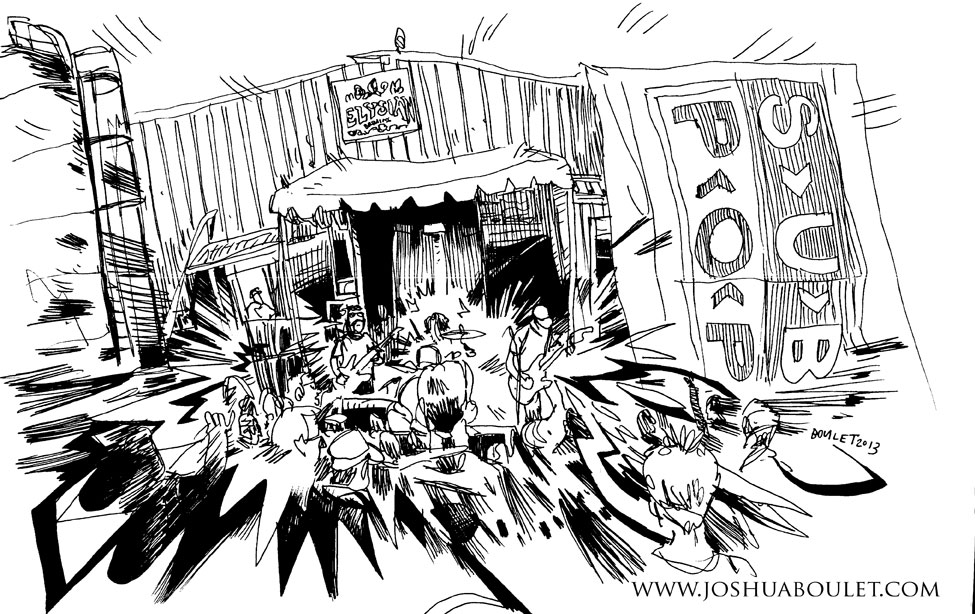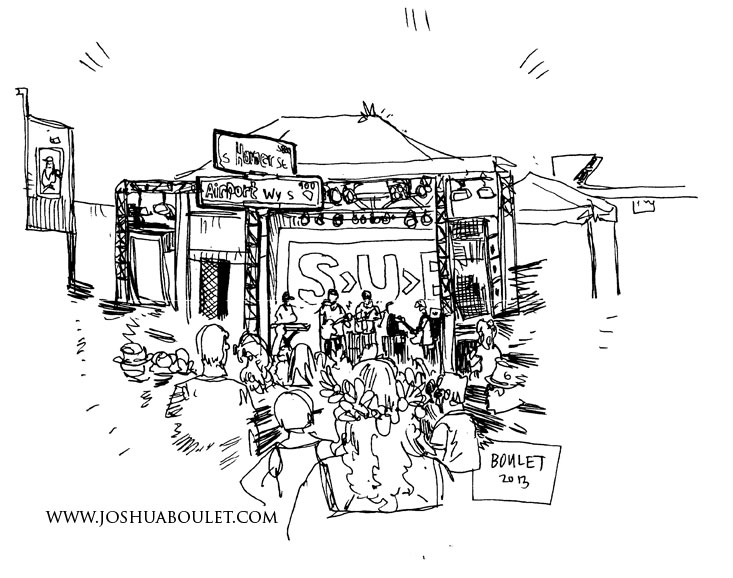 UPDATED by BOULET 07.12.2013
Hanging on the corner of 52nd and broadway.
Cars pass me by, but none of them seem to be going my way
NEW YORK CITY, well I wish I was on the highway
baaaack to Olympia Wa
Rancid in Seattle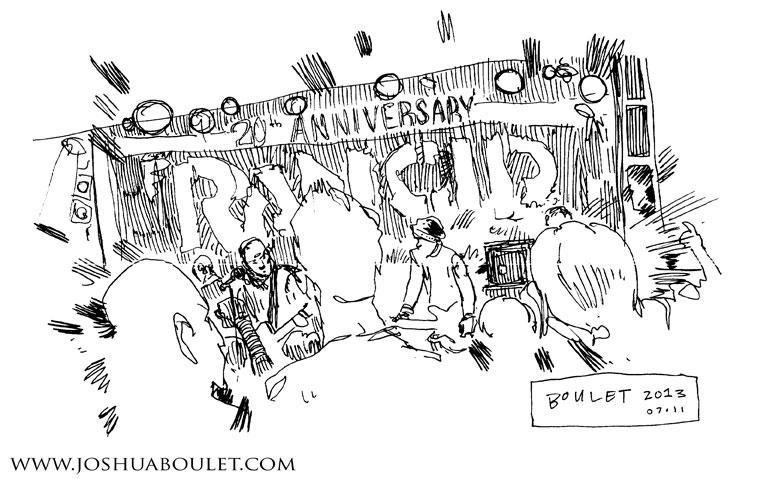 UPDATED by BOULET 07.08.2013
WOW. I've never colored one of these drawings. Fun, but a lot of work
For the Olympia Hempfest 07/26/2013.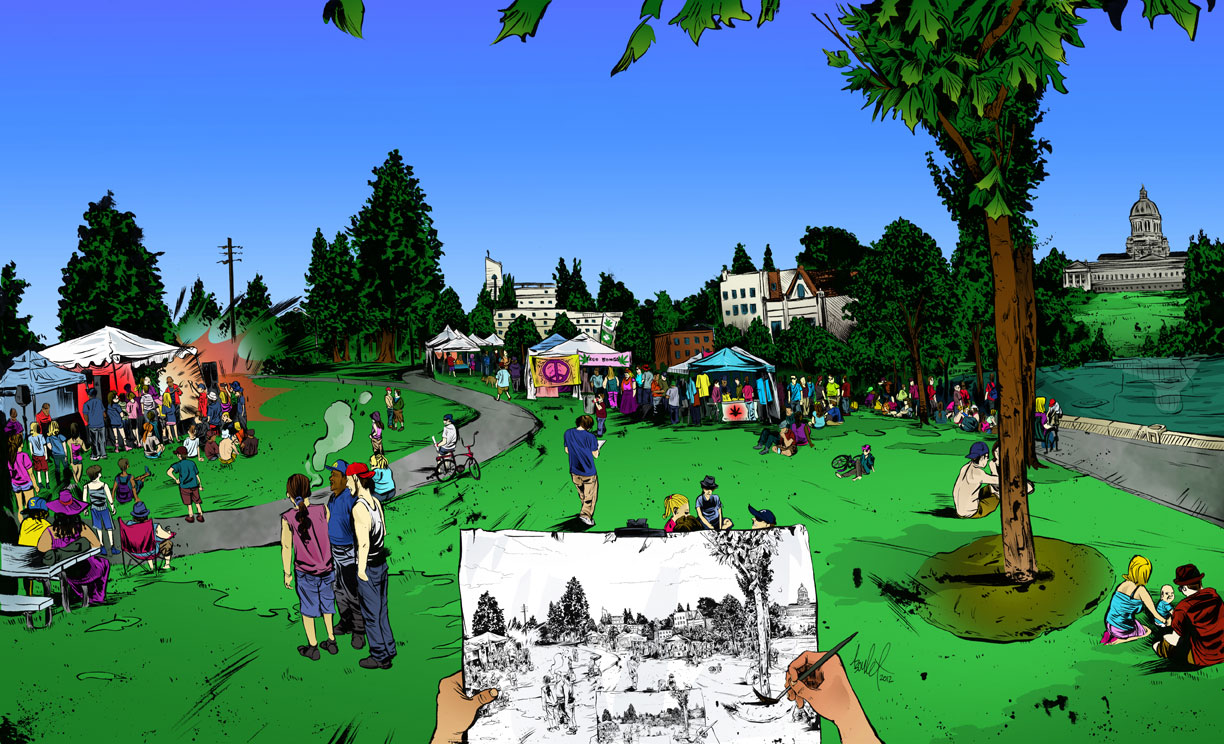 UPDATED by BOULET 06.26.2013
FREMONT FAIR - SUMMER SOLSTICE- SEATTLE WASHINGTON. LOVE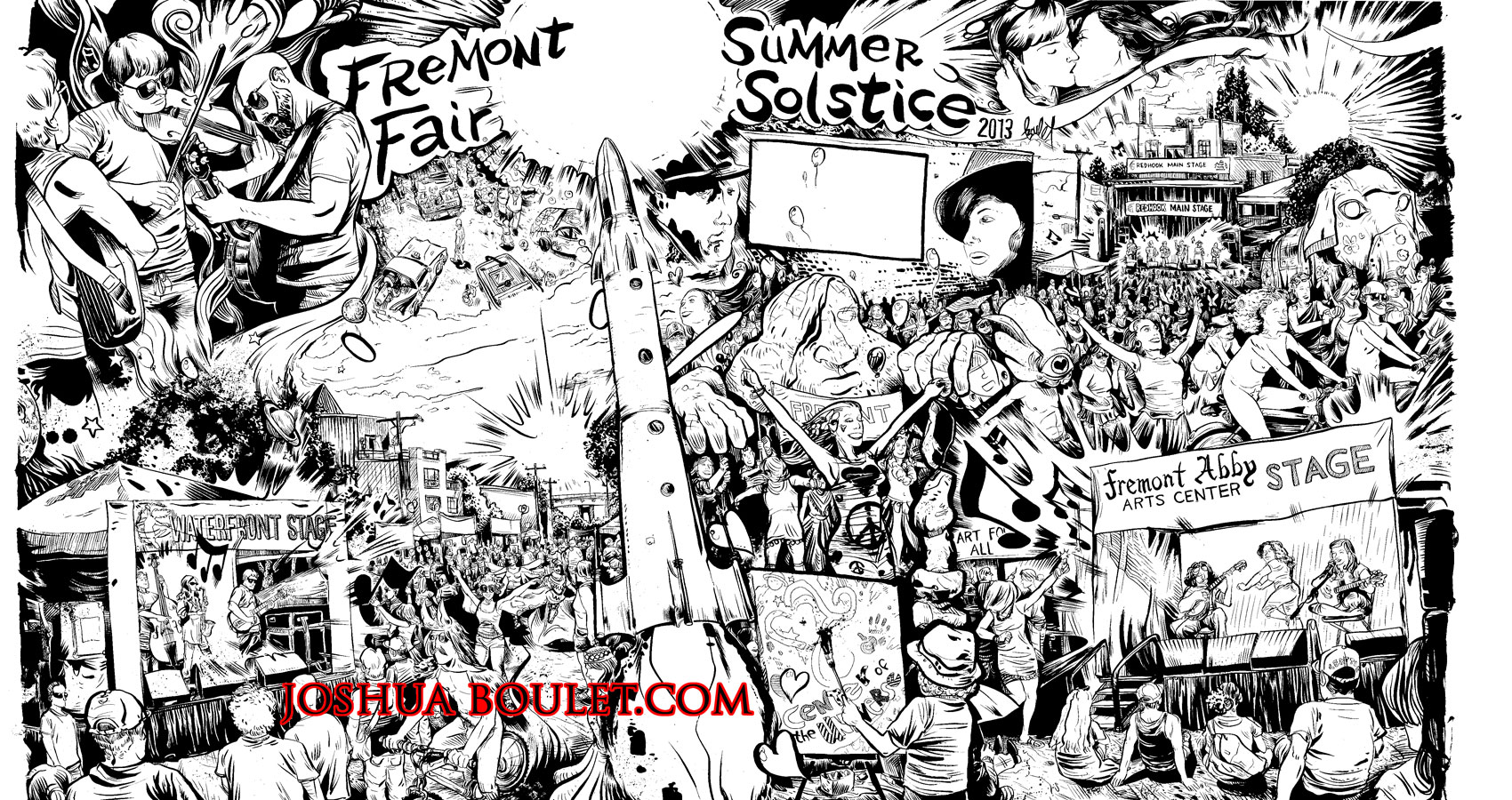 UPDATED by BOULET 06.26.2013
FREMONT FAIR - SUMMER SOLSTICE- SEATTLE WASHINGTON. LOVE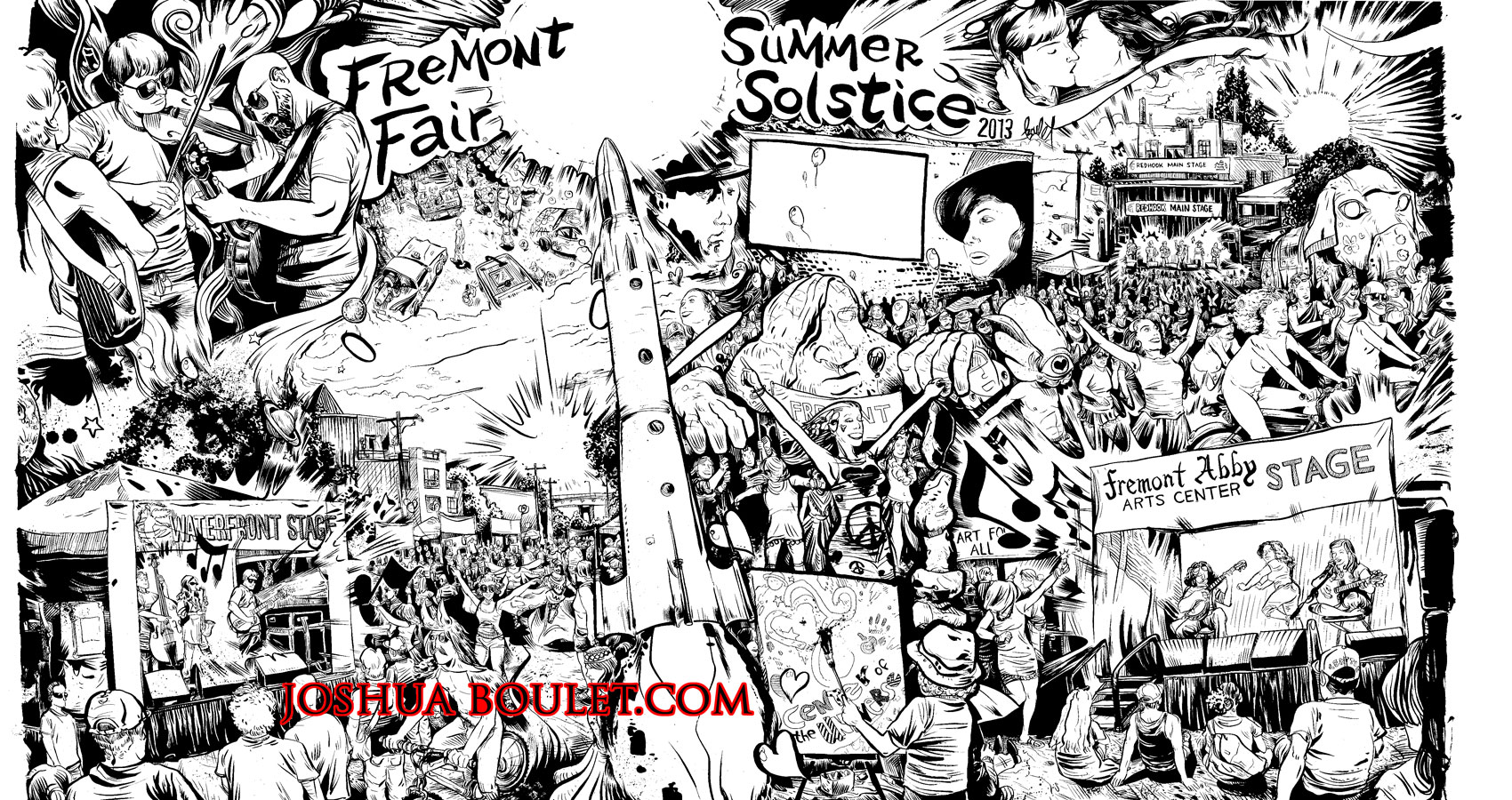 UPDATED by BOULET 06.21.2013
Oshra Naga and Mary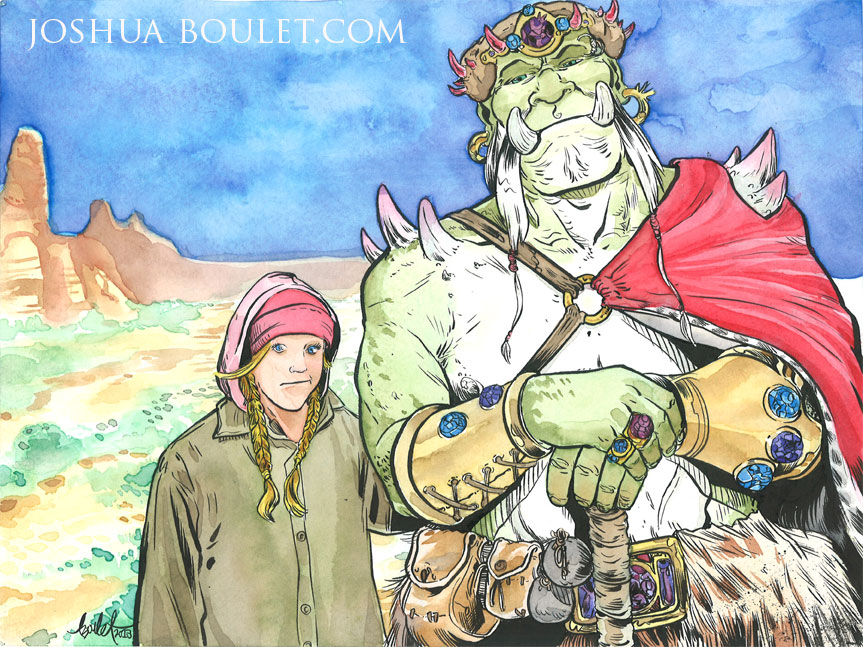 UPDATED by BOULET 05.08.2013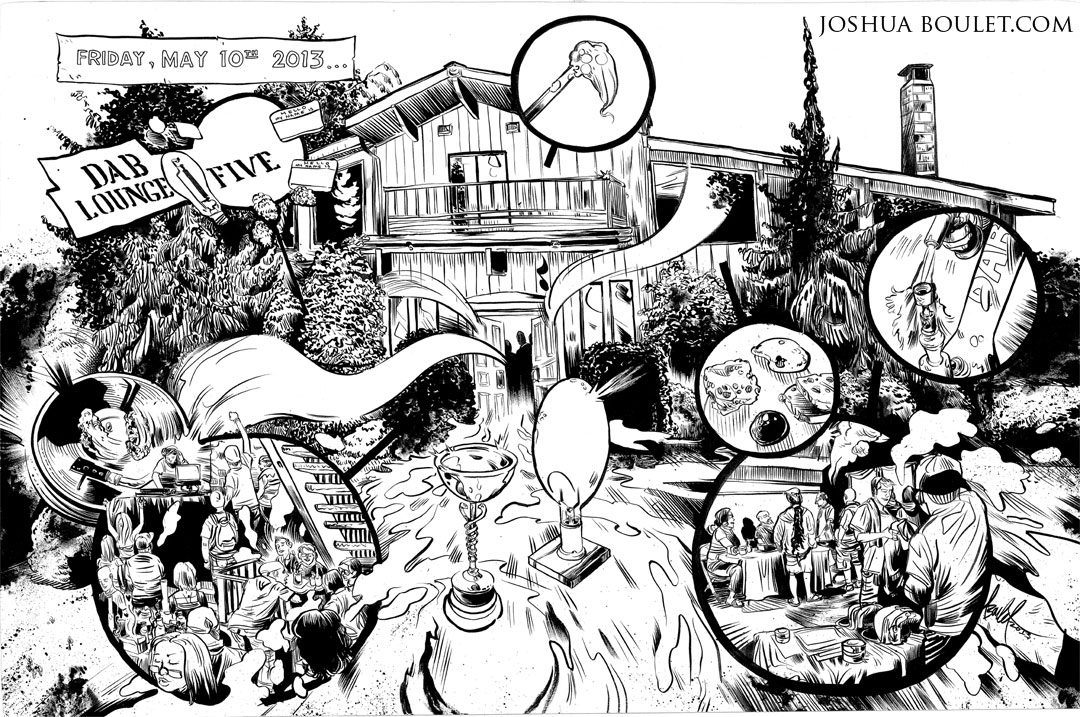 UPDATED by BOULET 05.08.2013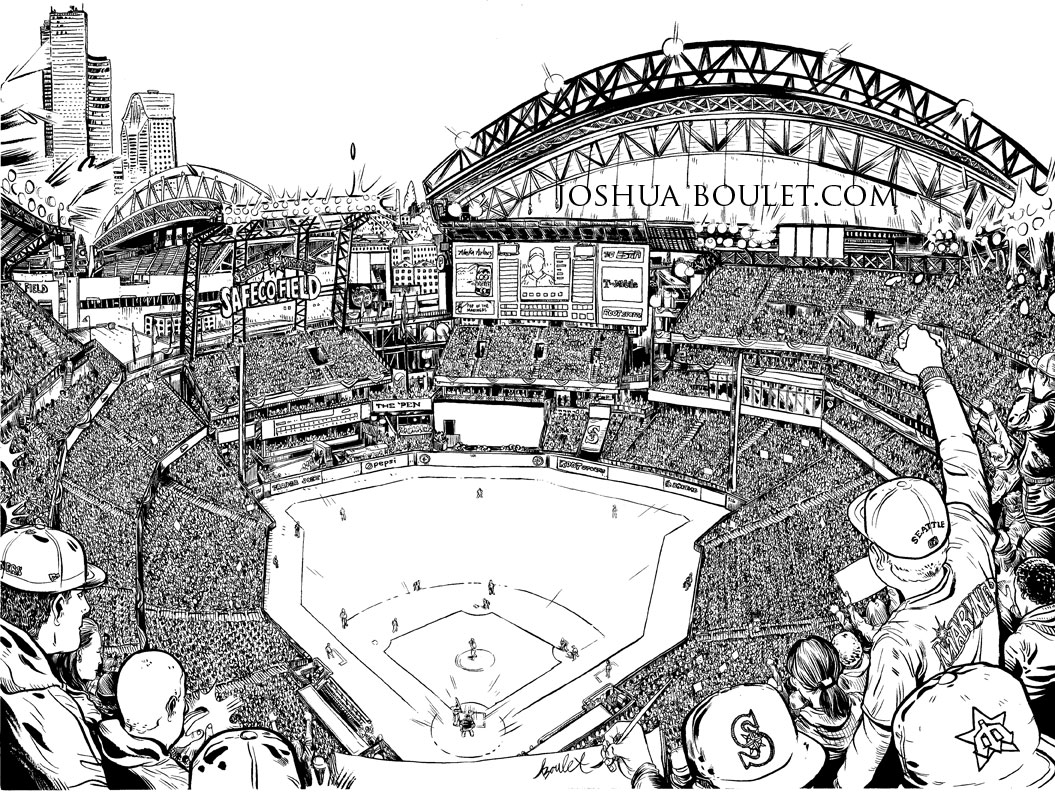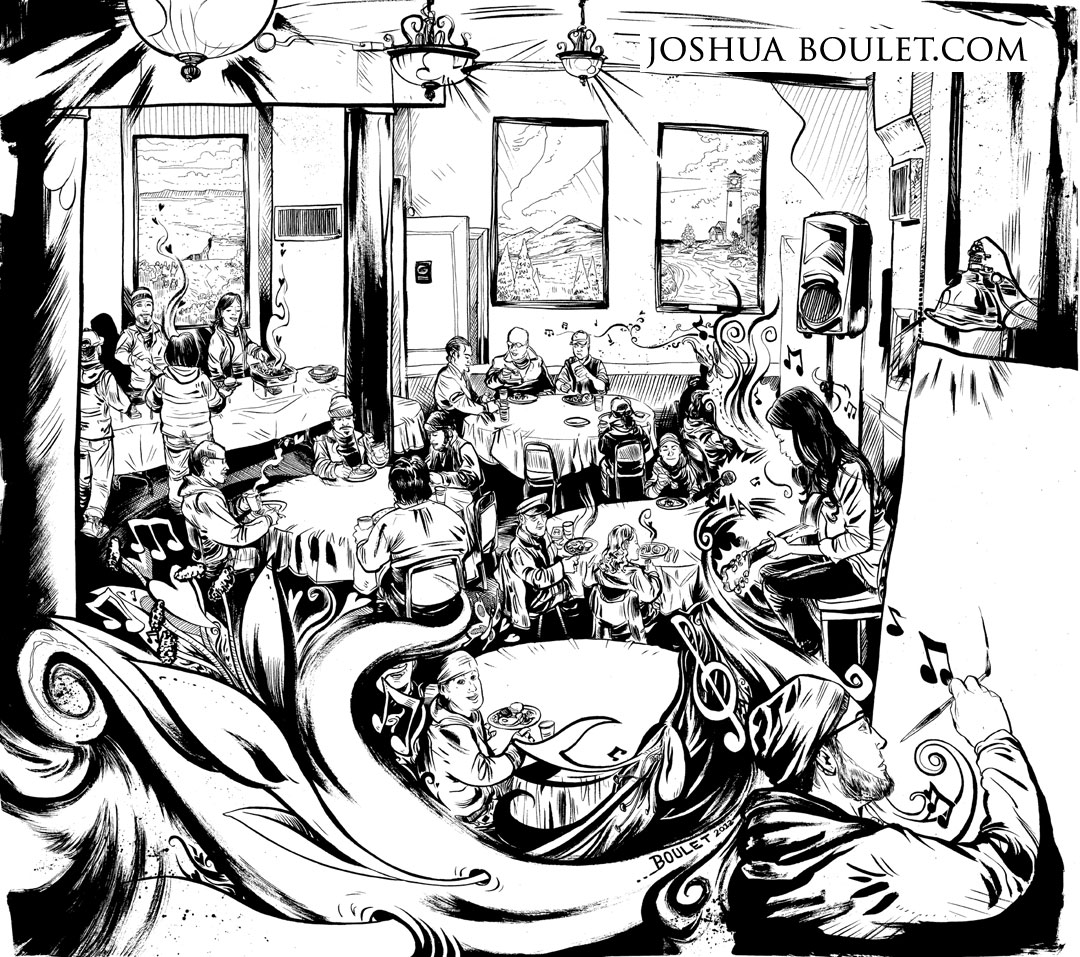 UPDATED by BOULET 05.05.2013
I've been busy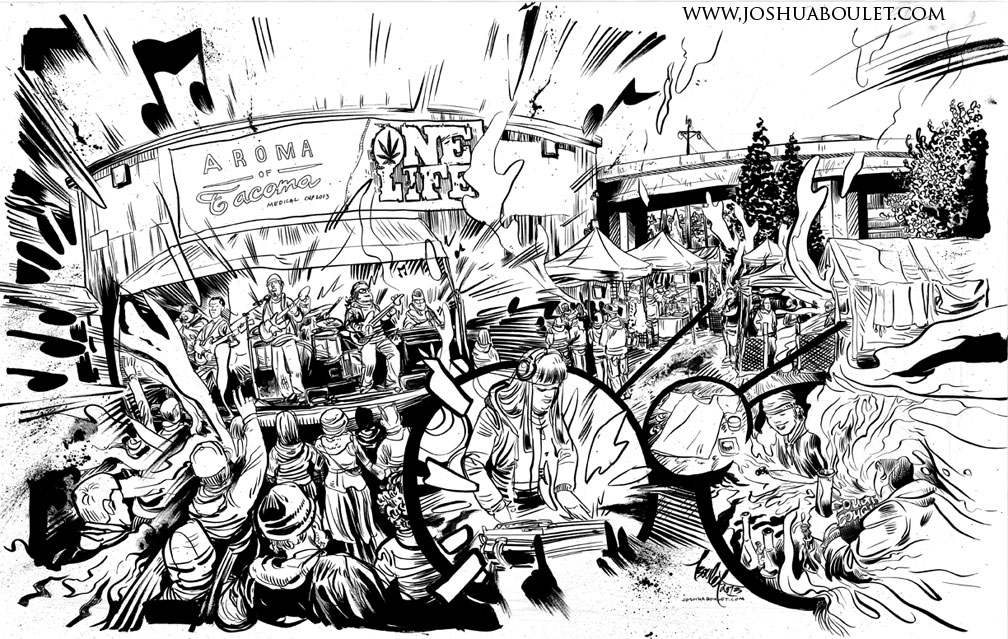 http://1comic.powweb.com/

UPDATED by BOULET 04.27.2013

A new project. Seattle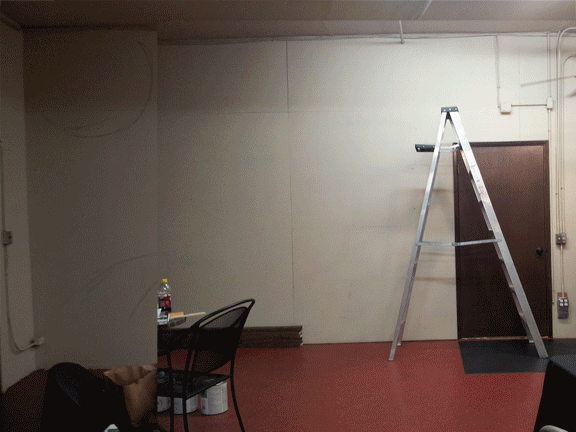 UPDATED by BOULET 04.12.2013
Busy. Always busy drawing... So CNN did a write up on "Pot Tourism" in Seattle, and they gave me a GREAT shout out. Here is the link to the full article:
http://www.cnn.com/2013/04/06/travel/marijuana-tourism-seattle
"Aspiring comic book artist Joshua Boulet has set up shop at a smaller table, with a duffel bag full of several issues of his tongue-in-cheek comic, "The Green Reefer," which follows the antics of a pot-smoking anti-hero and his beer-drinking sidekick, Six-Pack. In many ways, Boulet is the embodiment of Seattle's new entrepreneurial optimism. After attending Hempfest as a tourist last August, he fell in love with the city and moved from Dallas two months later. Boulet says he is now hoping to sell his comic books in Seattle's thriving head shops -- for $4.20, of course."
I LOVE IT. Thanks CNN and Hempfest, oh and Seattle, and Mary Jane. I love you all.
NEW COMIC IN THE COMIC SECTION ON THIS SITE!!!!!!!
THE PIT!
6 Pages! Check it out by clicking the image below!
UPDATED by BOULET 03.16.2013
Coming soon on Vinyl LP. Art by BOULET for Dallas hip hop artist, ONEOFUS.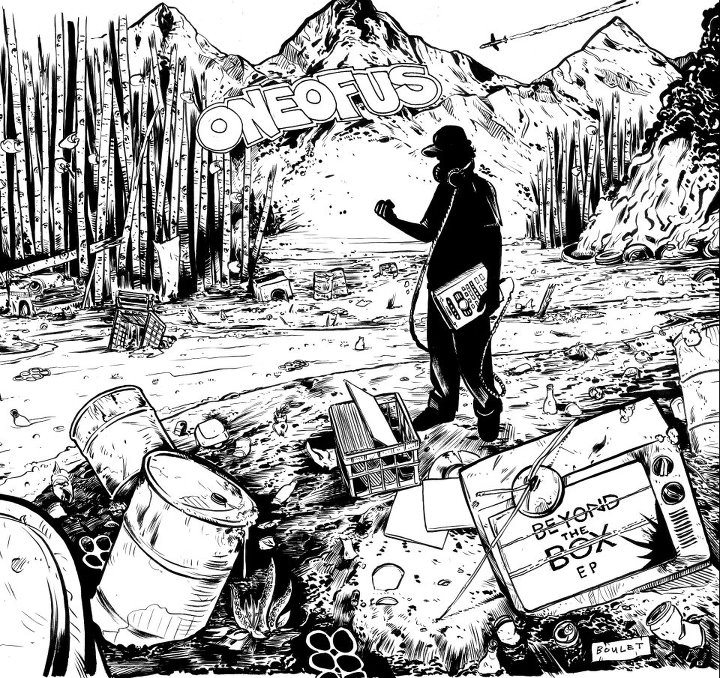 UPDATED by BOULET 03.11.2013
Happy Birthday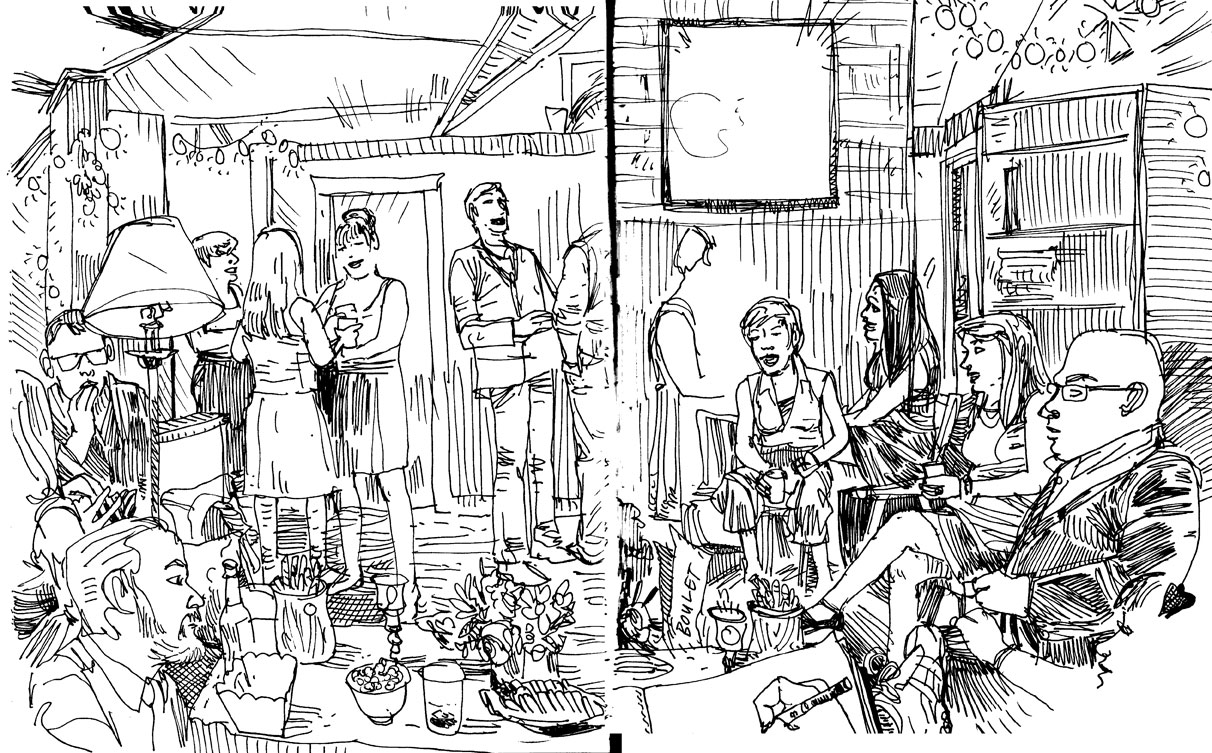 UPDATED by BOULET 03.09.2013
It was a beautiful day today. I sketched Fremont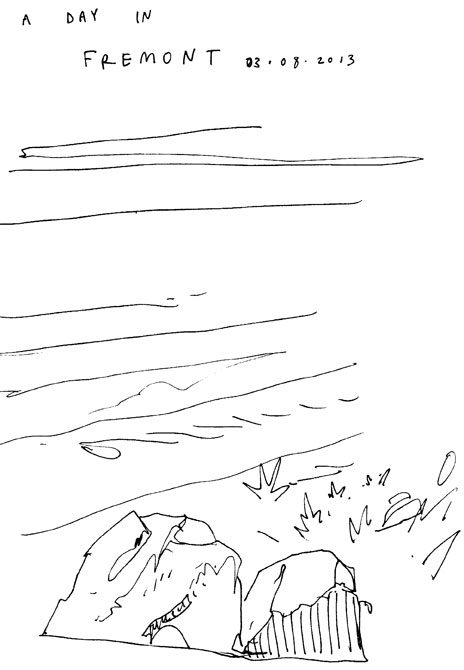 From the Fremont Bridge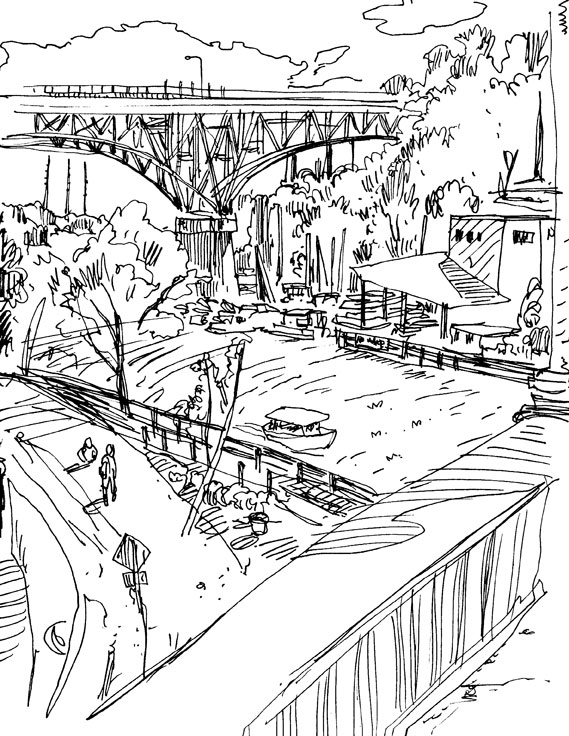 Fremont Bridge rises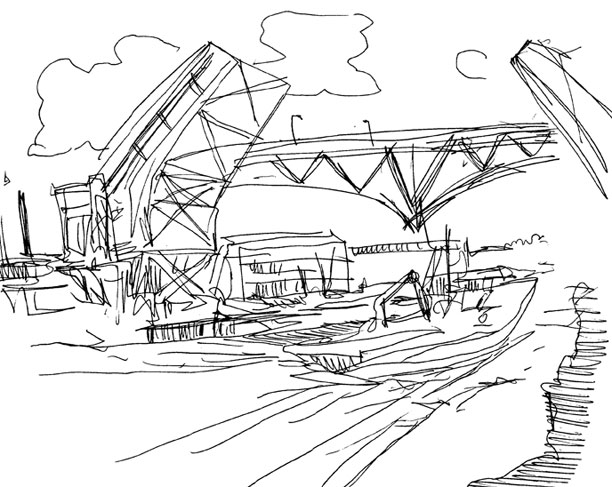 inspiration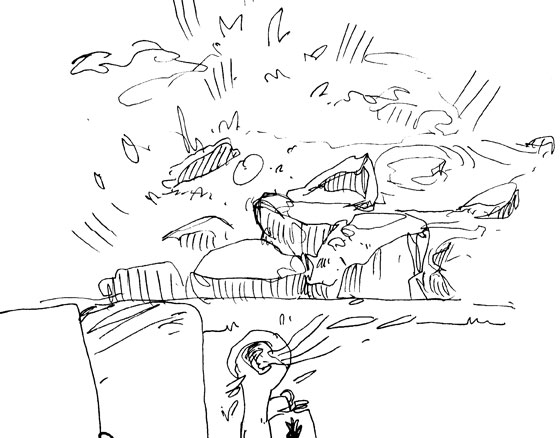 before sleep, a Fremont Goodnight.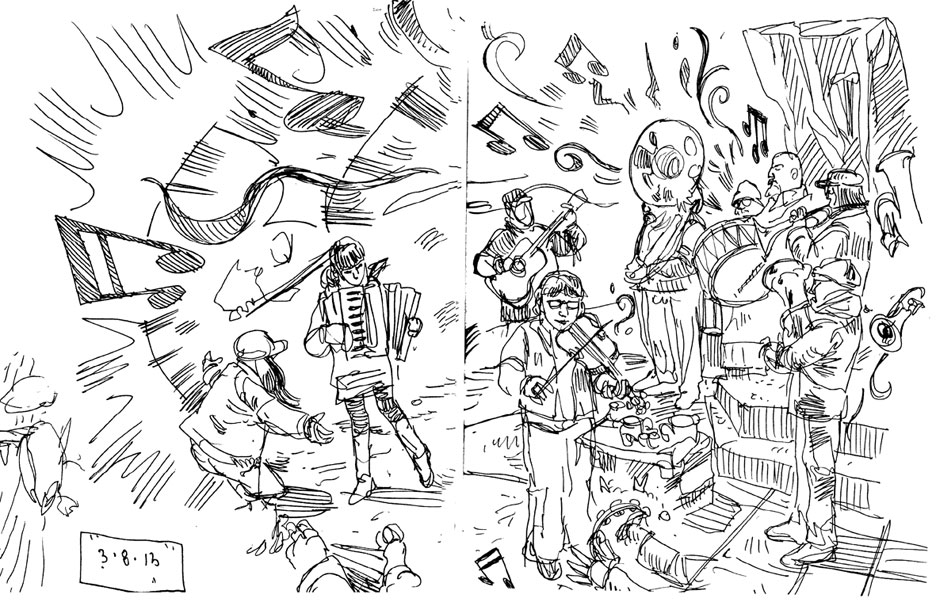 UPDATED by BOULET 02.11.2013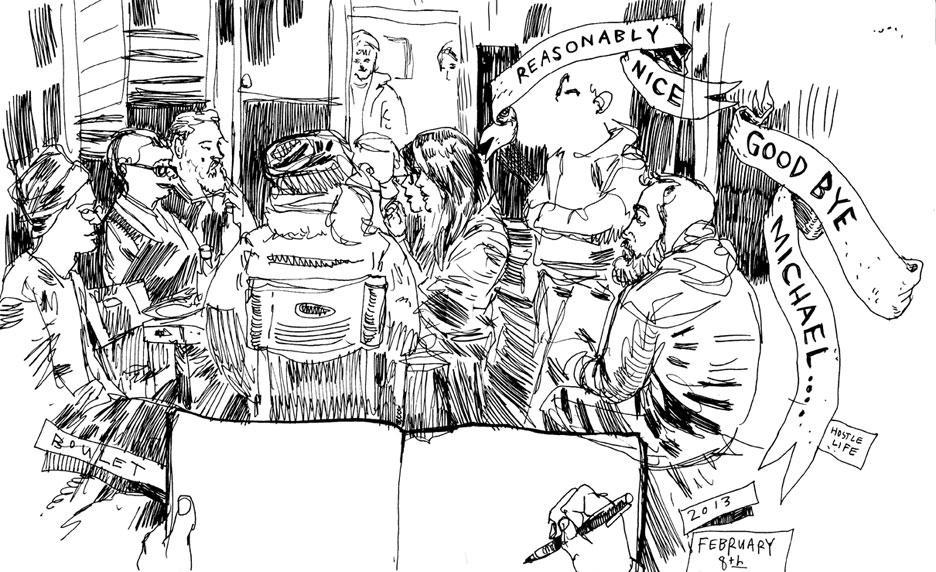 UPDATED by BOULET 02.5.2013
A thank you to PIE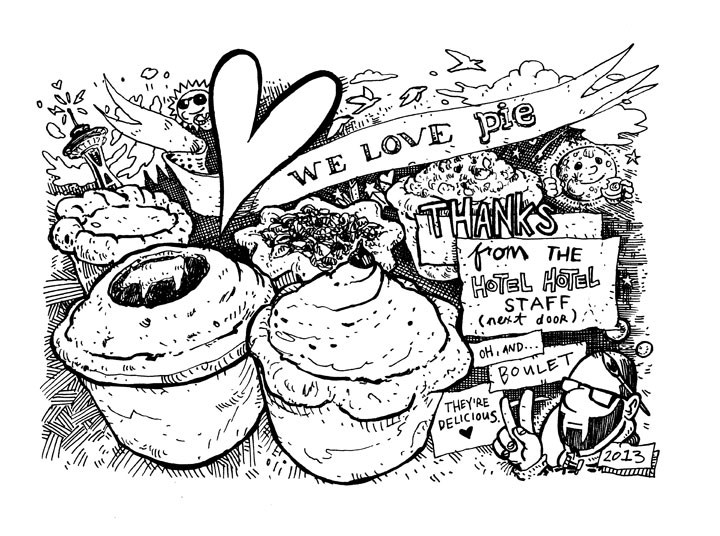 UPDATED by BOULET 02..2013
'Ol Spacey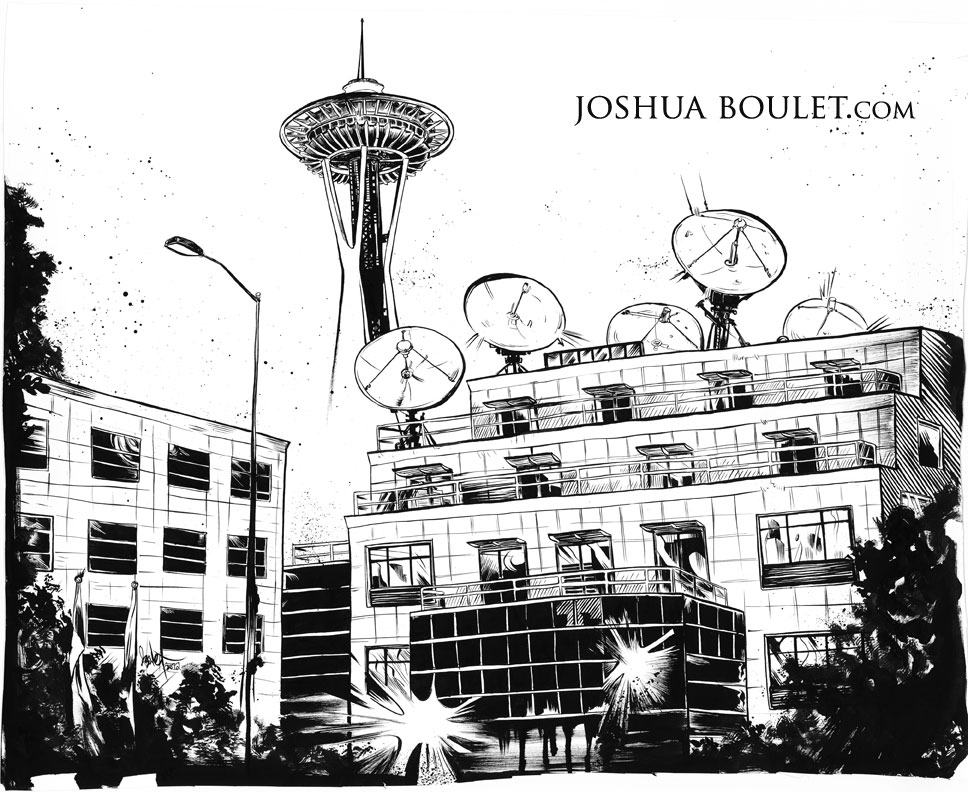 UPDATED by BOULET 01.17.2013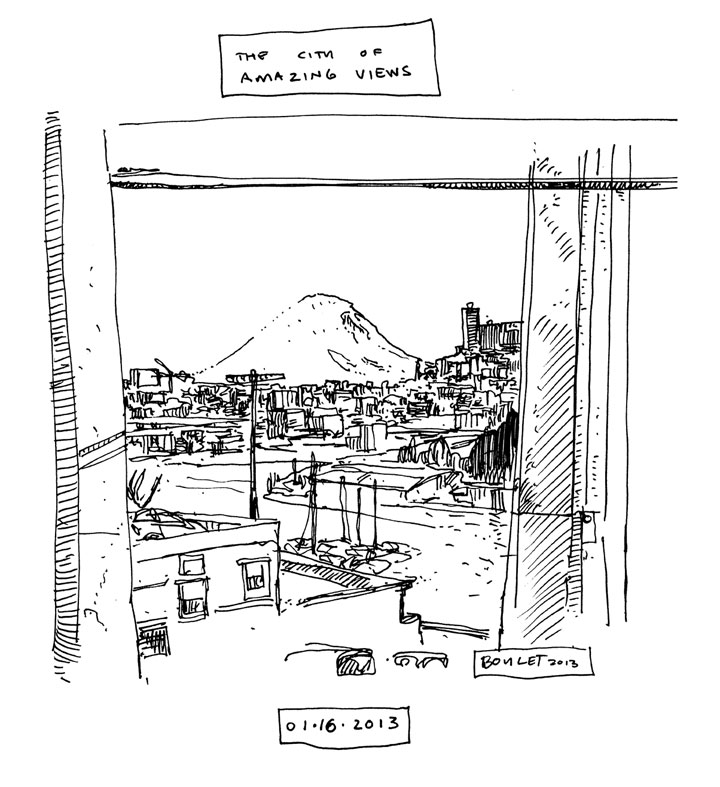 UPDATED by BOULET 01.07.2013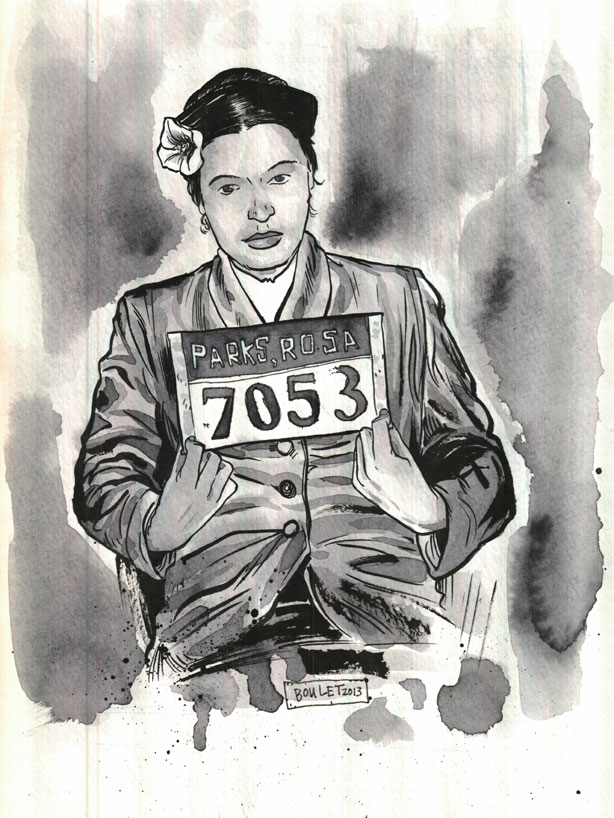 UPDATED by BOULET 01.04.2013
watercolor practice for 2013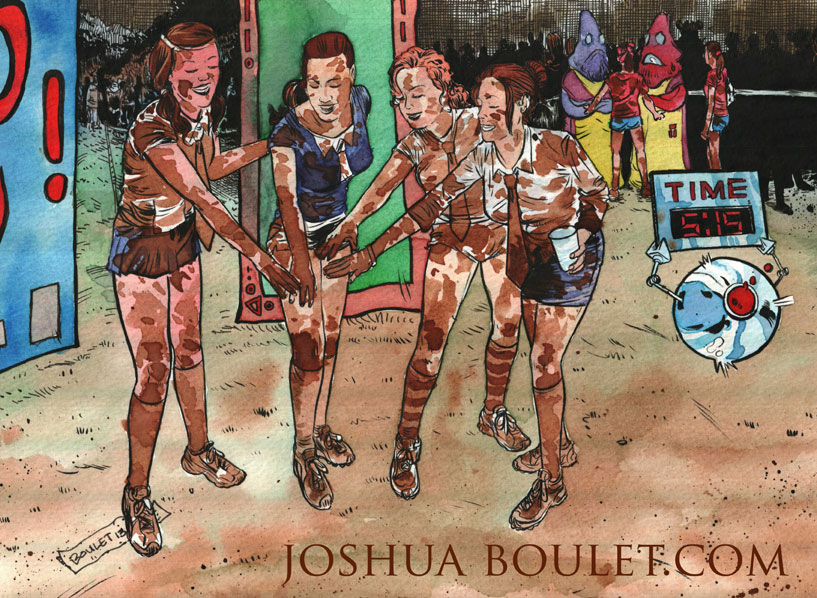 UPDATED by BOULET 12.28.2012
GALACTIC PUNK ROCK by BOULET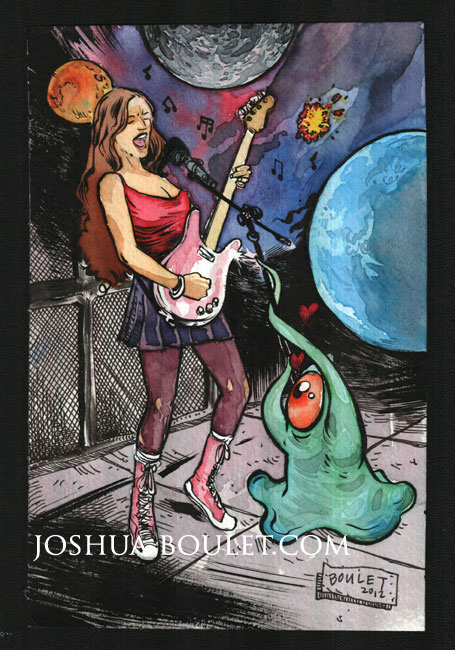 UPDATED by BOULET 12.24.2012
ROUND TWO. I make plans to join Phoenix Jones on his
END OF THE WORLD PATROL
12-21-2012
Facebook Jones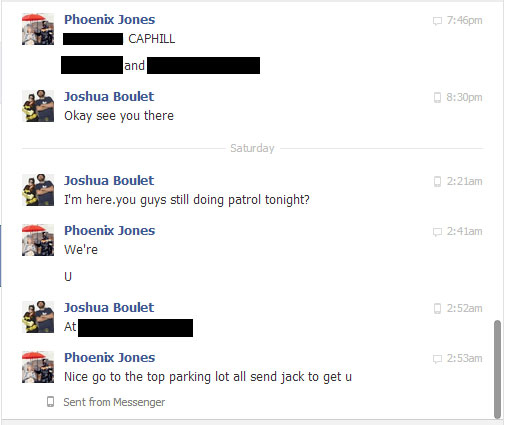 THE CREW - THE RAIN CITY SUPERHERO MOVEMENT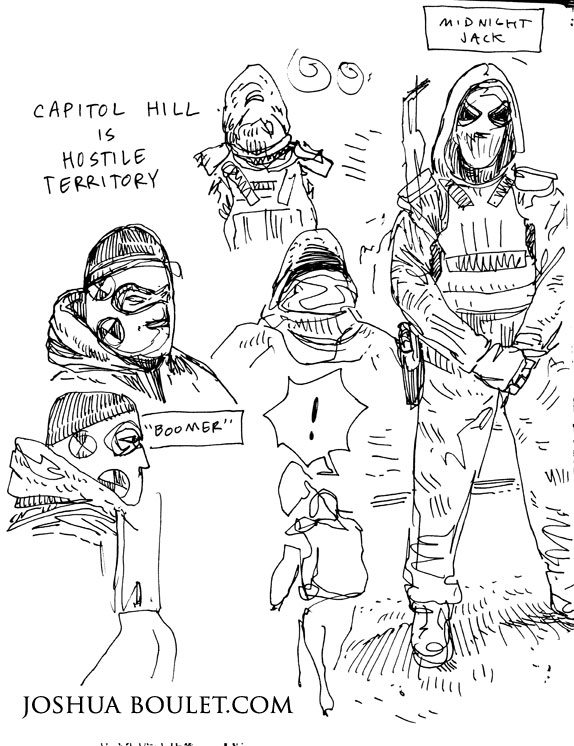 The Boss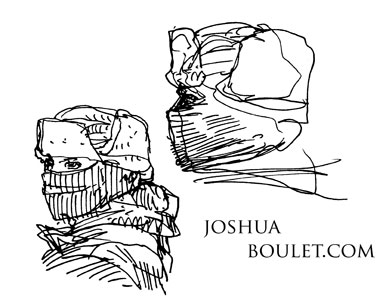 He comments "I just grabbed all this stuff to stay warm. I didn't know I was gonna be drawn."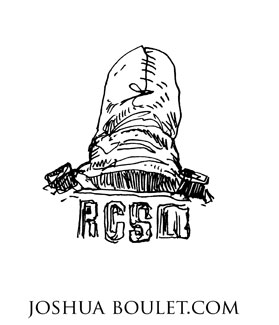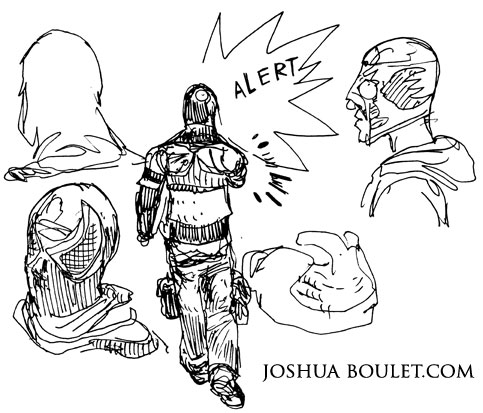 Phoenix Jones is a celebrity.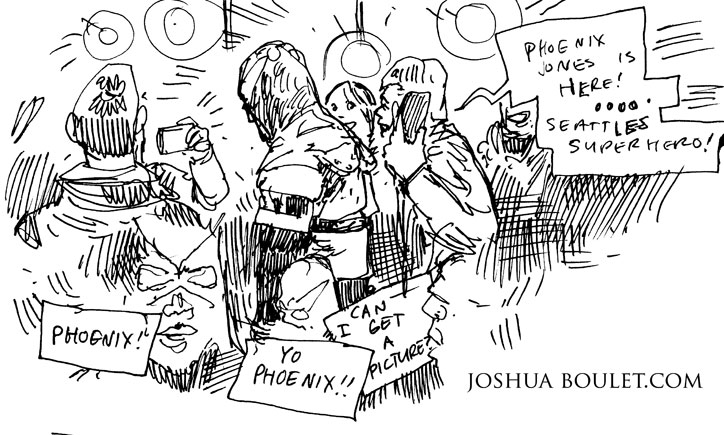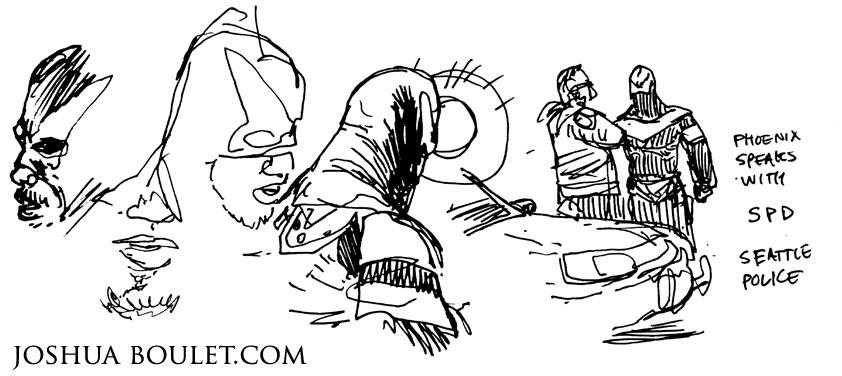 I walked behind Phoenix and drew.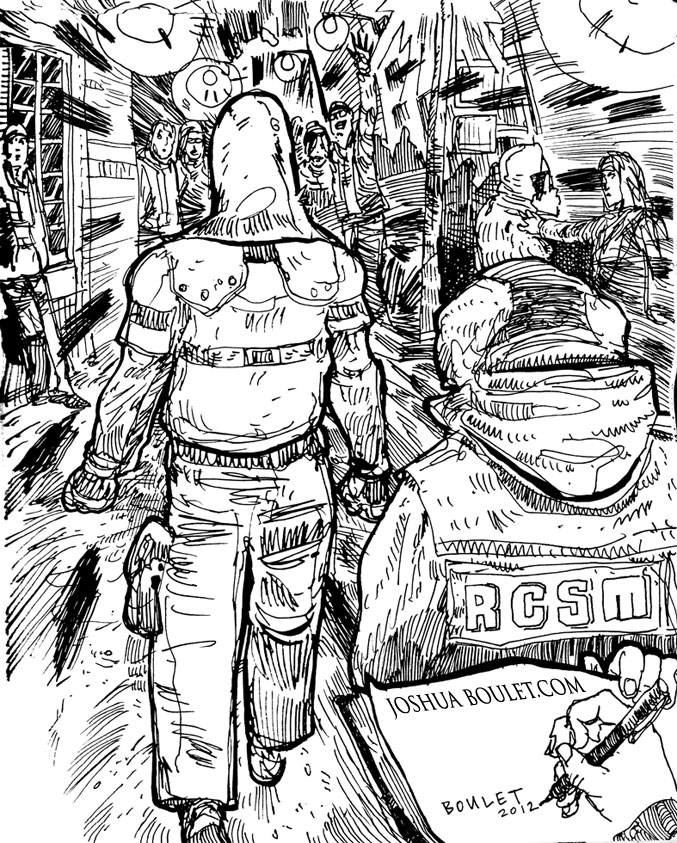 Then...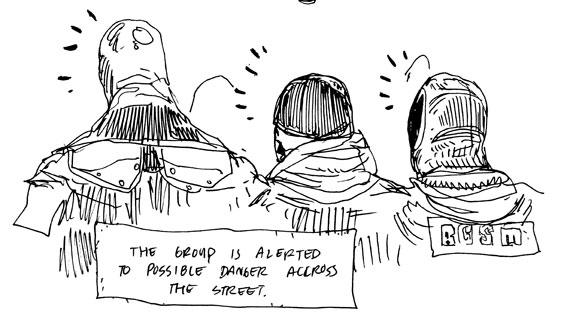 They take a five and pose for me.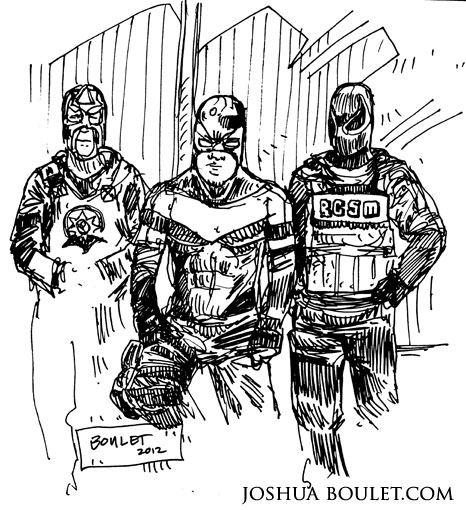 The End of the World Patrol ends with out much excitement, but that is okay with me
I get these wonderful drawings, and a ride home from Phoenix Jones.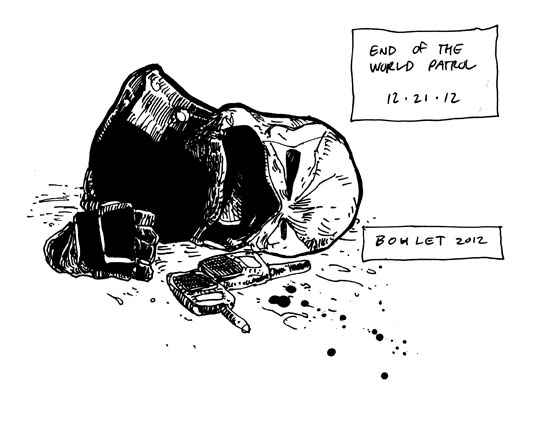 END
UPDATED by BOULET
12-21-2012
THE END OF THE WORLD.
The world ends with a beautiful sun set at Golden Gardens Park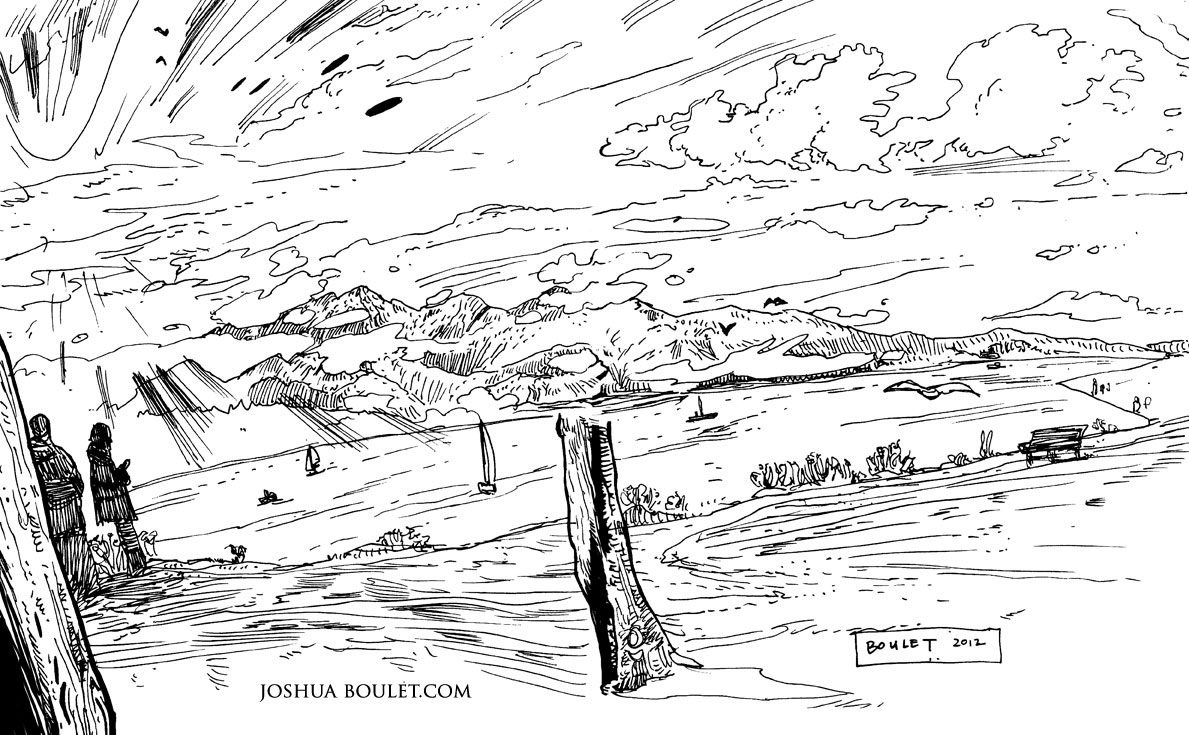 GOLDEN GARDENS SEATTLE WASHINGTON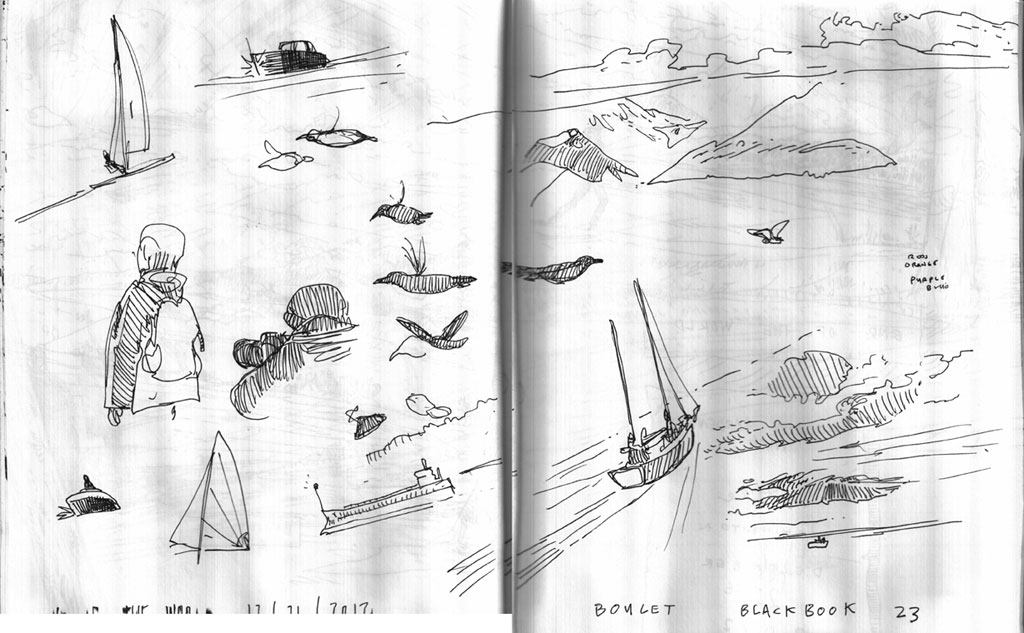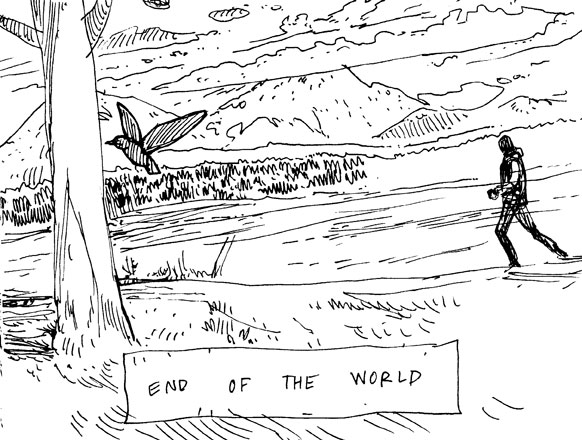 MY FIRST PHOENIX JONES ADVENTURE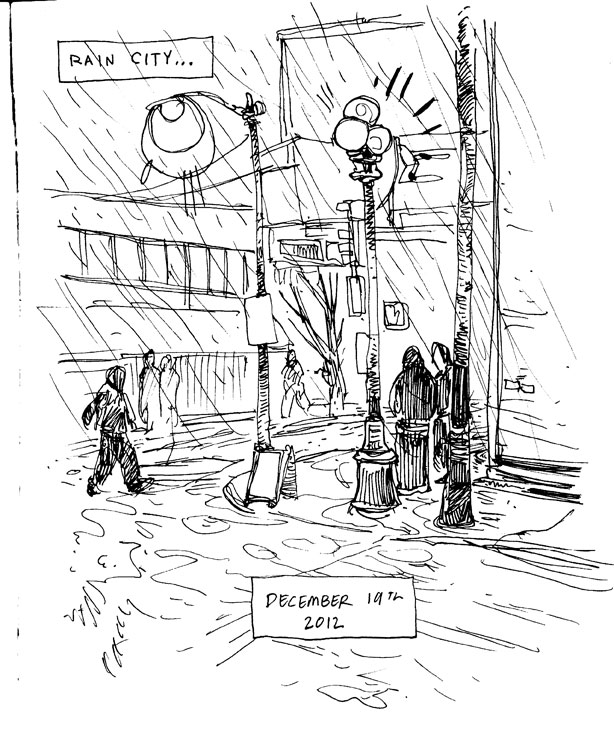 BY BOULET
Pike Market meet up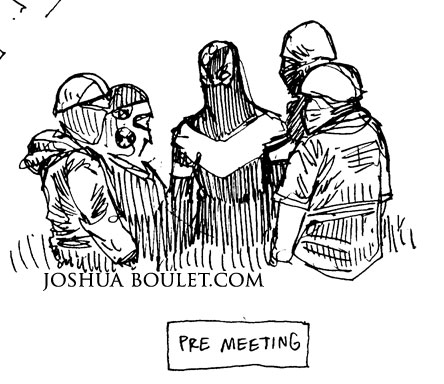 R.C.S.M (Rain City SuperHero Movement)
will be handing out care packages to the homeless tonight.
I came to draw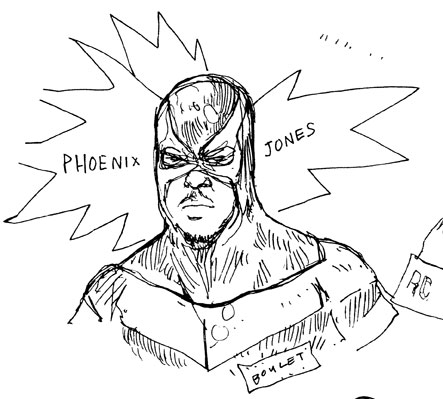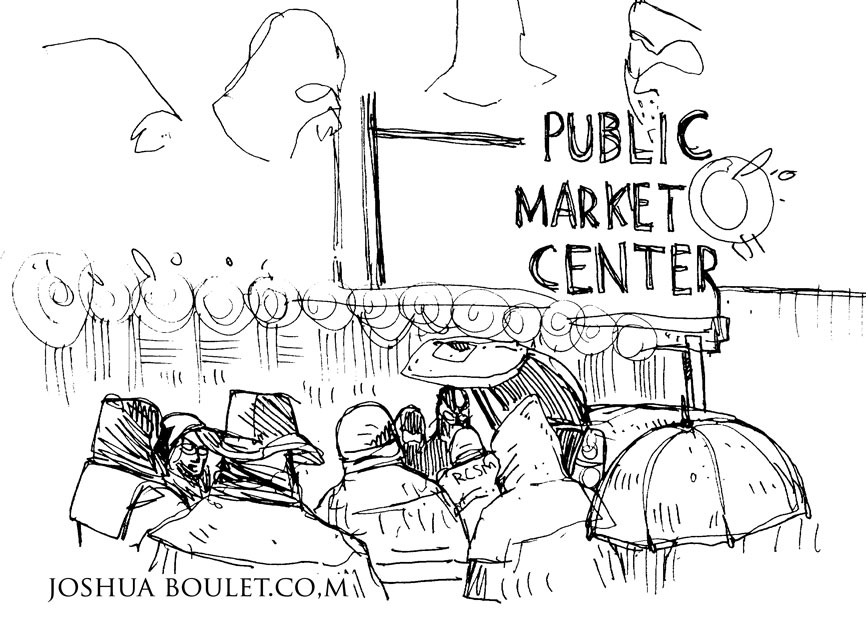 Handing out supplies and care packages.
It will rain the entire time
I struggle with an umbrella to keep my drawings dry
but by the end
I've tossed the umbrella, and am just drawing
in the rain. I loved it.
Left to right: BOULET PHOENIX JONES PURPLE REIGN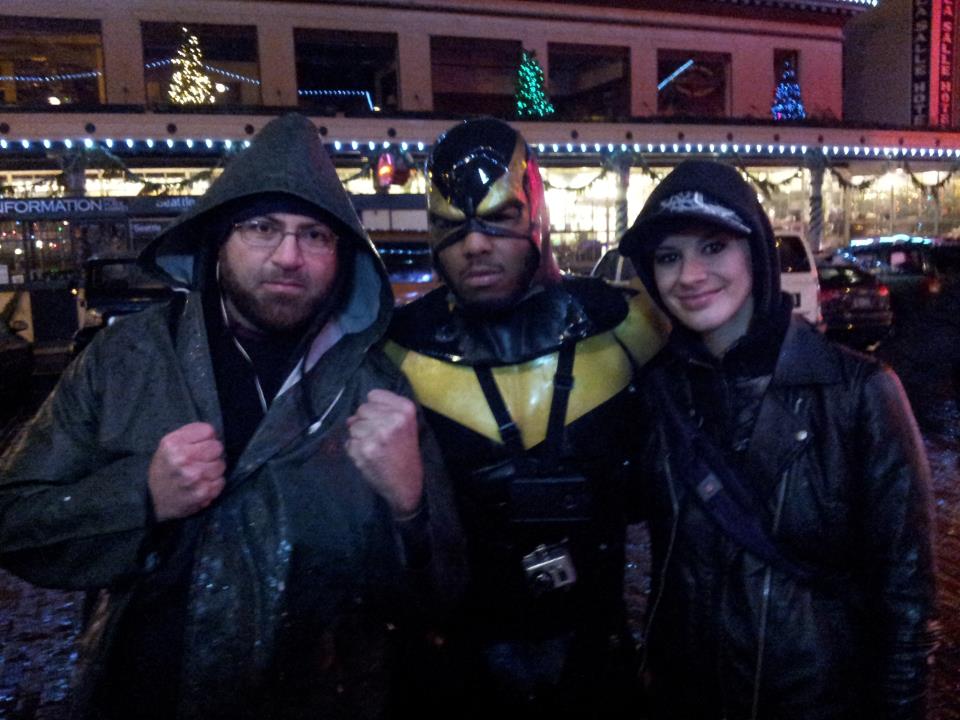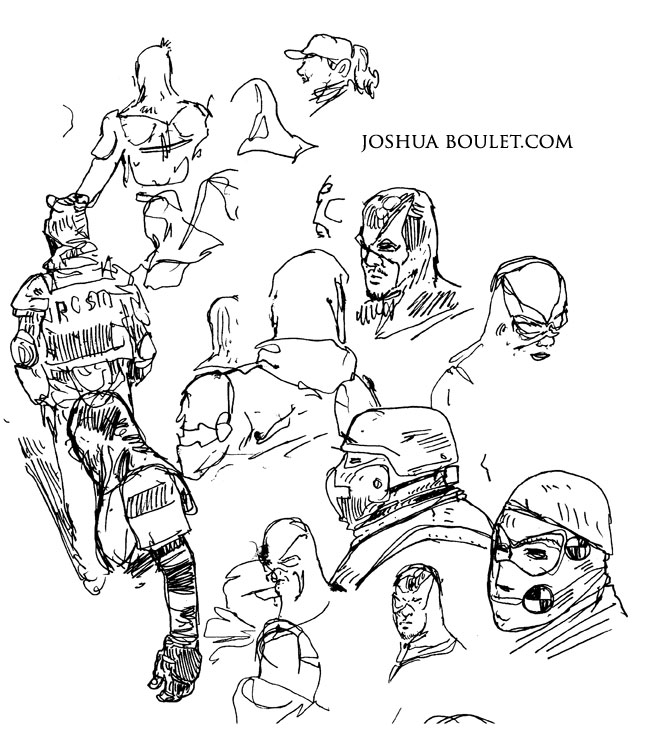 THE WALK
Phoenix Jones leads the way.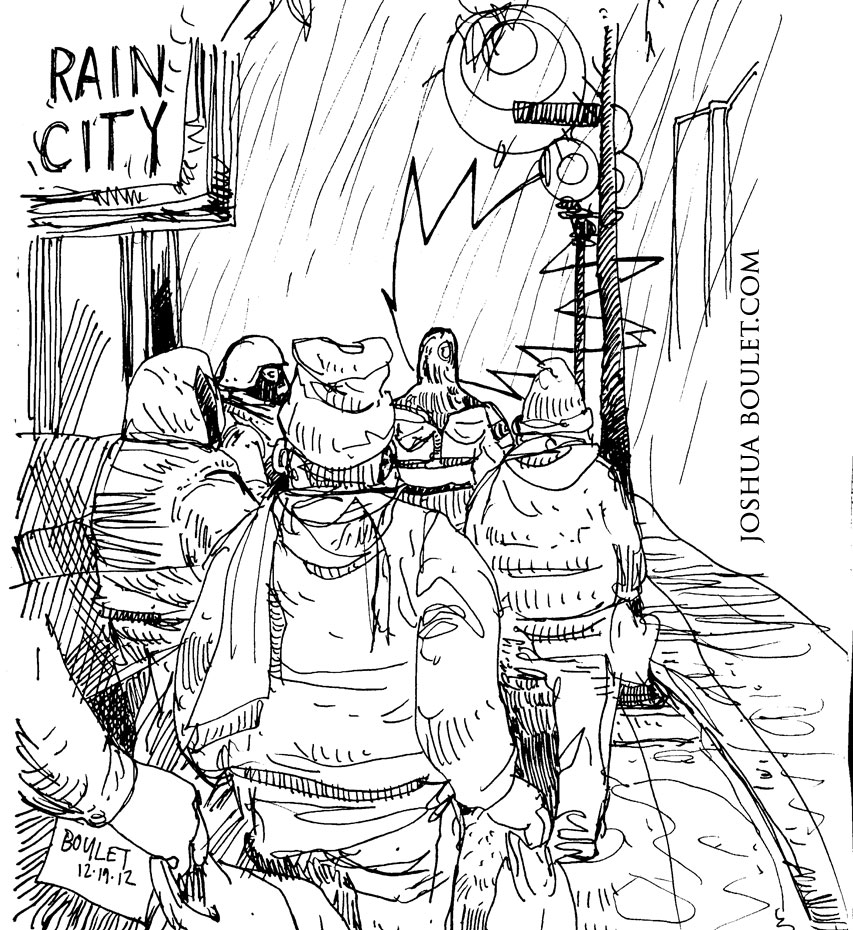 About halfway through a protector warns that
someone should be watching my back.
Although I never felt in any danger,
the lovely TEMPER volunteers to protect me.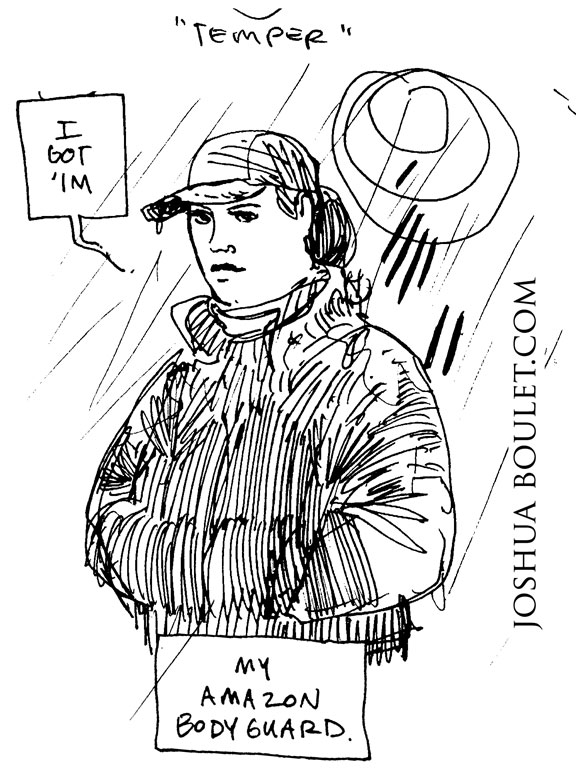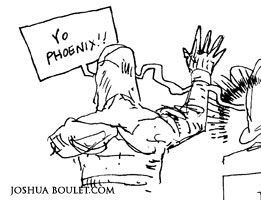 All of the care packages have
been handed out.
I'm soaked, and it's time to go home.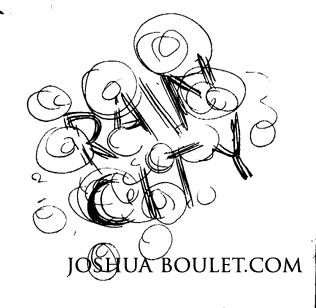 12-20-2012 updated by BOULET
Today will be a beautiful day for all new lovers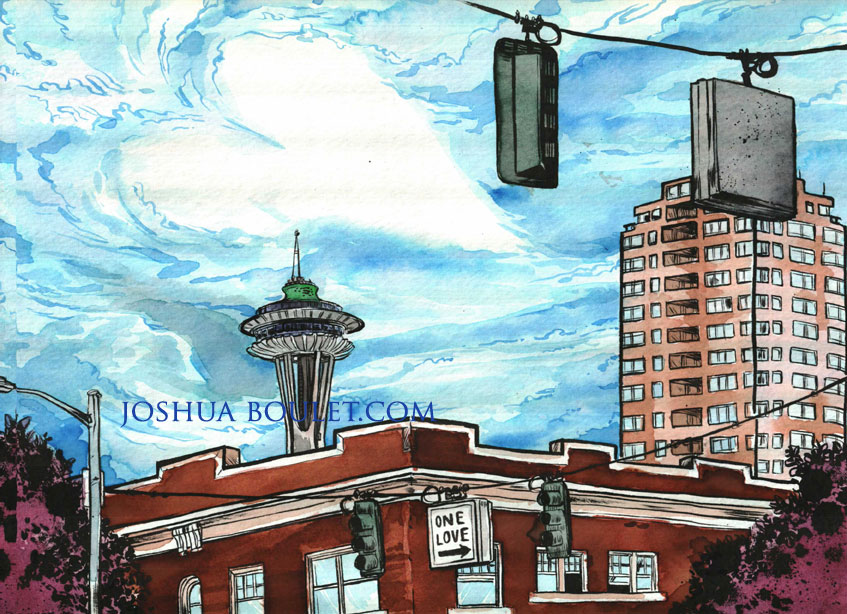 12-12-2012 updated by BOULET
Fremont Art Council meets, and I sit in and sketch.
I'm liking these elephants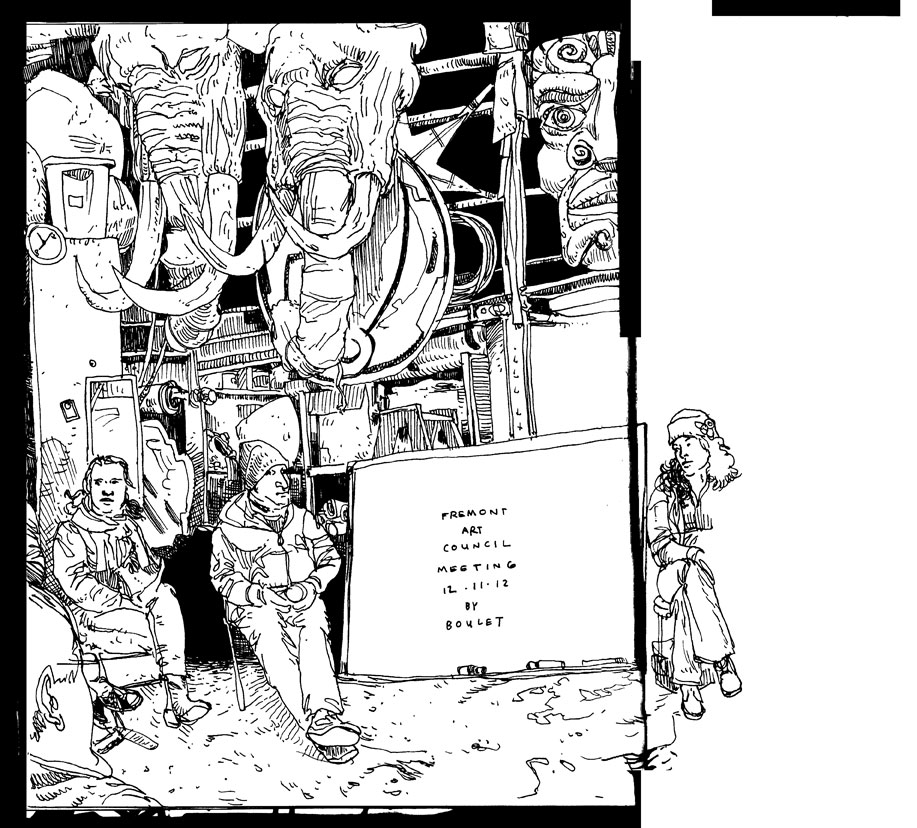 12-11-2012 updated BOULET
...and that was Seattle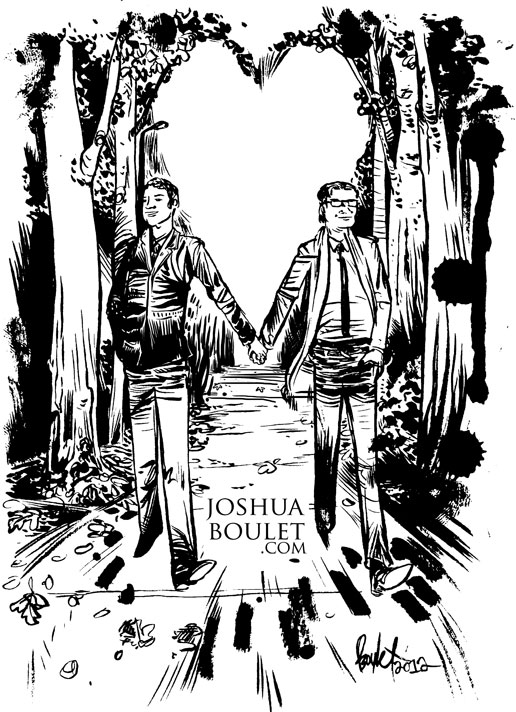 12-06-2012 updated BOULET
"Welcome to the 206" a hundred people gather to blaze out the space needle, at midnight
on the day of legalization of marijuana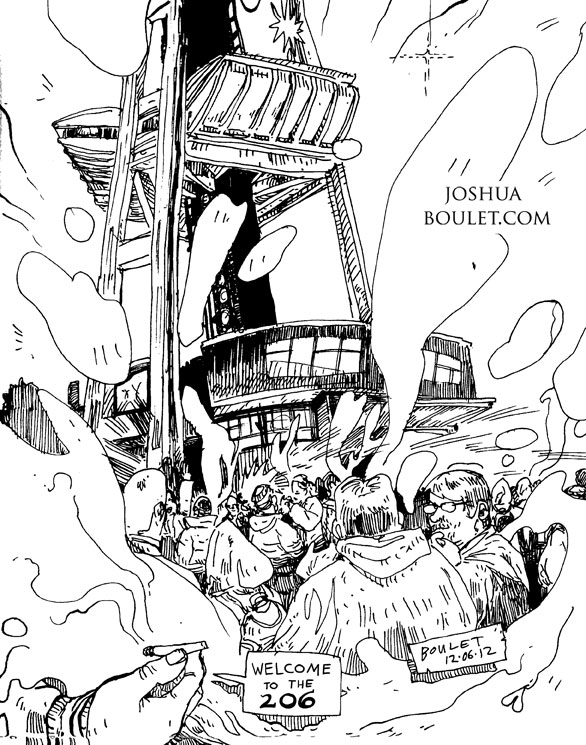 12-01-2012 updated BOULET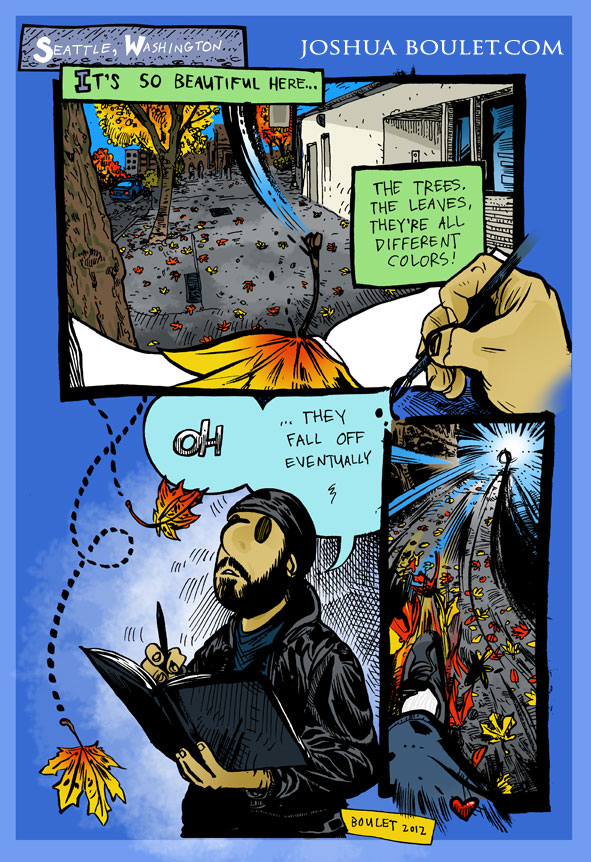 Another sketchbook ends. I call em BlackBooks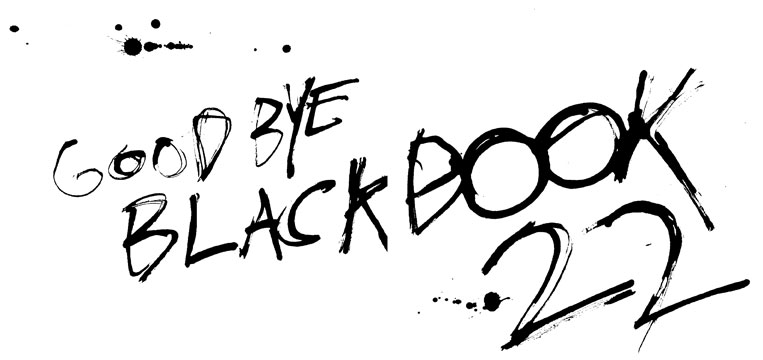 The Self Appointed King of Seattle can only sleep in one spot...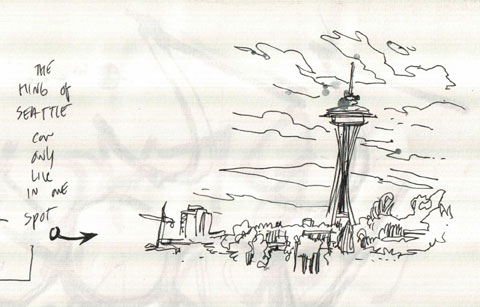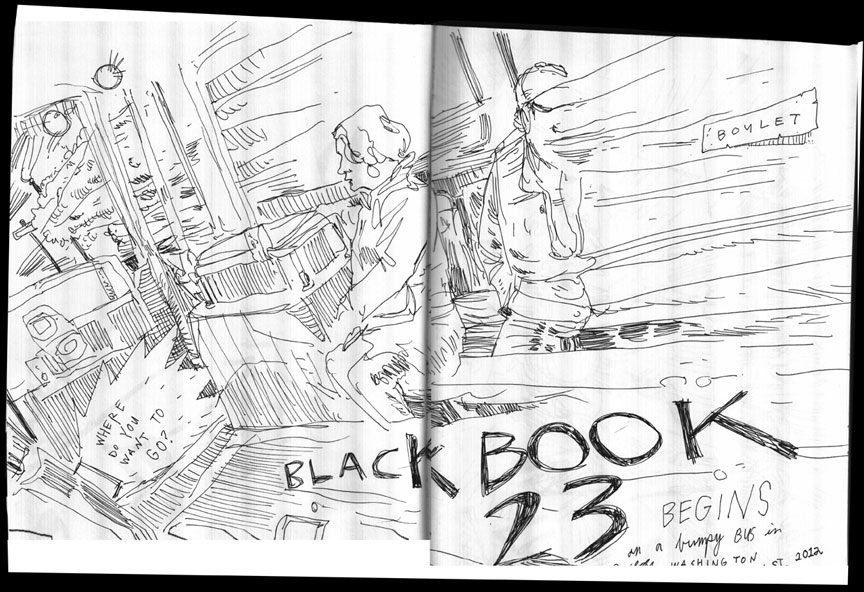 11-27-2012 updated BOULET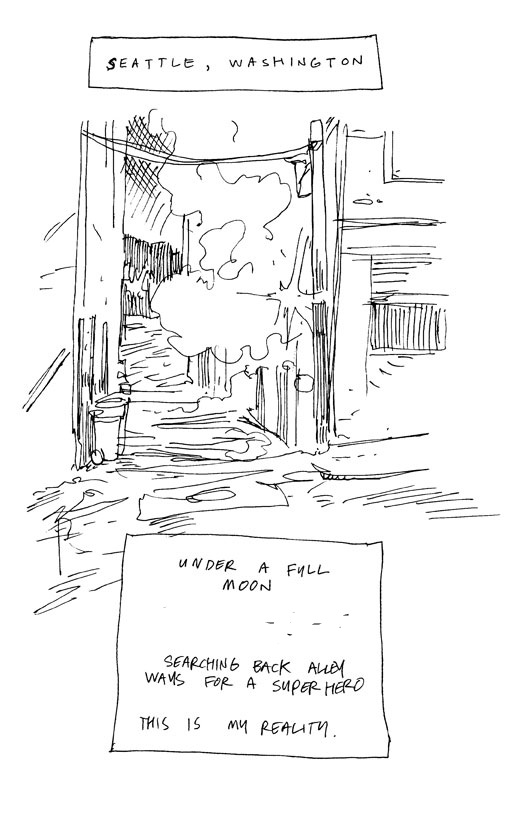 11-25-2012 updated BOULET
BELLTOWN.
I finally draw on the smoking wall.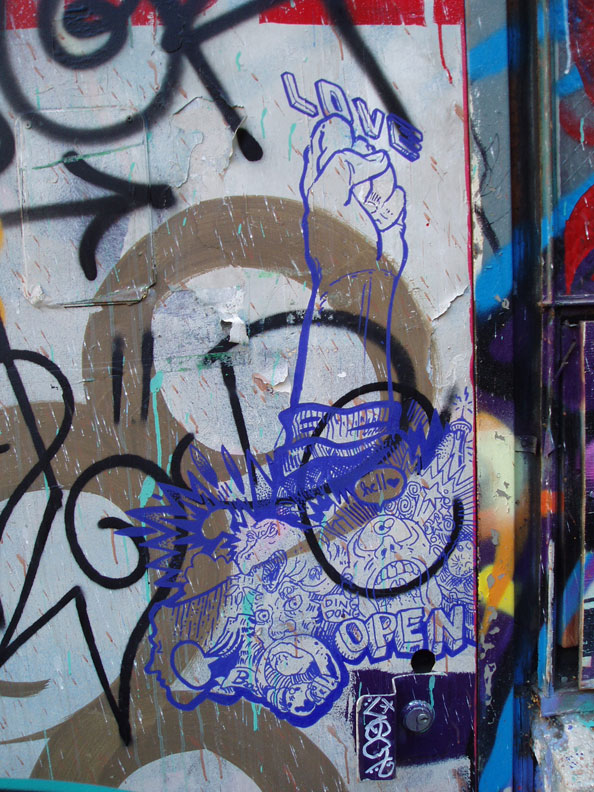 MORE WATERCOLORS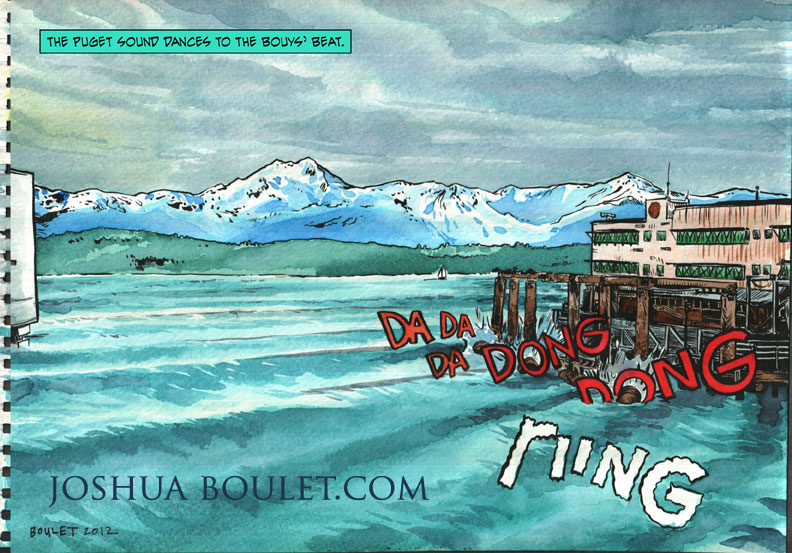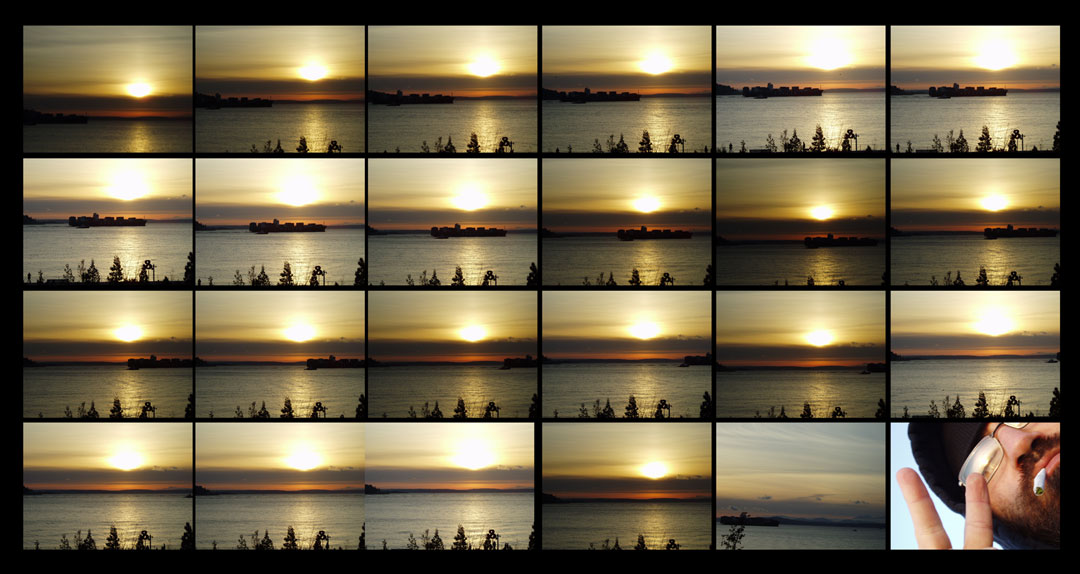 11-22-2012 updated BOULET
LESSON 29: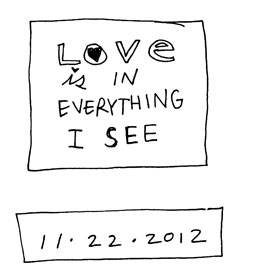 THANKSGIVING DAY
SEATTLE WASHINGTON
After a quick shift
I walk to the pier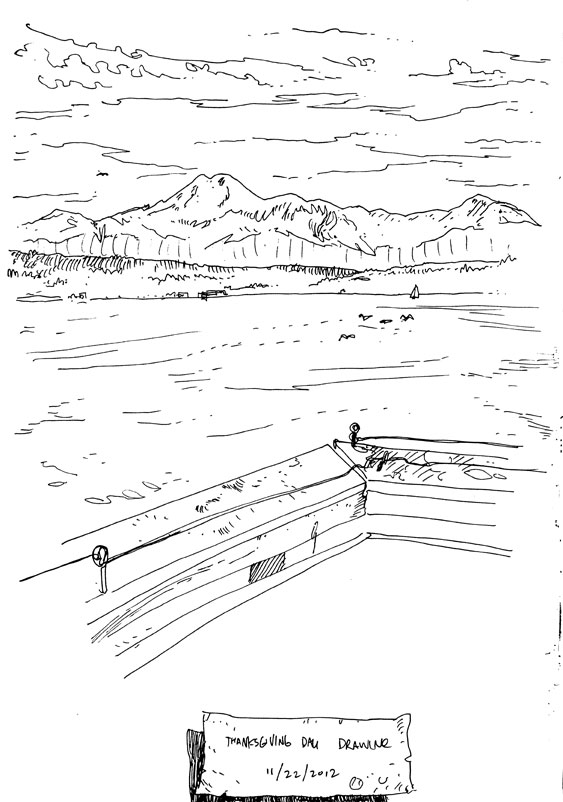 The ocean dances as the
banging buoys provide the beat.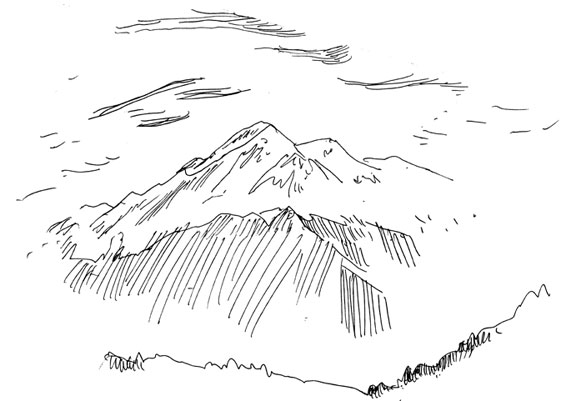 By now it's time to eat.
I've been invited to dinner.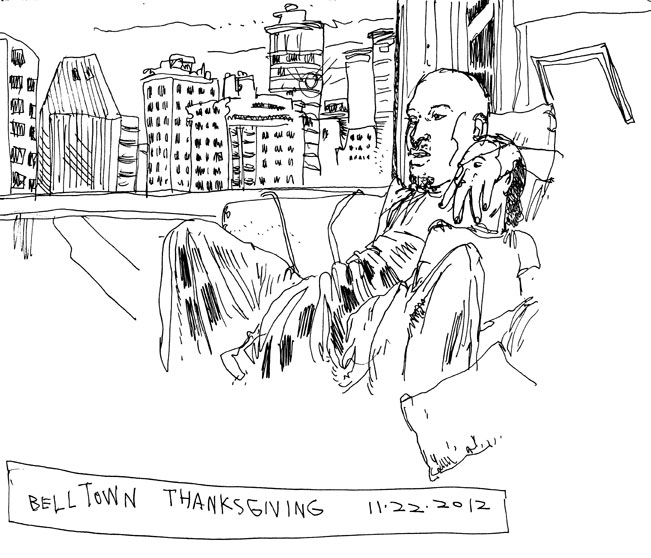 but I must soon rush off to the Hostel Thanksgiving.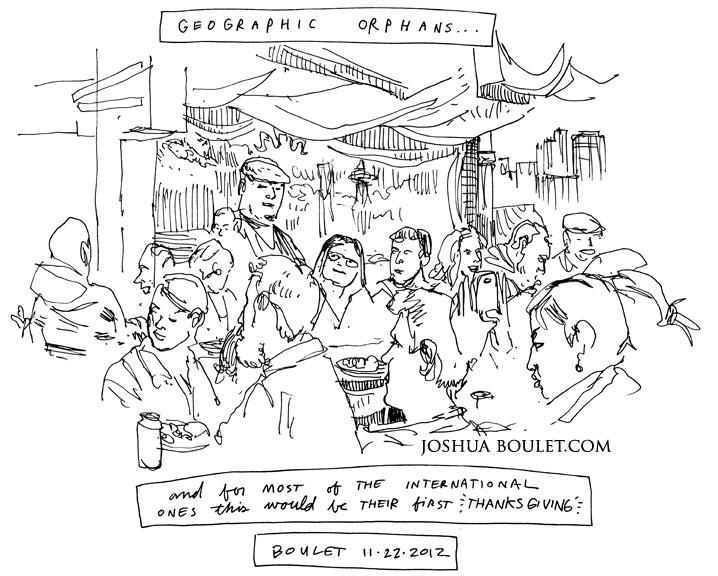 sleep...
11/20/2012 UPDATED by BOULET
Sitting in a Belltown doorway that opens inside a building covered with Graffiti.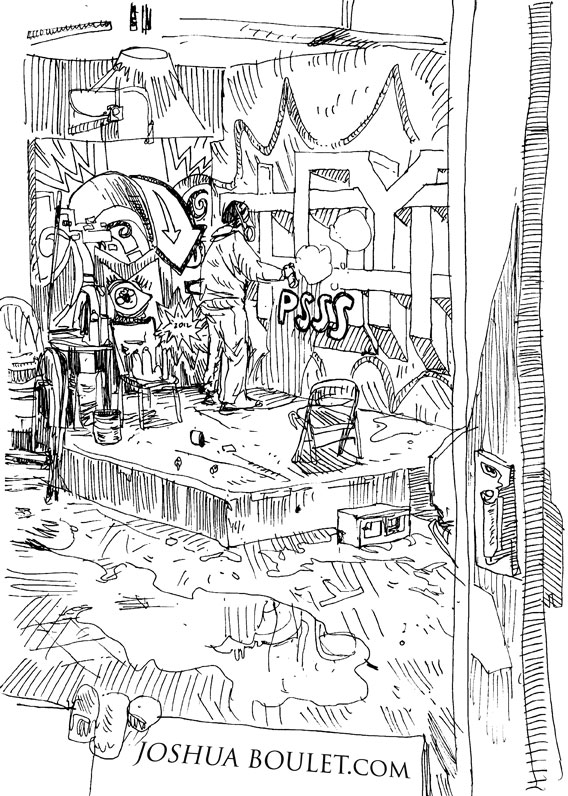 Sketchbook dump:
She would break many hearts...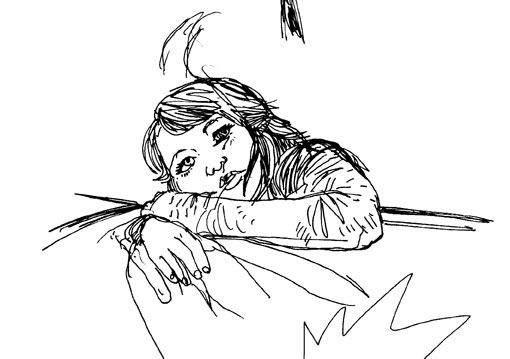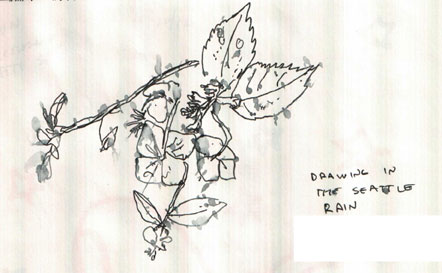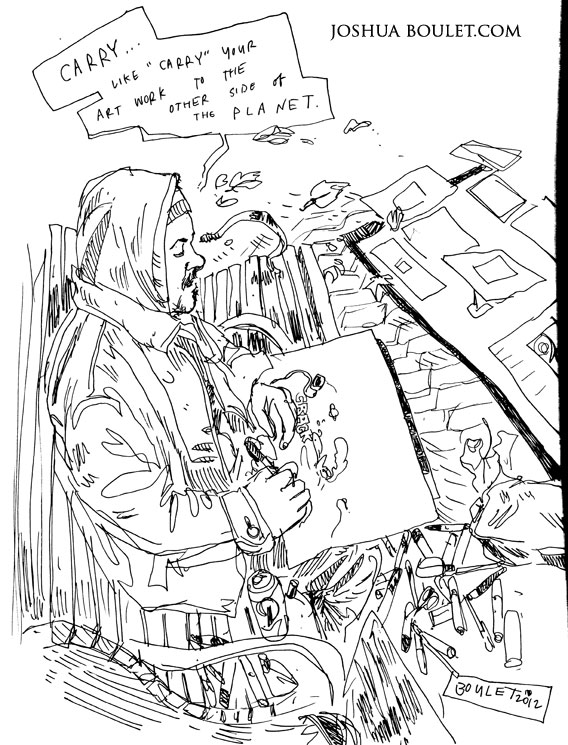 UPDATE 11-18-2012 by BOULET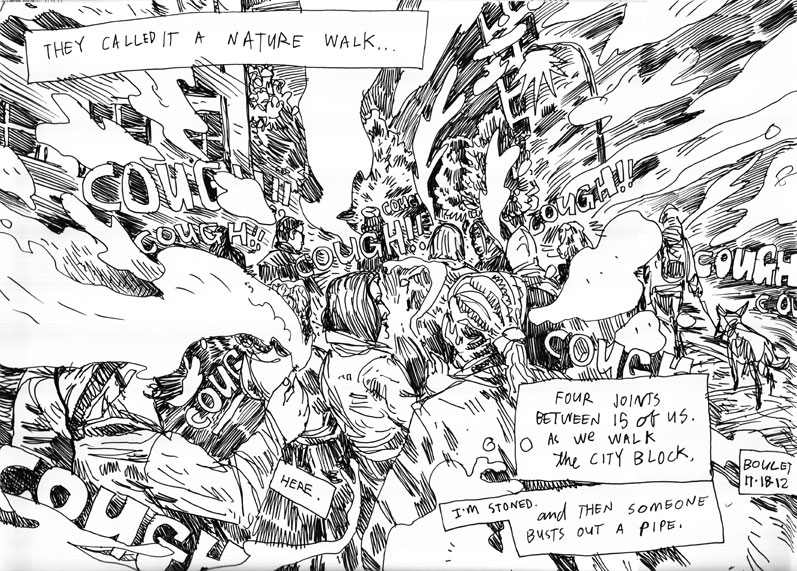 UPDATE 11-15-2012 by BOULET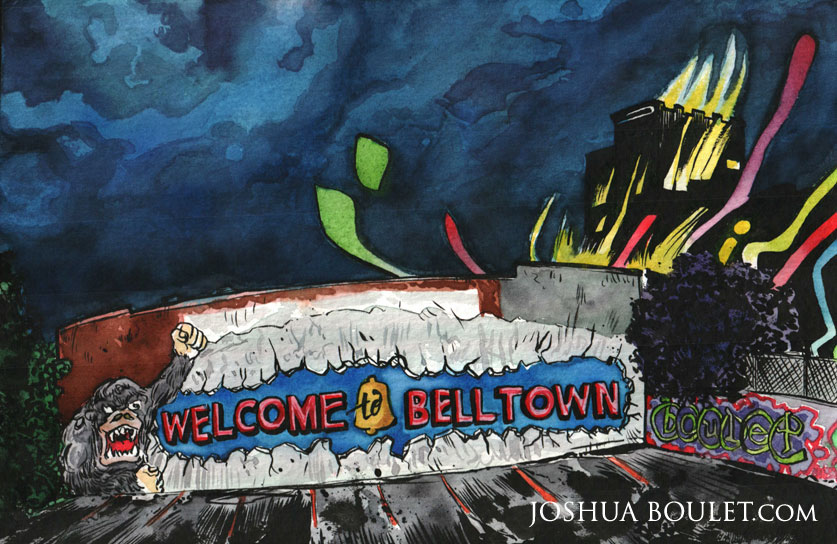 11.09.2012 updated by BOULET
I... I think I LOVE Washington State.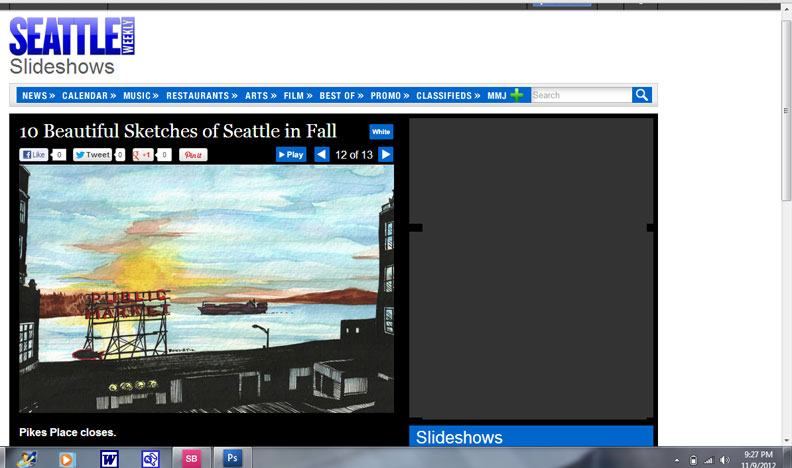 CHECK IT OUT HERE:
http://www.seattleweekly.com/slideshow/10-beautiful-sketches-of-seattle-in-fall-38147397/#1
Also a lot of things have changed. For me. For Washington. For Seattle.
Check out what I did for the Seattle Hempfest Grand Opening.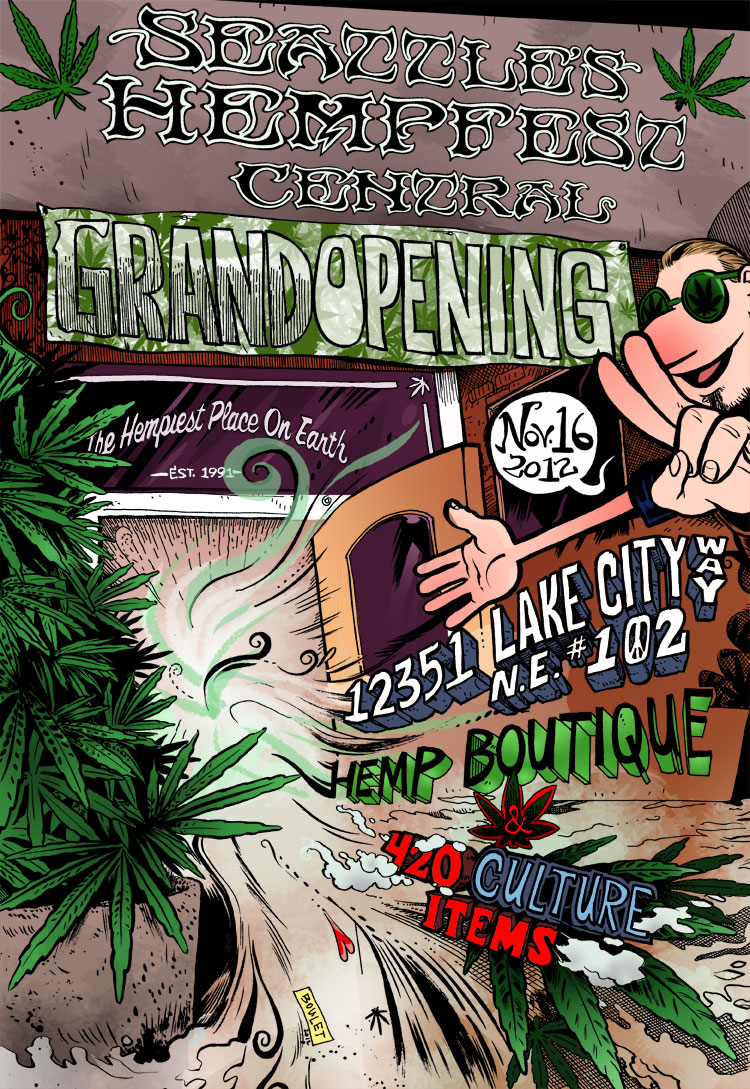 UPDATE 11-07-2012 by BOULET
The days watercolor. seemed to fit considering today was election day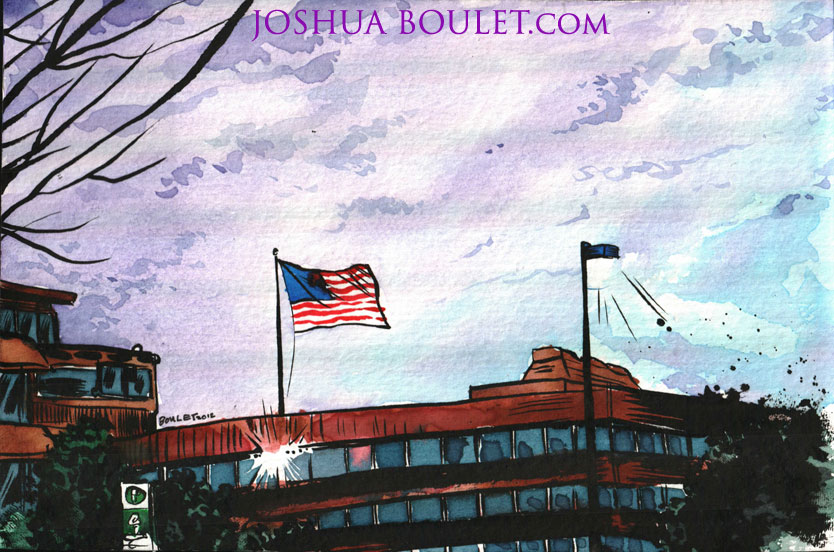 UPDATE 11-06-2012 by BOULET
Art from the past two days.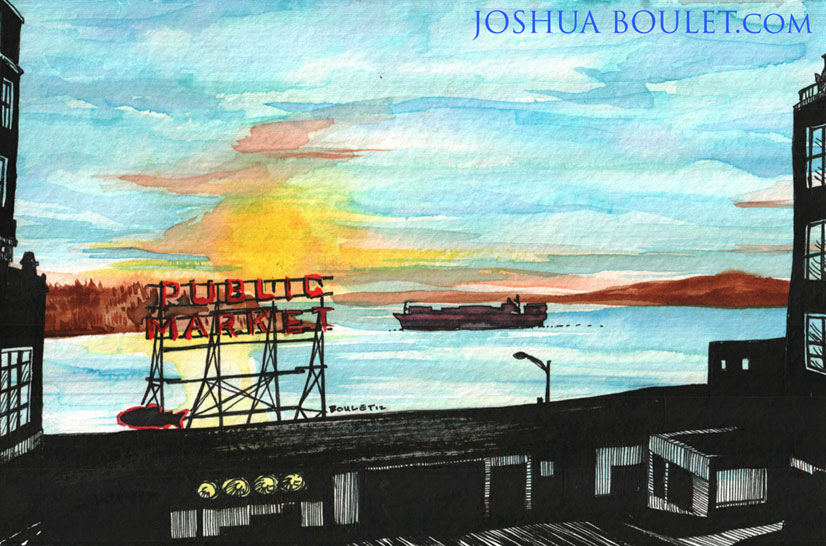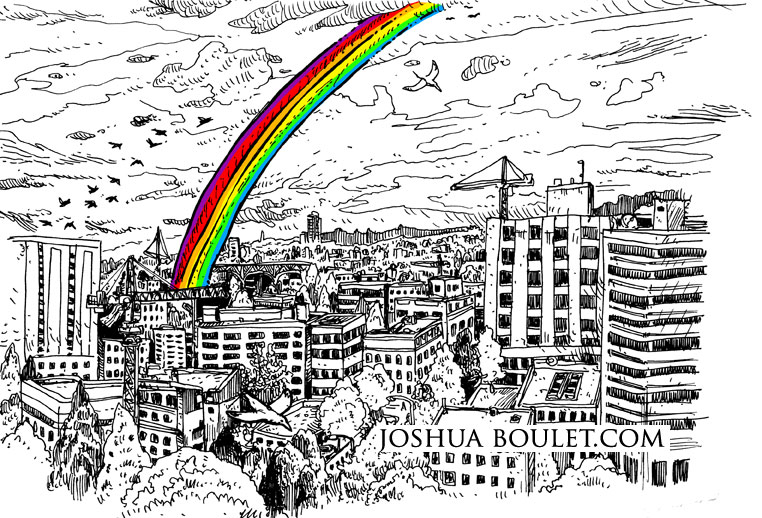 UPDATE 11-04-2012 by BOULET
It was called "Short Run" Seattle's best independent comic and zines we're there,
and I wished I had a pocket full of cash to spend.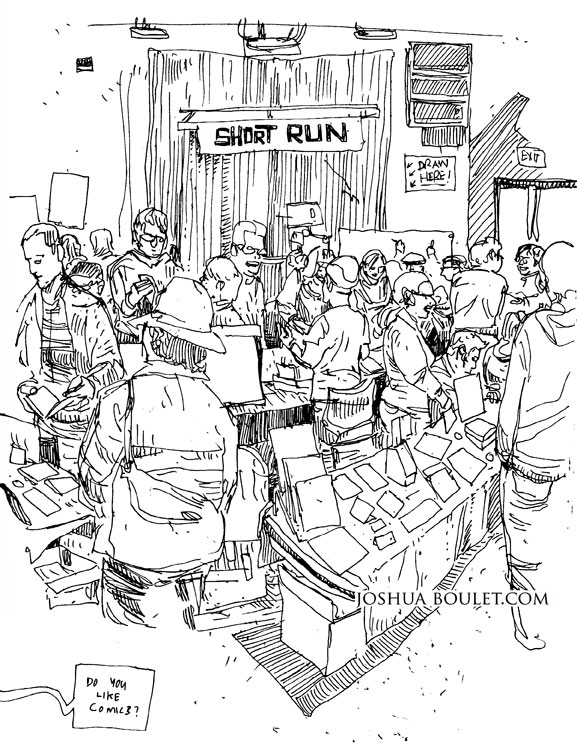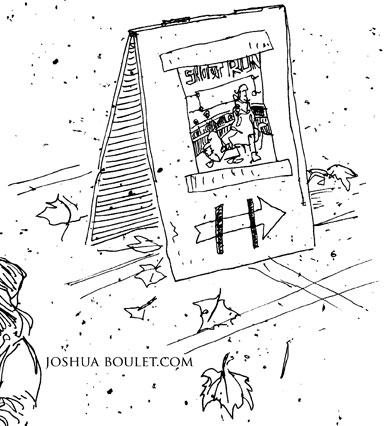 Seattle in the Fall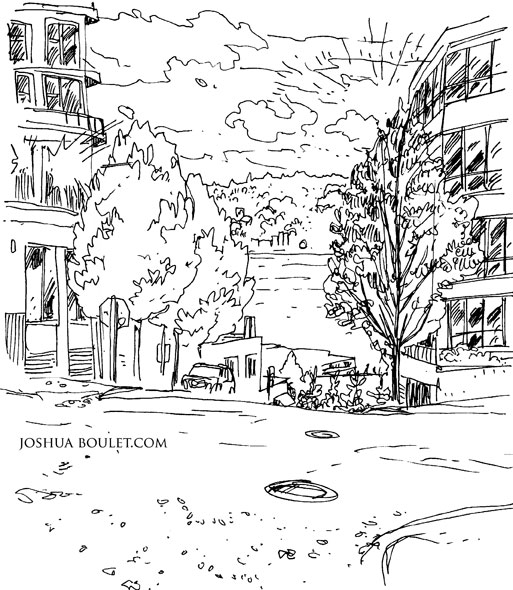 SKETCH SEATTLE
Somewhere behind Pike's Place Public Market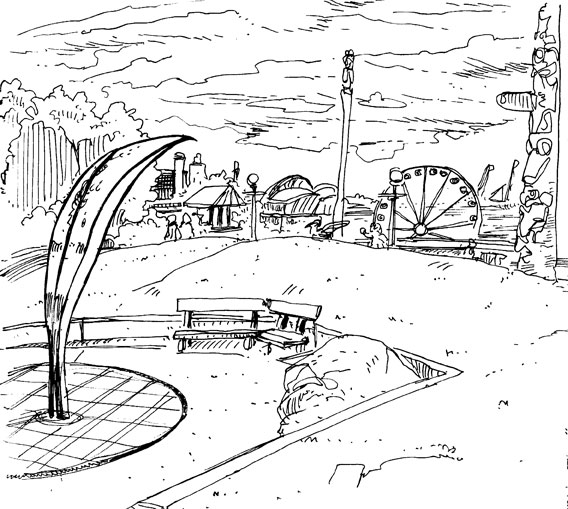 Open mic night at Bedlam coffee/ Belltown
Piano Hands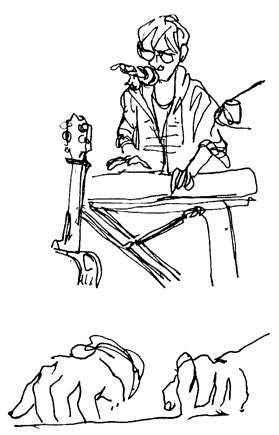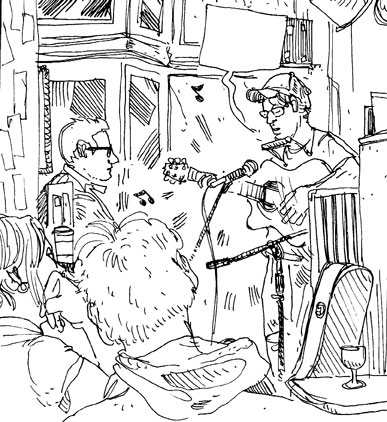 and Cinco de Mayo
in Seattle
"Day of the Dead"
Good Night!
10.31.2012
HAPPY HALLOWEEN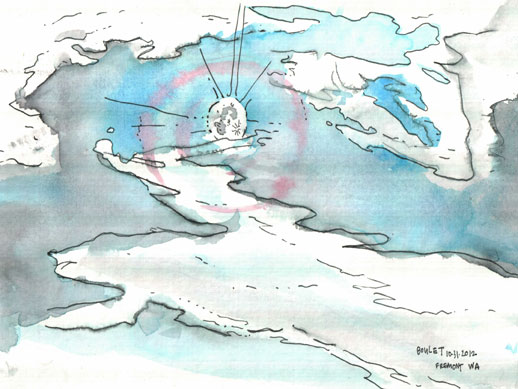 watercolor test one.
once again I stumble into something cool...
Fremont's TROLLoween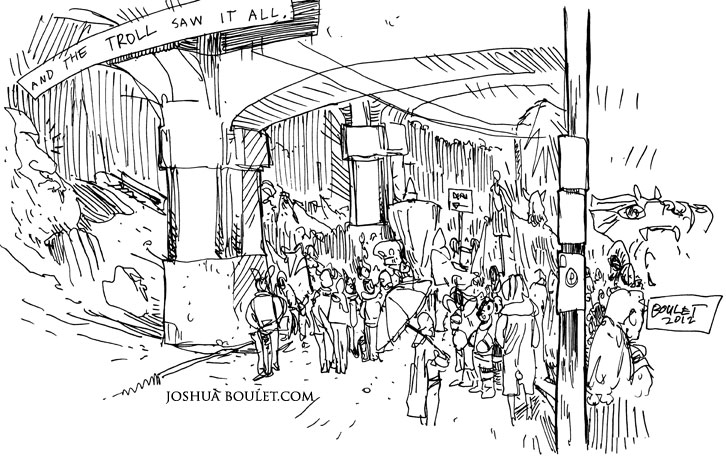 It's the birthday party for the Troll.
after celebrations we begin to march.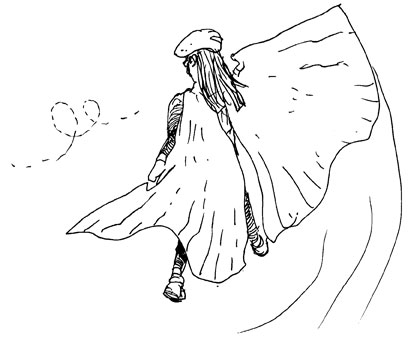 with the hypnotic beating of the drums
we spill into the street
and dance
10-30-2012 SEATTLE FREMONT
Every WED a local church hosts a community dinner in Fremont.
They have live art, and asked me to join
I had an hour to complete this drawing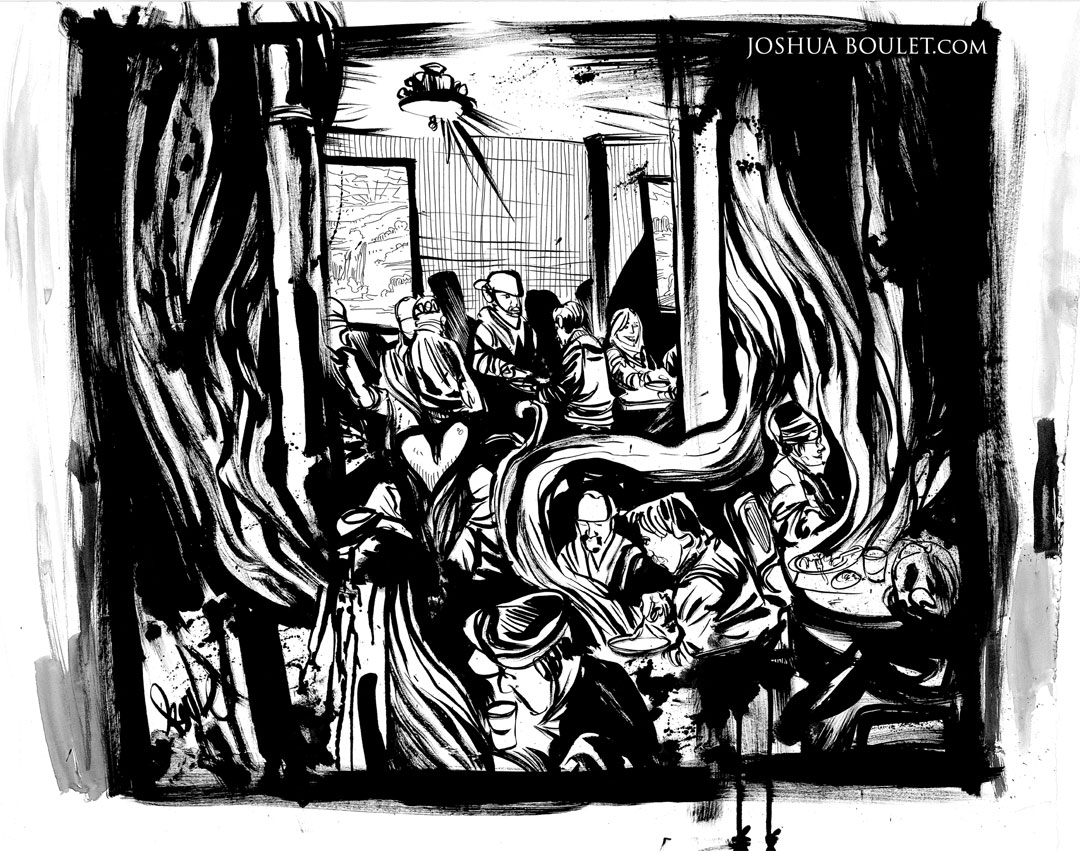 10-29-2012 SEATTLE BELLTOWN
I'm walking around Downtown Seattle. It's not raining. The Sun is out.
It's beautiful again, today. Behind Pike's Place Market, I find this
view of Puget Sound.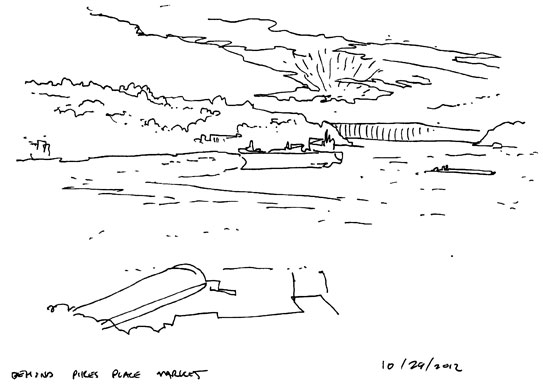 Bruce Lee is buried here in Seattle. I trek out to visit his grave site.
The 10 bus breaks down
I step outside to sketch the scene.
It doesn't take long for dispatch to get a large van out there, and it pushes the
bus out of the road, and back onto the track, except
I'm not on the bus.
I'm still standing on the street, sketching.
I watch as the bus goes down the street, and take off.
So now I have about 15min to wait until another 10 shows up.
I make good use of the time.
I never did find Bruce Lee's grave, but I did get chocolate chip cookies.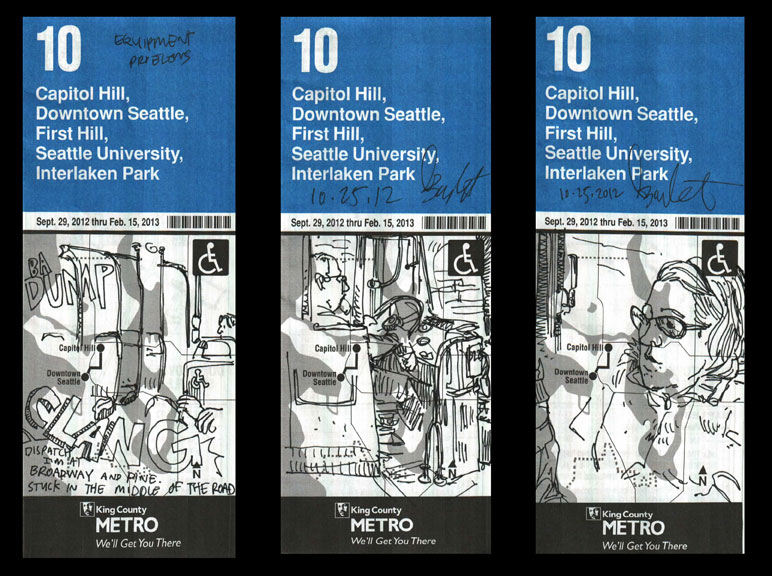 The first one is of the bus breaking down. The second is the bus driver, I caught his bus twice, the third
is a passenger.
HALLOWEEN
I'm invited to a Halloween party in Belltown.
I go as Ninja Rodney King, and sketch: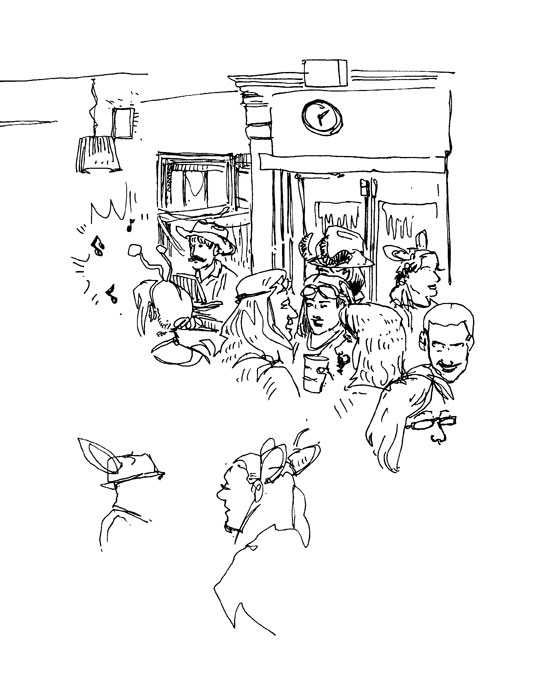 There is another artist here. She tells me that she would do
a drawing, but that I've already played the "Quiet Artist Sitting in the corner sketching" role.
I talk her into drawing in my BlackBook (22)
She tells me not to post the drawing, because she has had a bit to drink.
I tell her I'll post the drawing, but won't put her name on it,
and I also promise to add to it (which I still plan to do)
Her intoxicated drawing: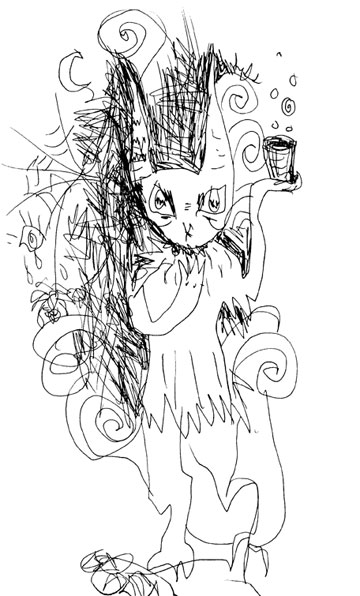 A lot of potential for me to add to this.
At a local coffee shop another artist asks if he can hit up my black book
"For sure."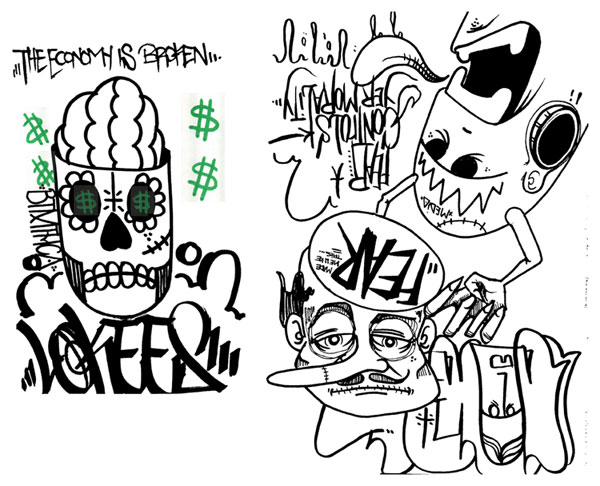 So I tag his blackbook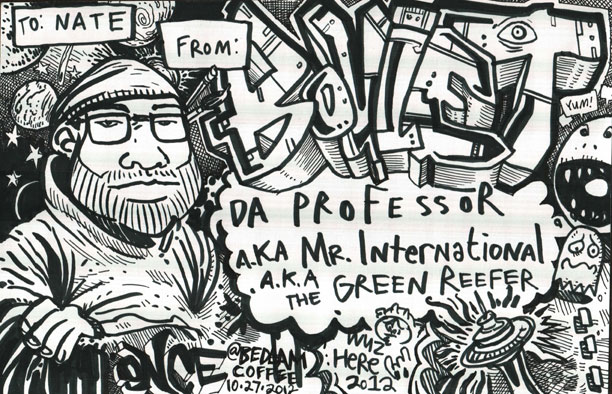 10-25-2012 BELLTOWN WASHINGTON

So this is the area I'm staying. I originally thought Belltown was a nickname for Bellevue, but not so.
I'm walking around and stumble upon this meeting by The Seattle Globalist (Click here for more info on em)
"Where Seattle meets the World"
They share their stories and photos, and I sit in back and draw.
At the end I am allowed to share.
They ask me where is the one place that I would want to be drawing
"Seattle"
The room smiles, and I make new friends.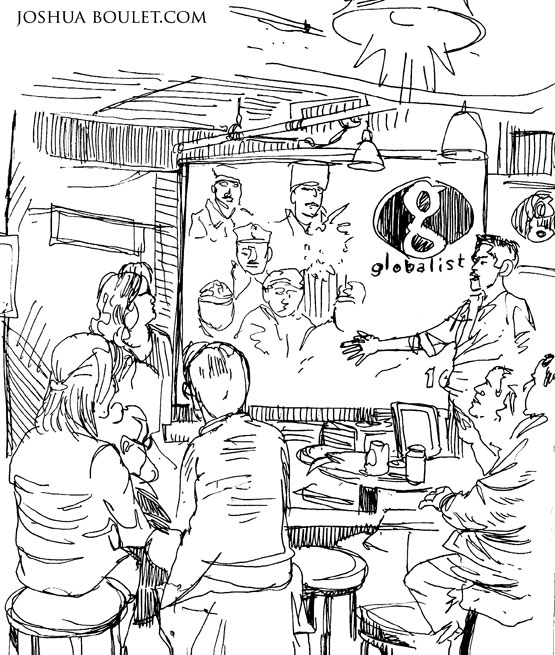 More Public transit drawings.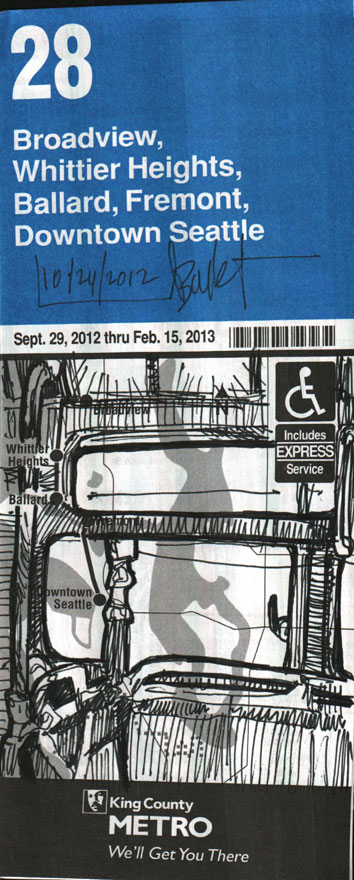 Hanging inside the room. I add the Texas hat.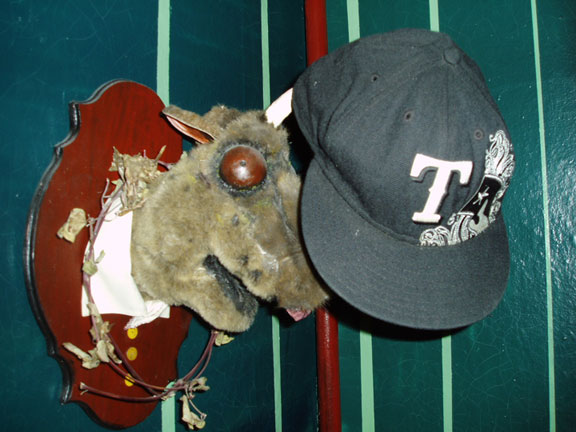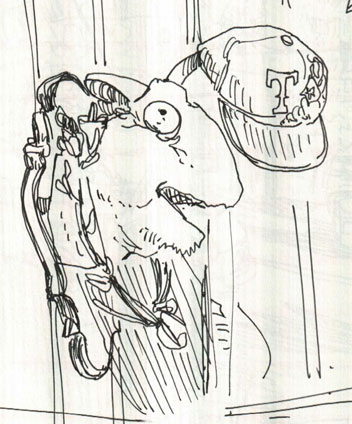 Oh yeah I also had a chance to draw this:
Seattle's Space Ship, er, I mean SPACE NEEDLE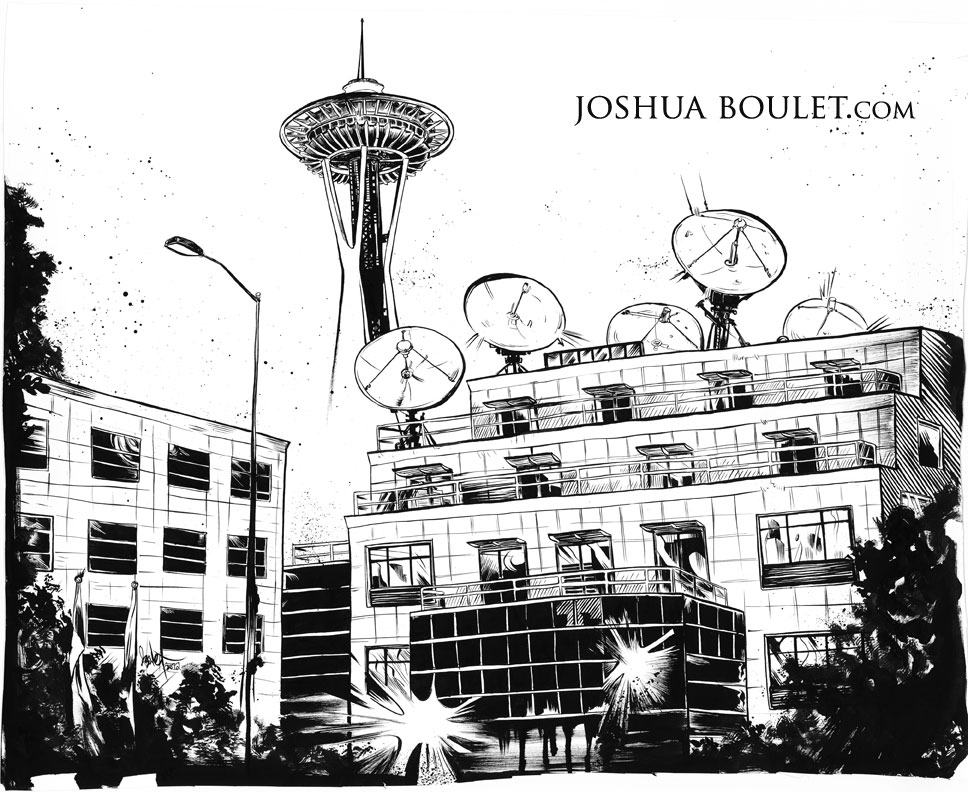 10-22-2012 SEATTLE WASHINGTON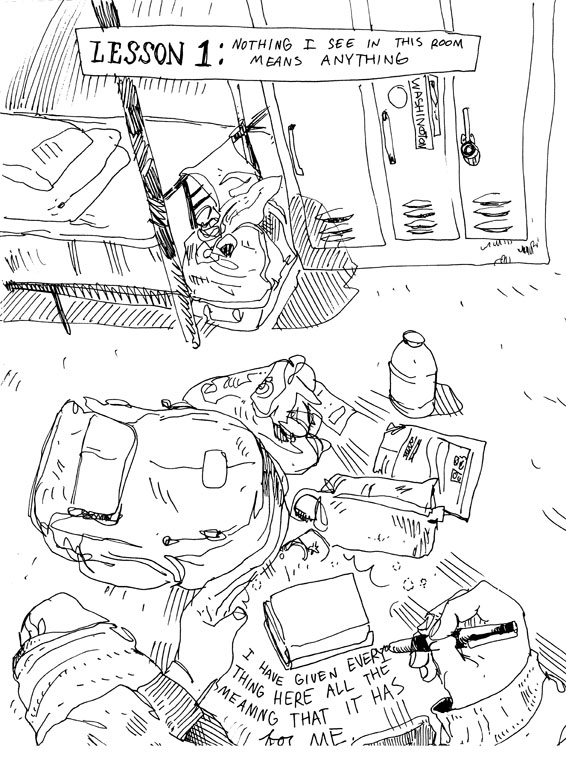 Outside, smoking a cigarette, is a sandy blonde haired girl,
and she is asking me if I want to do something.
I accept her invitation to the poetry reading...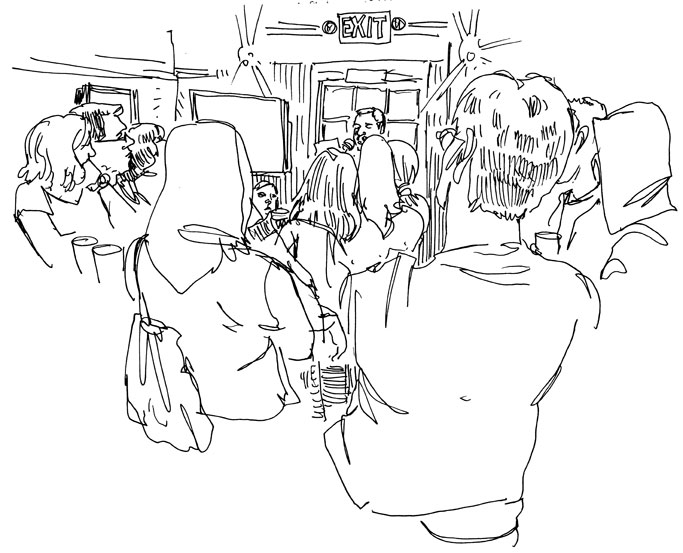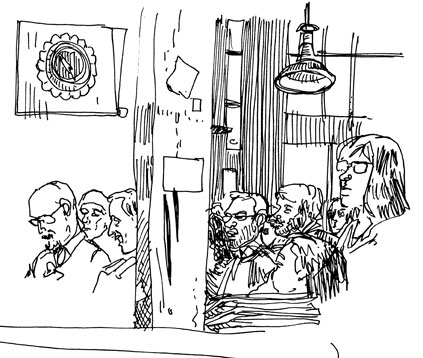 Tomorrow, I am looking for a spot to blaze this bowl of Seattle's finest green medicine,
I come upon a hidden cove.
There are three people chilling out there. One looks homeless, but I decide I can easily smoke out here.
As we soon all begin to smoke weed, they tell me about a free community dinner just up the street.
Every Wed.
I check it out, or rather I follow another cute looking girl into...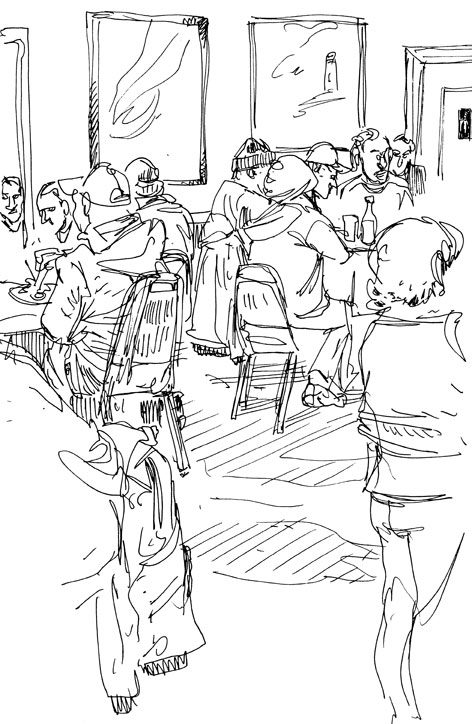 There was a general warm communituy feeling being here.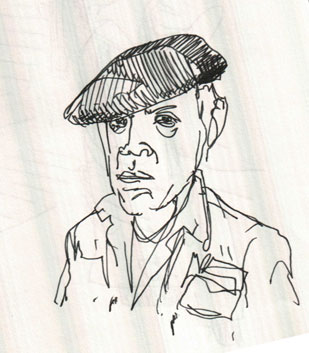 There was even live art and music.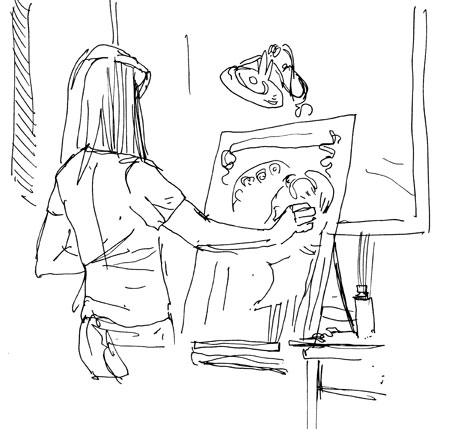 Good warm food
Funny conversations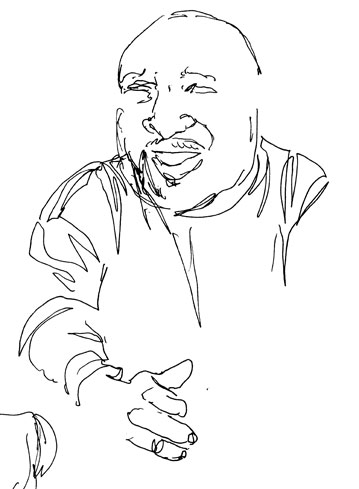 A quick blessing after the meal.

I'll be back.
But until then...
Sketch the World!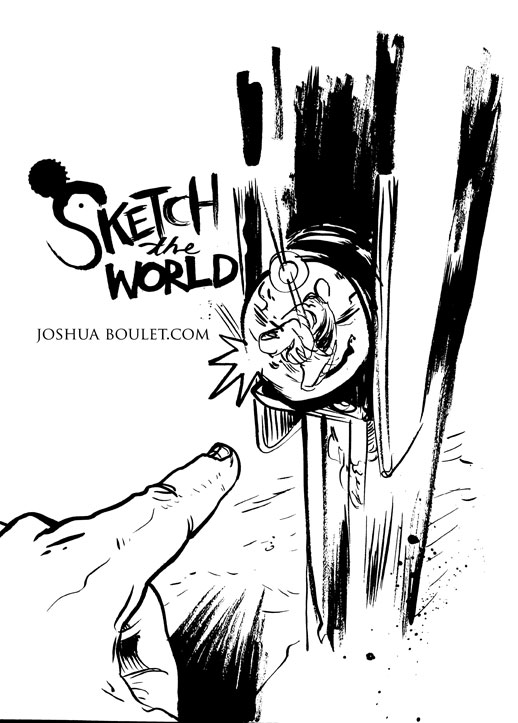 10-17-2012 KING COUNTY BUS LINES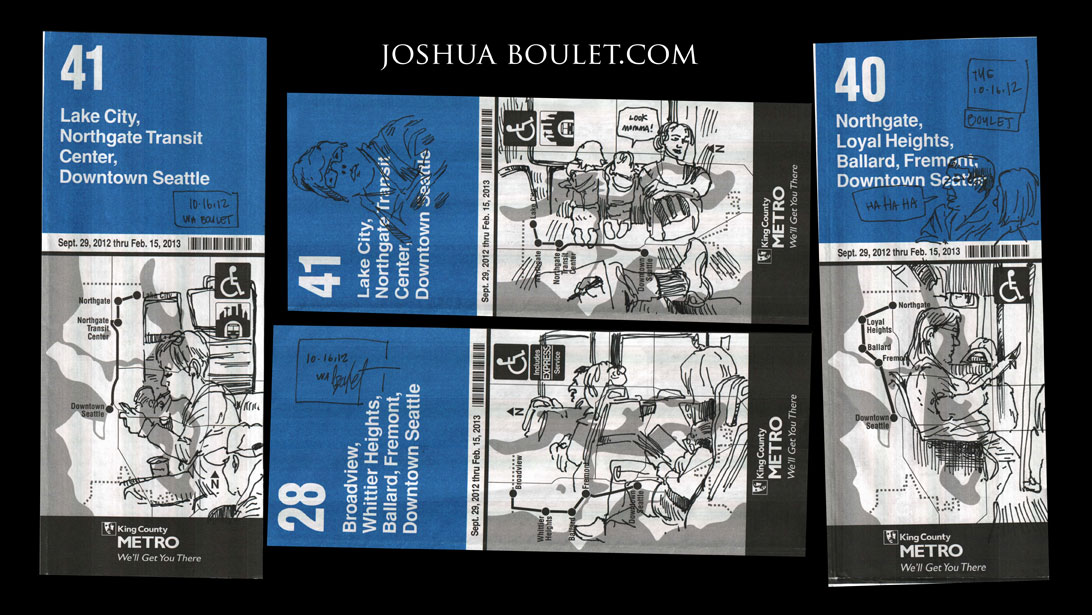 10-16-2012 FREMONT WASHINGTON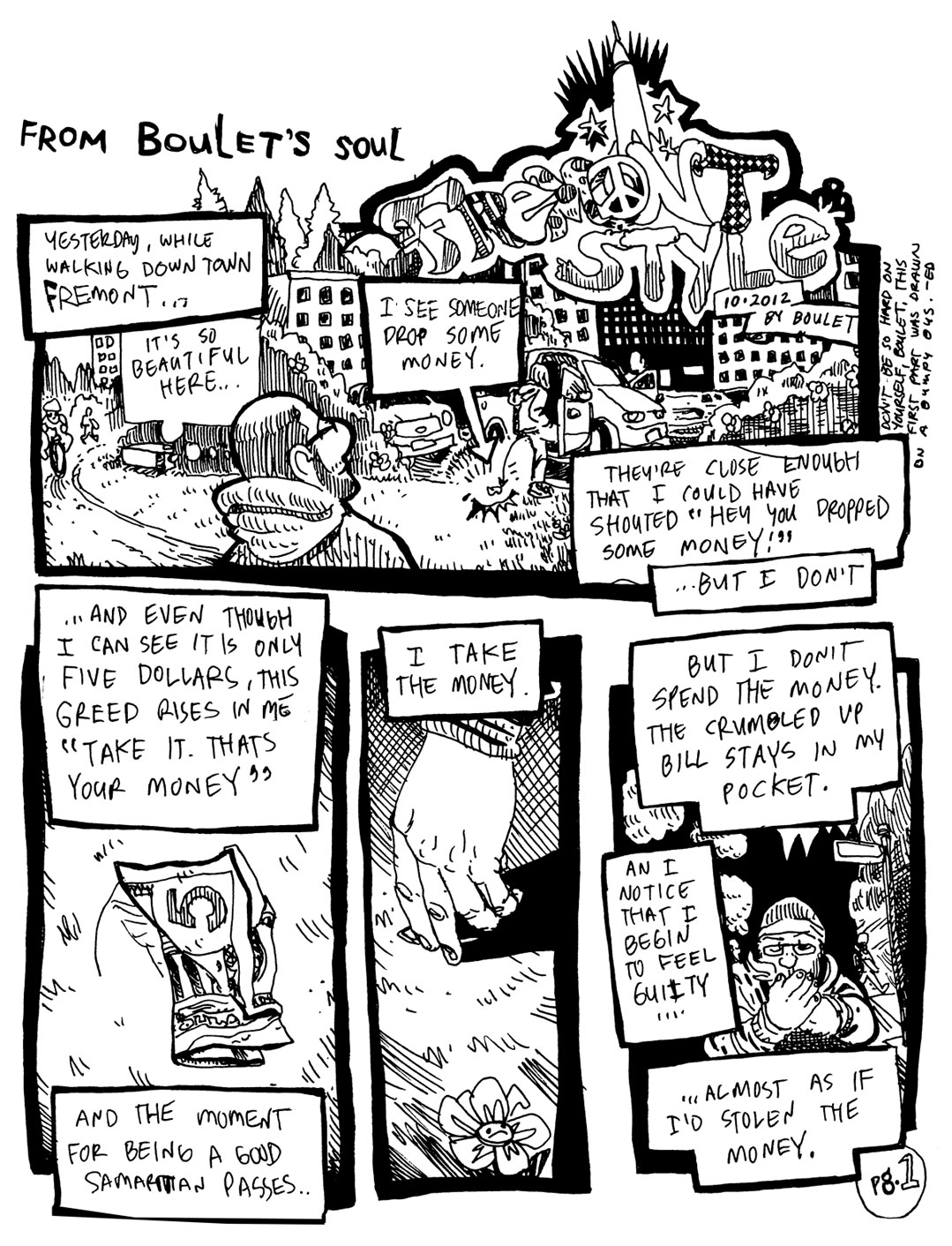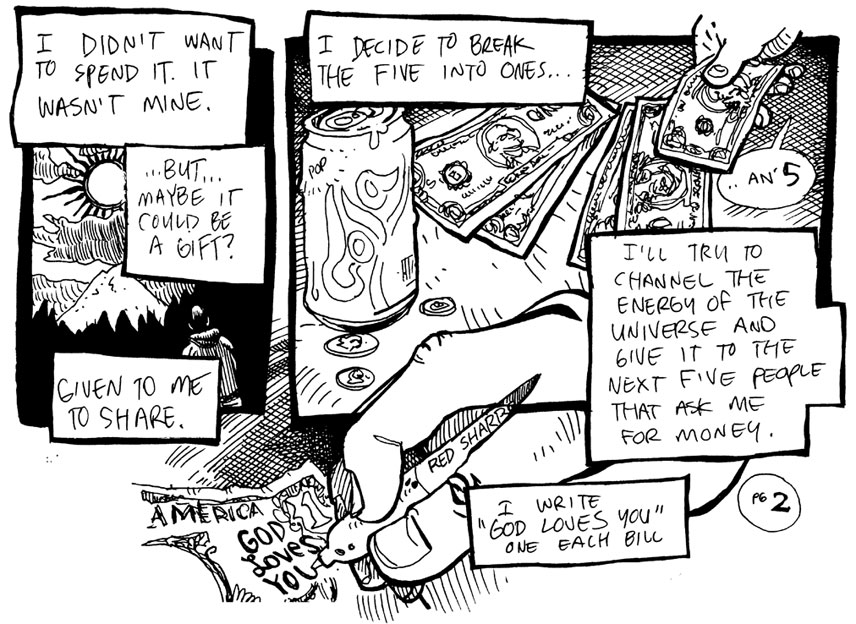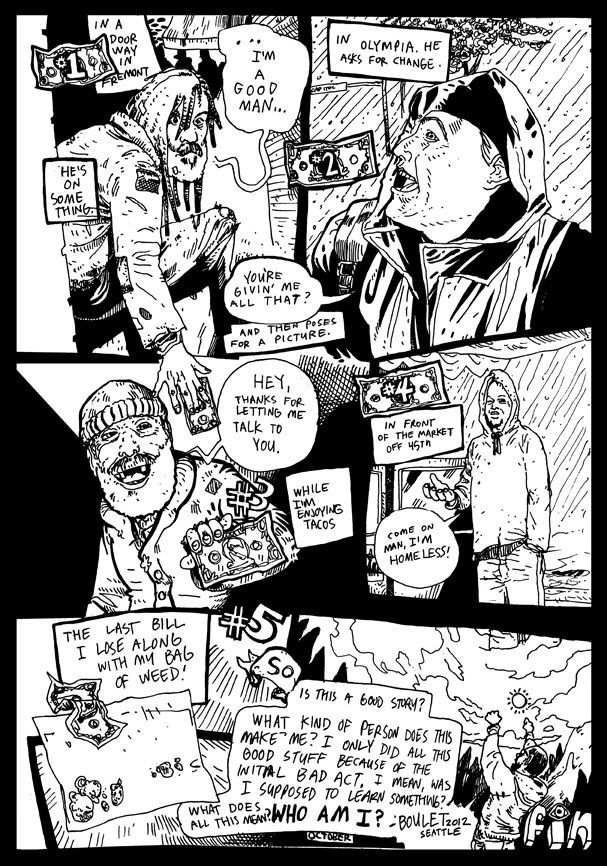 10-14-2012 FREMONT WASHINGTON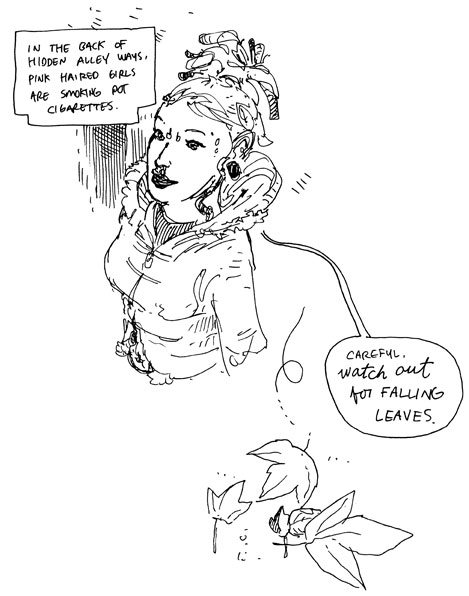 Most of the day will be spent at the Zoo, up the street.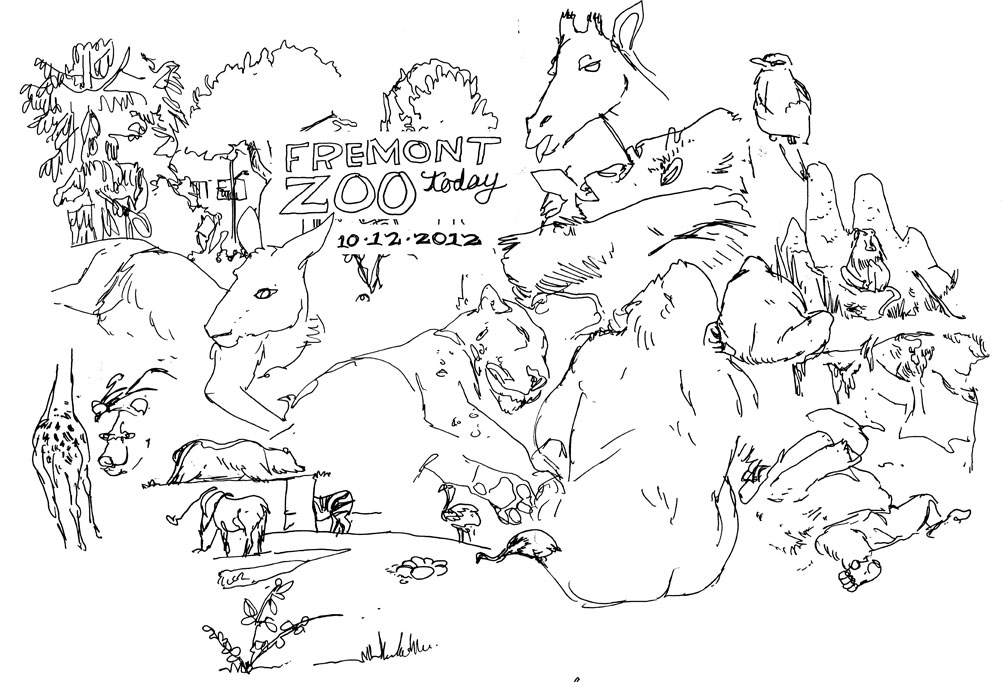 Hippos.... I think.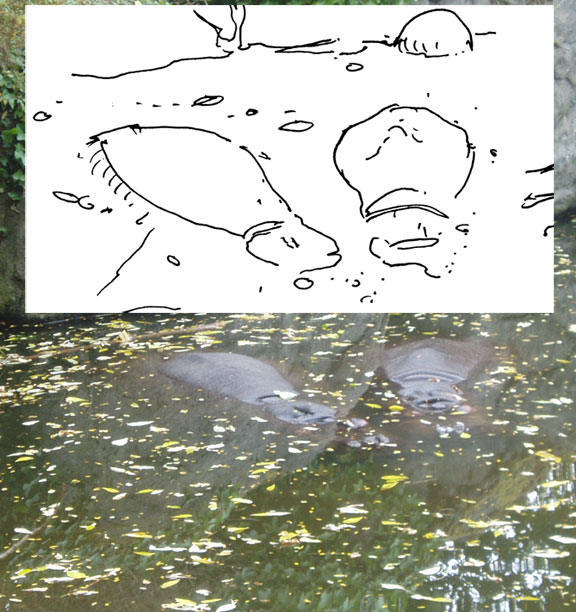 It feels EXACTLY like it looks.

It was a busy night on the Seattle Light Rail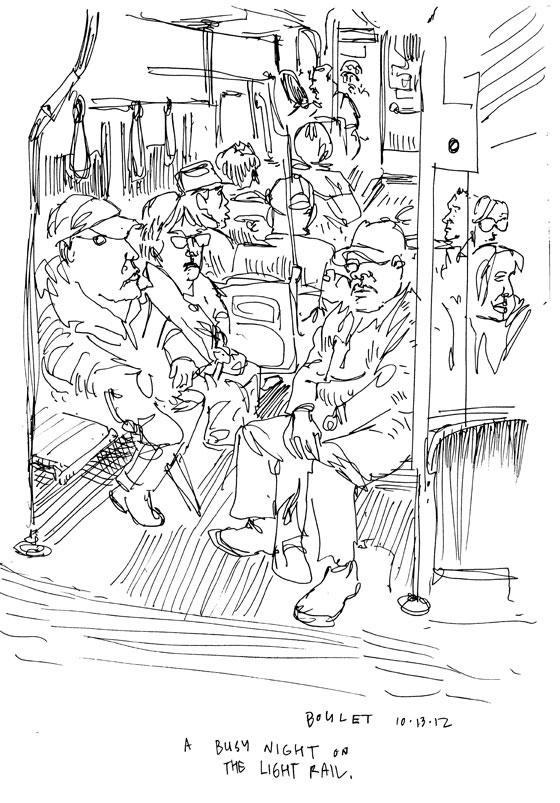 10.10.2012 SEATTLE WASHINGTON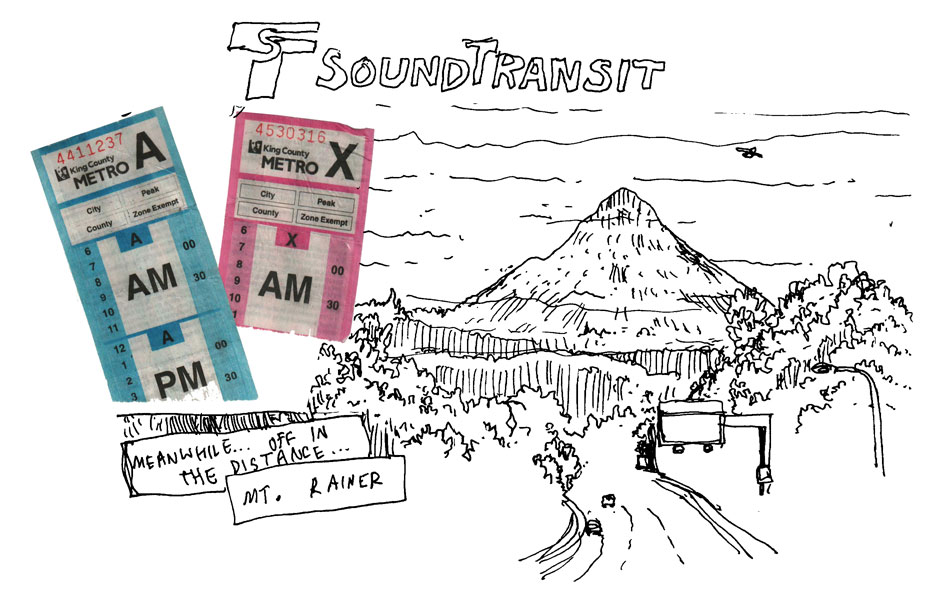 No Buses on Sunday.
Well they run, just not late, and it's now late.
I continue to get by on the kindness of strangers.

Popcorn, pizza, a free ride, and extra olives.
Brenda, who often helps strangers offers me a ride, but first we have to stop by her friends house.
Afterwards she takes me into Lacey, near Olympia.
Tomorrow I will do a drawing for a client, but tonight I need a place to stay.
We find A Motel6, and it will turn out to be a strange night...
I DREAM...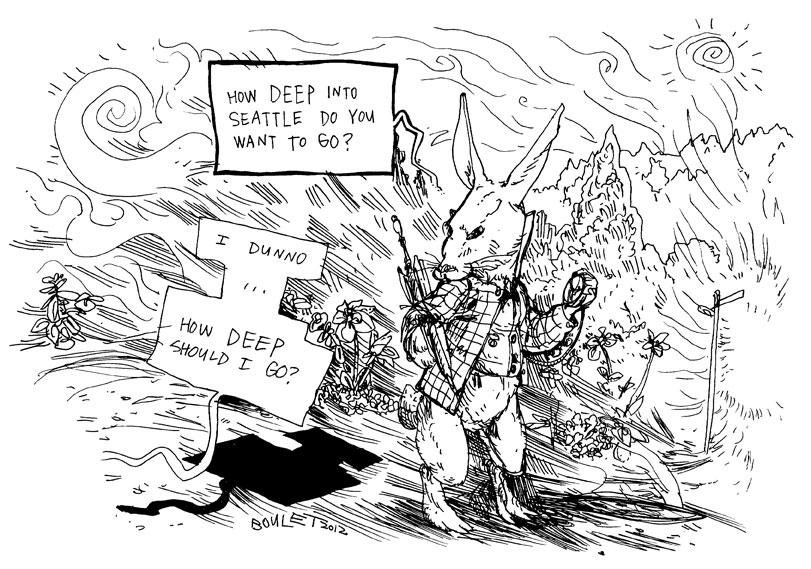 It's such a beautiful day, and I can see Mt. Rainier.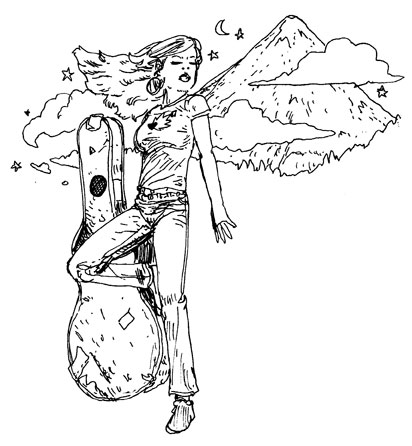 I set down my drawing equipment to say "Hi"
IT'S 6AM. I'M AWAKE
The prostitute in the next room is throwing up from the heroin.
These walls are super thin.
I hear every gut wrenching bowel relieving horror.
This will go on for for a few hours.
Eventually she knocks on my door.
"Somethin's wrong with my friend. I'm gonna have to
take her to the hospital. Can I buy a cigarette?
Here. Here. I hand her a couple.
I feel maybe I should help, but really I don't want to be involved!
Even later...
Can I draw the paramedics through the peep hole?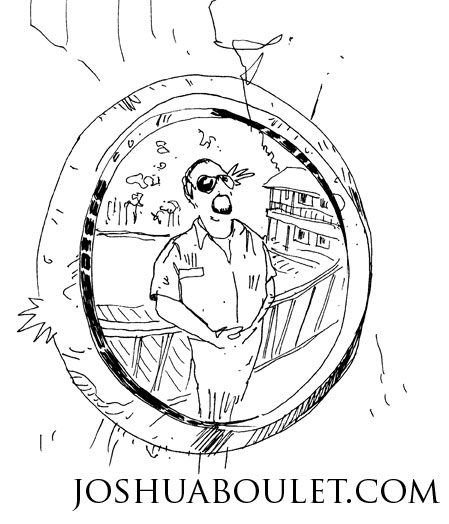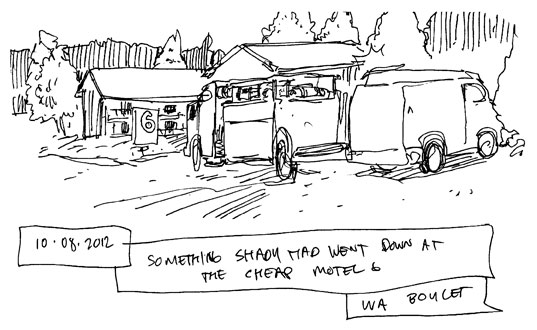 Brenda, my new friend scoops me out of this mess, on the
condition that I hang out for the day.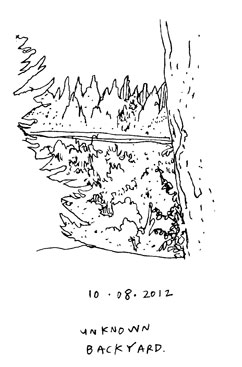 The kindness of strangers...
Invite to dinner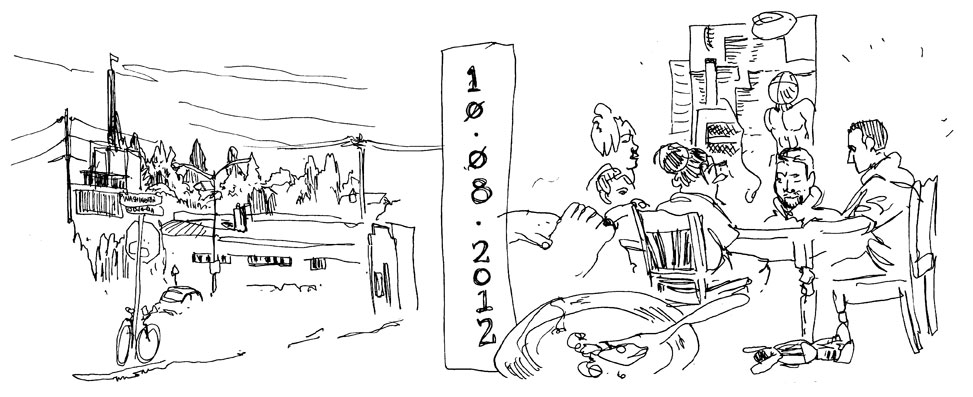 Her husband is a fellow artist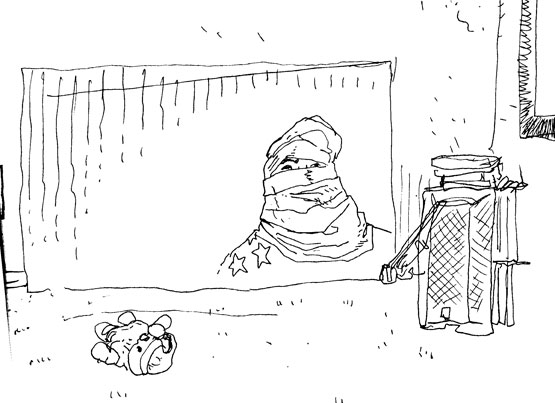 I am dropped off at a free room I find on the internet.
My new friend makes me a pizza. We talk and eat, and then all of a sudden I get really tired.
I excuse myself and go to sleep.
I DREAM AGAIN...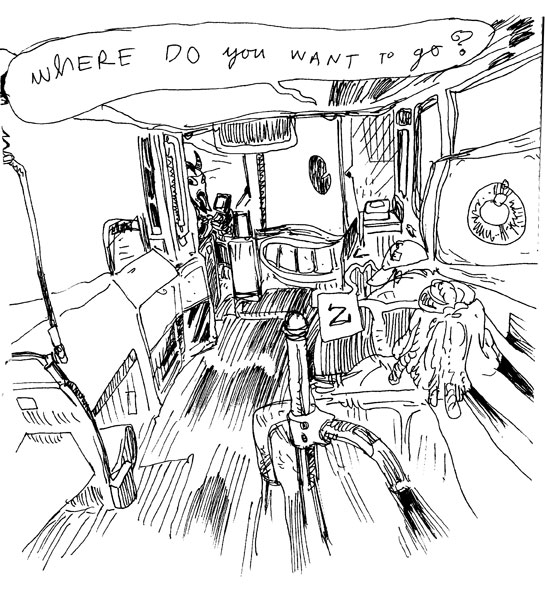 The Bus Driver and front passenger talk, loudly, but
it's in a language I can't understand.
In fact I don't even think it's from Earth.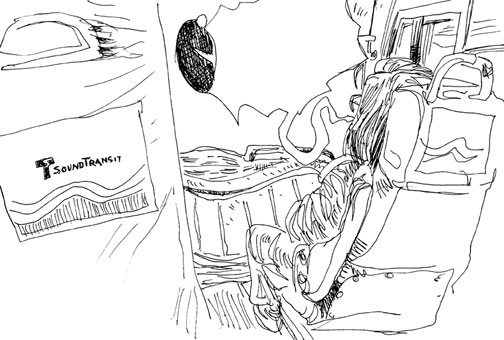 END OF DREAM.
I'M AWAKE.
Where am I? Oh yeah. Olympia.
I get some really good rest, but I wake with a sore on my pinkie like a tracking device had been inserted.
And this dude keeps joking about being a serial killer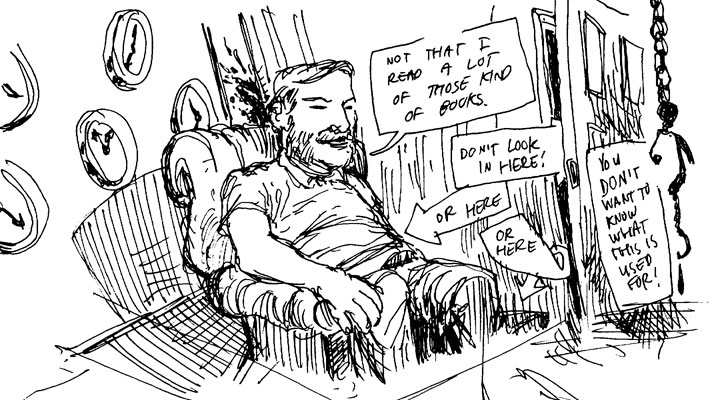 So it's time to go...
LUNCH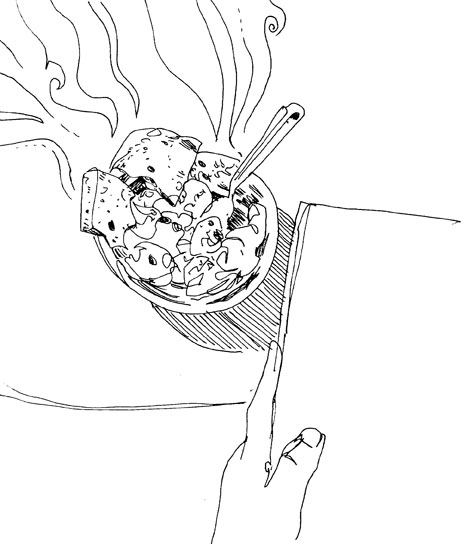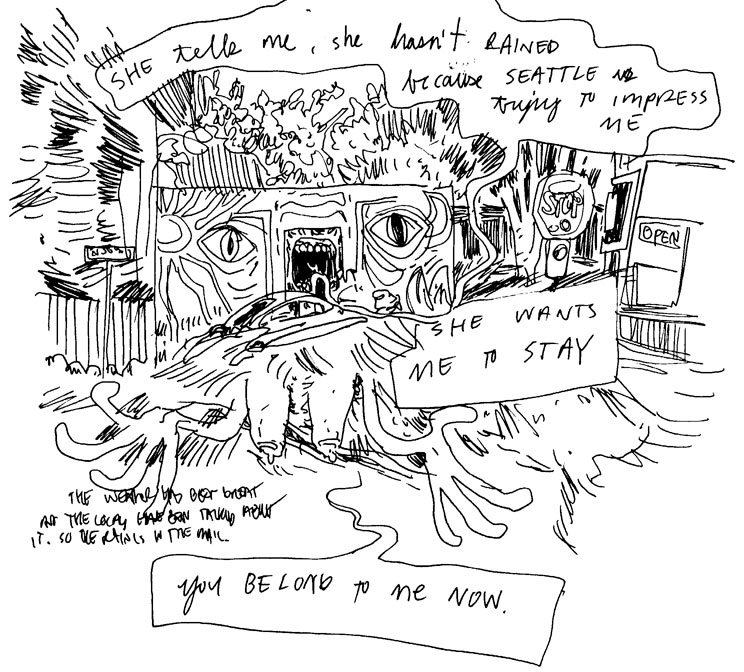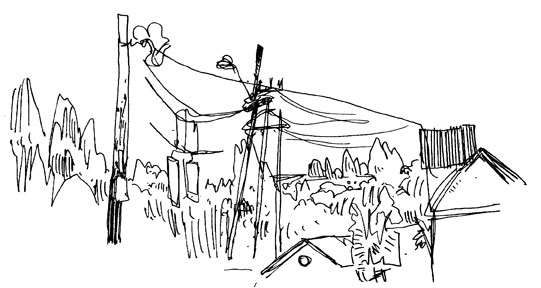 10-07-2012 FREMONT continued...
It's 5:00am and I'm on the Portland MAX LINE.
Rushing to make a 6am bus leaving Portland to Seattle.
Of course I have time to draw...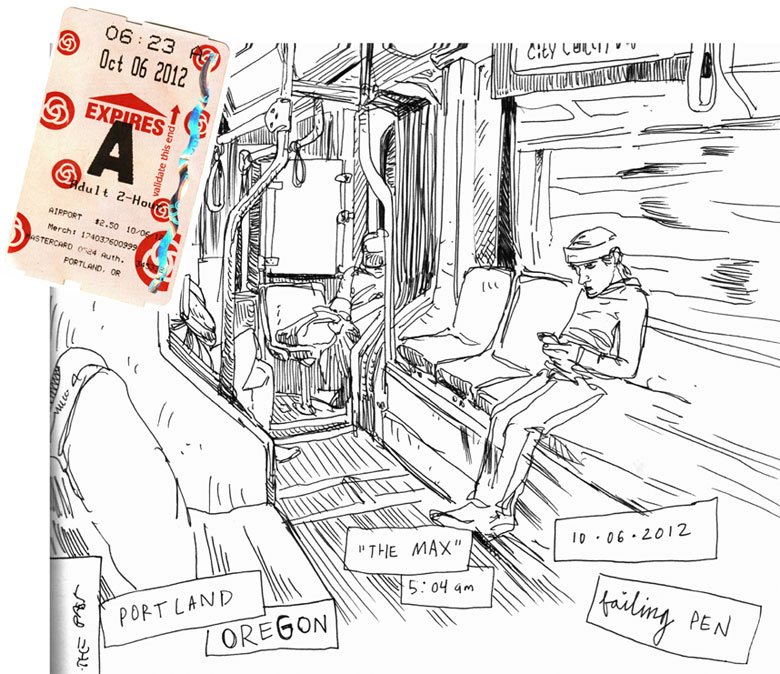 Each city subway varies just slightly. It's very interesting, and I wonder if I
could do a whole book on different city public transits.
I'm here. Seattle WA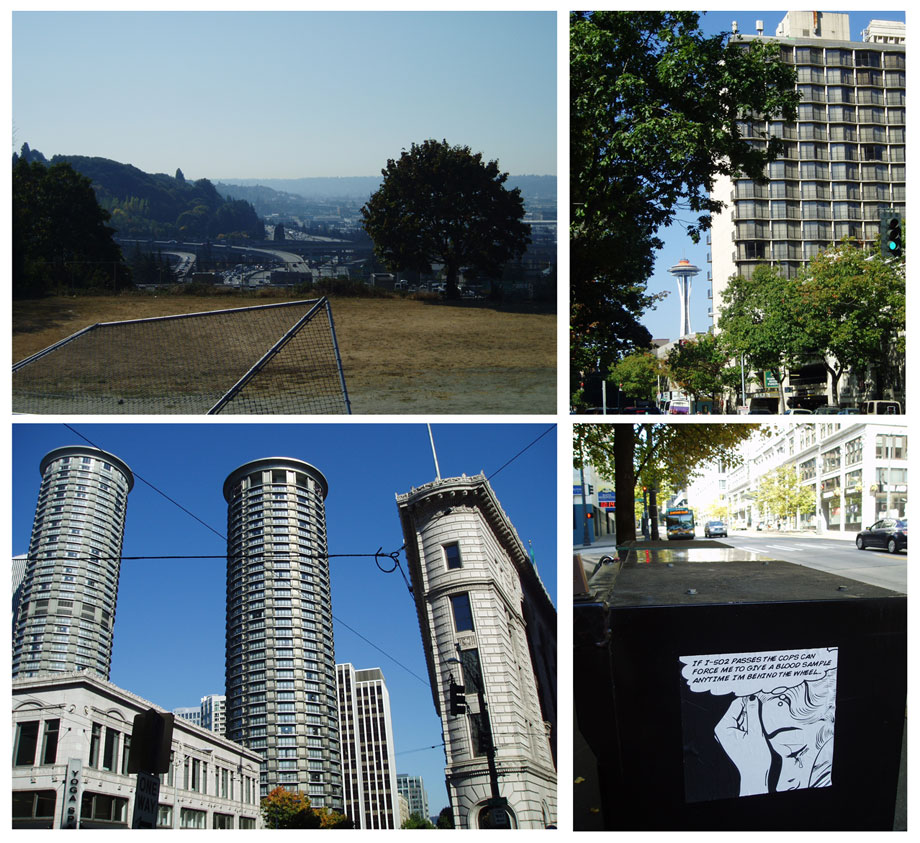 I wander around the city until two pm when I can check into my room in Fremont.
Last time I was here I found out about this wonderful hostel called
HOTEL HOTEL
http://www.hotelhotel.co/hello
They list it as a little Hostel with Big Flavor.
I get the warmest welcome from Kerri Ann, who is working behind the counter.
"Is that Josh?!?"
With a big smile I know that I've made the right choice in hostels.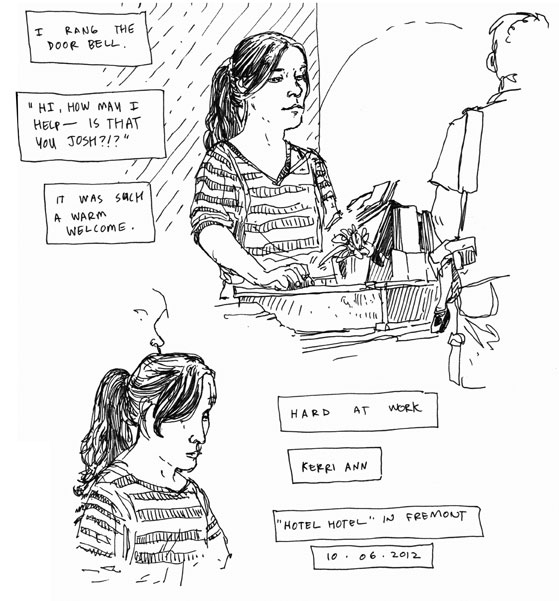 I unload all the crap I'm carrying with me, and decide to grab some lunch.
Kerri Ann hits me up on a local sandwich shop.
"It's really good" She says "So good that sometimes they run out of ingredients."
I make her give me directions, because I get so easily lost, and 20 minutes later I find the spot.
The place is called Paseo, and look at this line out front. Yikes!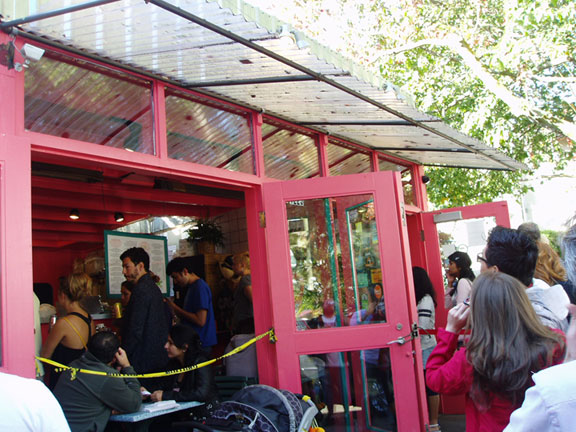 still I wait, what else am I going to do, and if I'm going to
write about something might as well be good.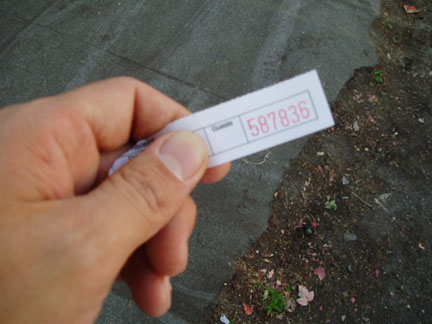 I am No.36 (is that a movie?)
after about a 10 minute wait (I timed it, but forgot to stop time when the sandwich arrived.
I also almost forgot to write the name of the shop down, and had to go back to get it.)
Yeah, it's as good as it looks.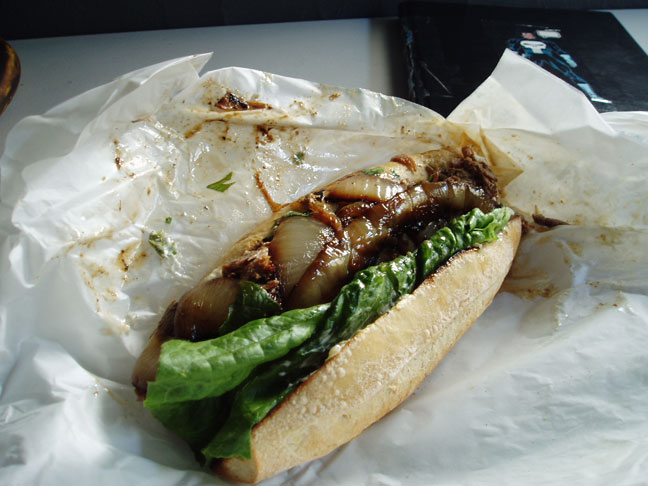 This is the Caribbean. A pulled pork sandwich, with giant sauted onions slices, jalapenos, and lettuce.
It is also as messy as it looks. The sweet pulled pork works well with the jalapenos.
There is enough food for two meals, but being so hungry I eat all of it, and wish for another.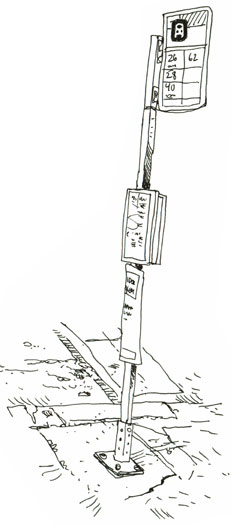 Until tomorrow....
10-06-2012 PORTLAND OREGON
God's Redeye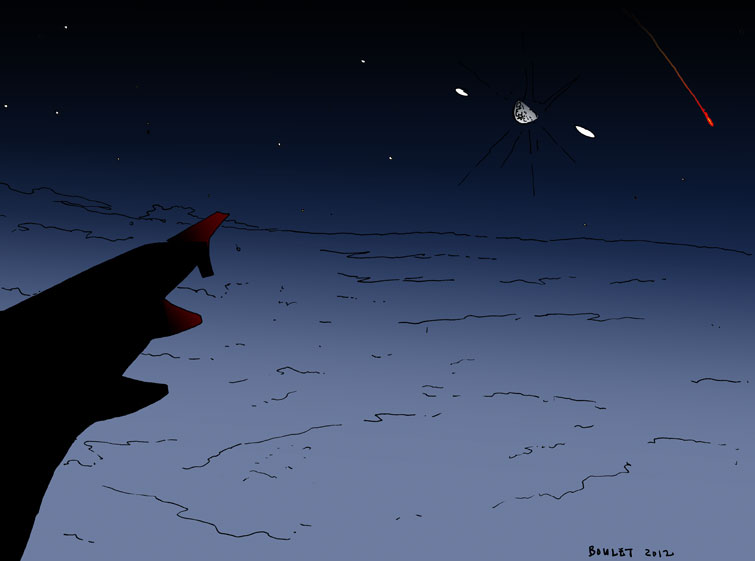 I was trying to fall asleep.
For some reason I look out the window. The view is... is so.... beautiful.
As I rush to escape my past, I say this prayer.
"Let me walk only in the present.
Let me truly forget and forgive.
Let me honor the name of God"
I stare out the window for some time. Then I draw it.
Working on the airplane.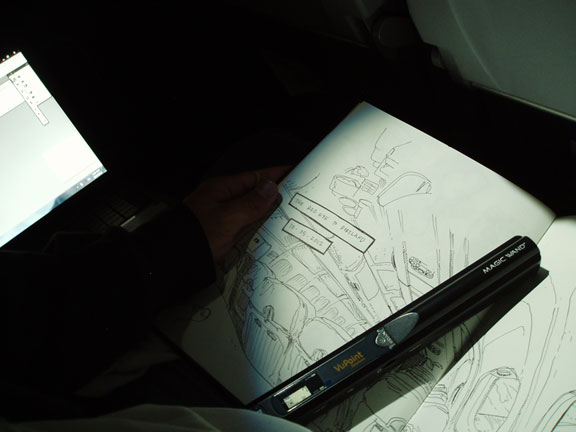 Boulet is always hard at work for you, the reader, and his fans.
Touch down Portland Oregon. I gotta catch a bus to Seattle in the morning,
so for now- rest.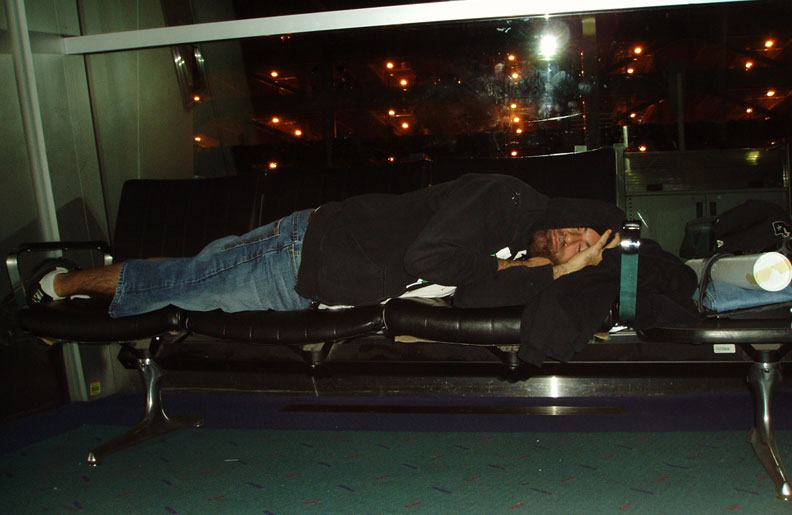 Sleeping Beauty...er, I mean Sleeping Boulet
Not all airports have seats where you can stretch out like this.
In fact I've never seen them before here.
10-02-2012 NEW YORK CITY (still....)
New York doesn't want me to leave. It was a tough hike to the airport, in the rain today.
When I get there I find that the flight has been oversold.
They want two volunteers to give up their seats.
They offer me a $100 check, and free round trip ticket.
Corporate sponsorship.
This is how Tyler and I were able to have Fight Club every night of the week.
I stand in the loading bridge as it detaches from the plane.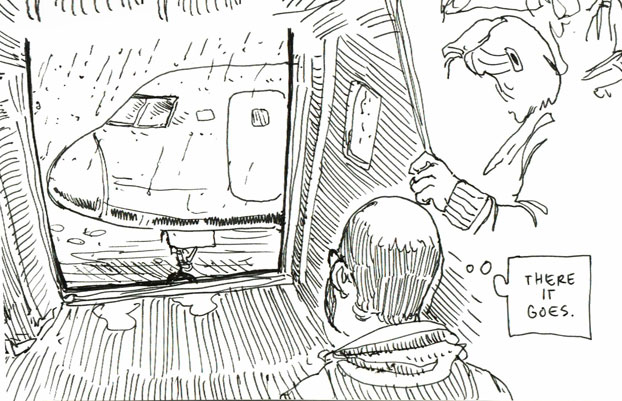 I leave for the Big City
Yes, the 7 Train goes to 42nd street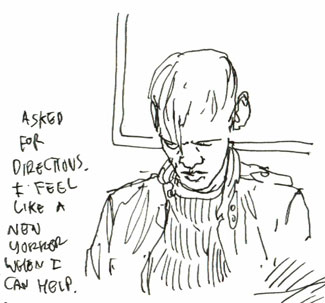 Back to Brooklyn....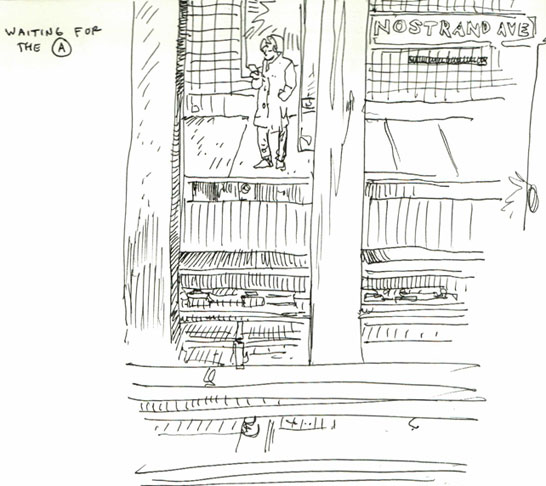 10.01.2012
...and the New York art show "NOTHING TO SEE HERE" ends like a dream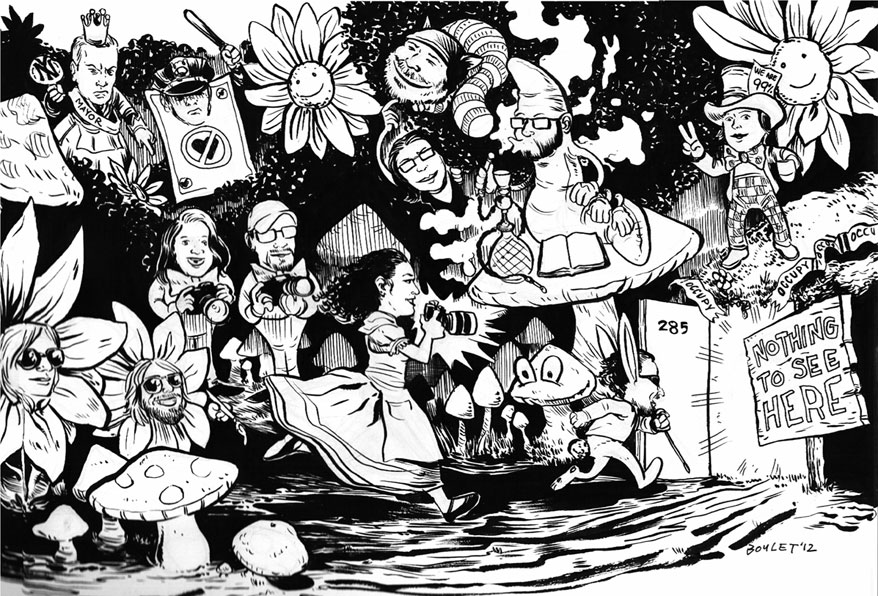 Every character in this drawing is one of the participating artists. Mayor Bloomberg added
10-01-2012 NEW YORK CITY
So I'm going to start a new thing on Sketch the World
and add the foods I enjoy while traveling.
I was taken to this small Punjabi Restaurant earlier, and knew I would be back.
I'm not sure really what I order. It all smelt good.
This is a small bowl. Rice, and 2 veggie sides (It's all Vegetarian.) $3.50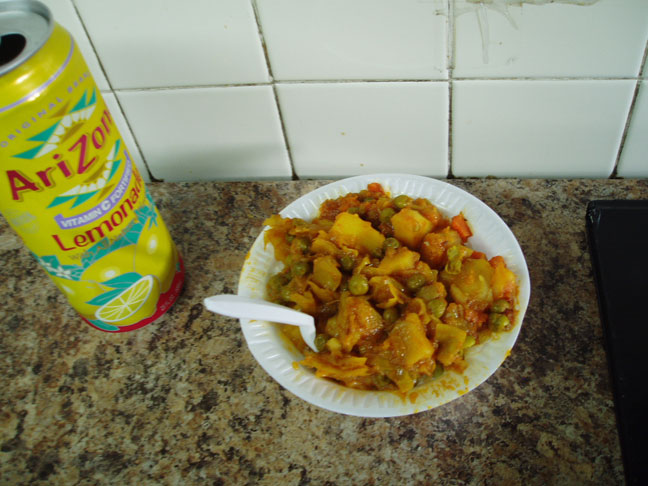 The inside is what I think of when I think New York.
It is small, standing room only. I love it.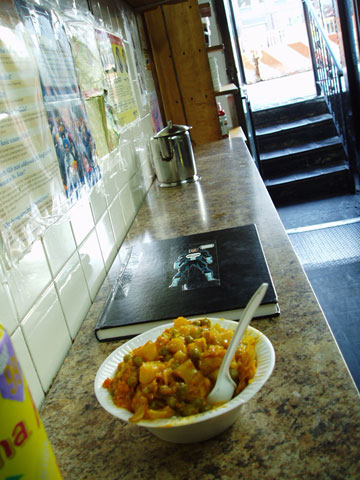 I saddle up to the bar and eat my food.
On the wall are various articles about the Sikhism religion.
I write down three of the basic beliefs listed.
1. Living with honest means of earning.
2. Meditating and contemplating on the name of God.
3. Sharing and caring for Humanity.
I can dig it.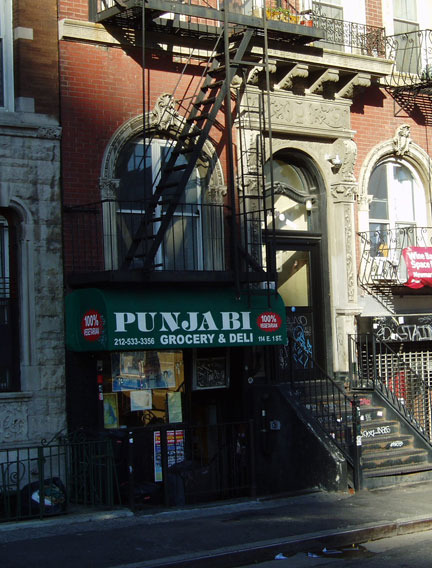 You would almost walk past this place, but don't.
09-30-2012 NEW YORK CITY
The United Nations building.
There was a big protest on Friday, and I was hoping to capture it today.
But there is nothing happening on a Sunday.
I am able to get close to the building, hang out, and draw- something I
wouldn't have been able to do if there were protestors.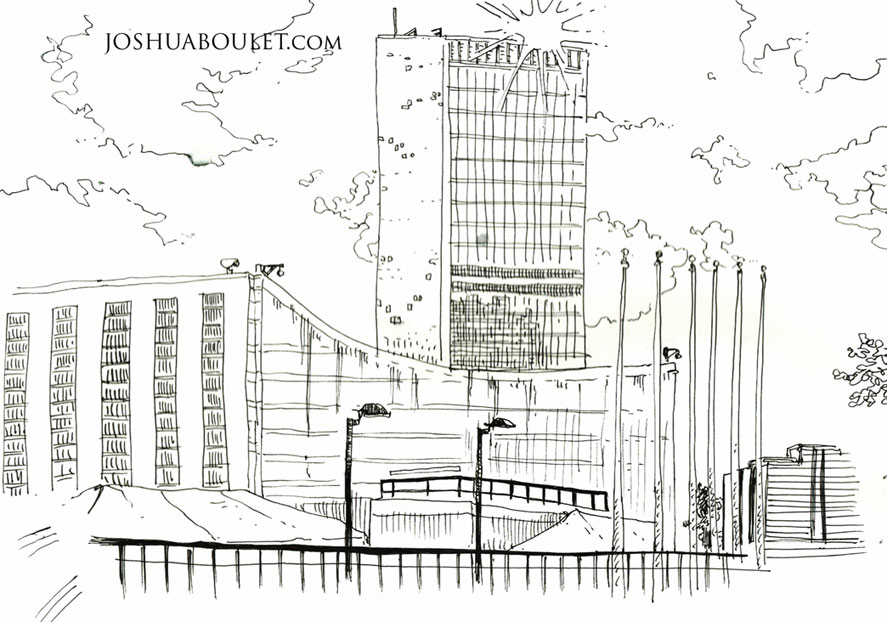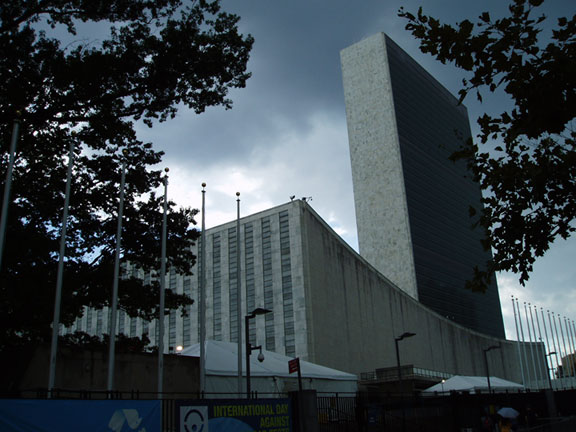 Without any warning it begins to rain.
We rush to find shelter, and end up at Grand Central Station.
I finally get my gyro.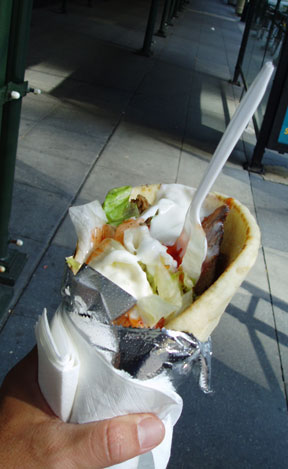 I don't get the gyro at one of the street vendors, as I had been planning.
(The street vendor gyros are cheap. Costing only $5)
I order it off a vendor at a block party, and I noticed there isn't a price listed.
This gyro costs me an extra $3.
I have a strong feeling that the price varied.
Acting like a tourist I get charged tourist prices.
AN NYC TIP: don't be afraid to say "Hey how much is that?" before you order.
But I still enjoy the long awaited treat.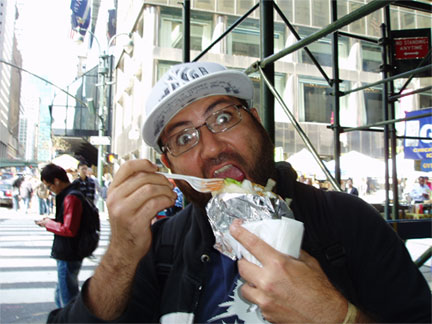 It's been 4 days since coming to NYC, and I finally get my main reason for being here.
I eat it like it is an $8 gyro.
09-29-2012 NEW YORK CITY
to SAVE ART. i RECYCLE FOUND ART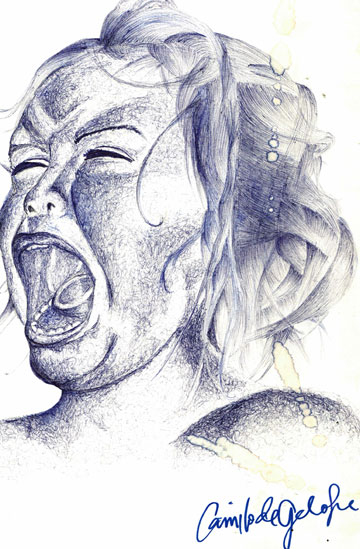 So walking down a New York Street today, I see the above ball point pen drawing in the trash.
"Why would someone throw this away?" I asked.
After studying it for a minute I roll it up and take it with me.
At the time I had no idea what I was going to do with the discarded drawing,
but I write the date and street names of where I found the piece.
Later that night she speaks....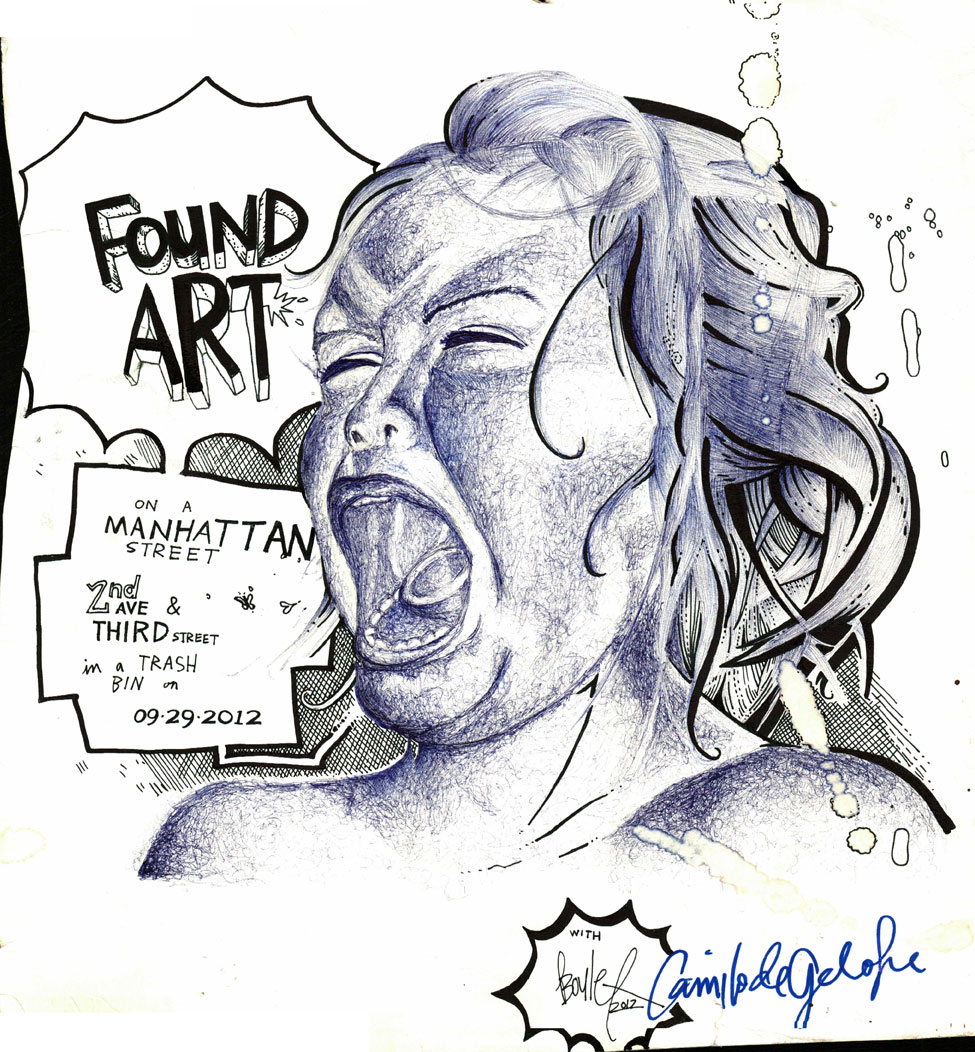 09-27-2012 NEW YORK CITY
Well Lets start it off with a little subway drawing.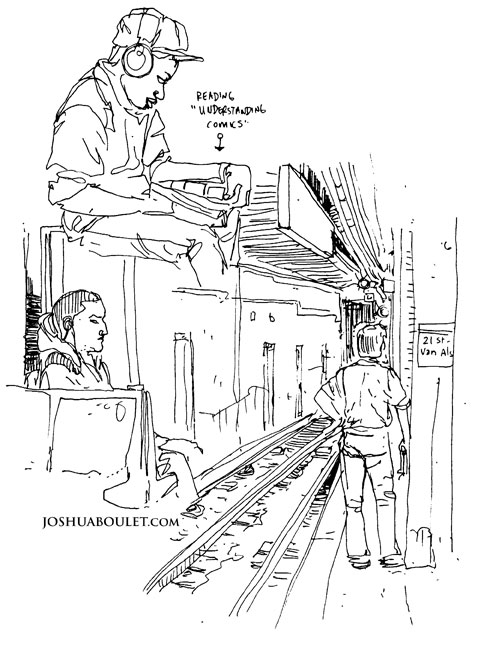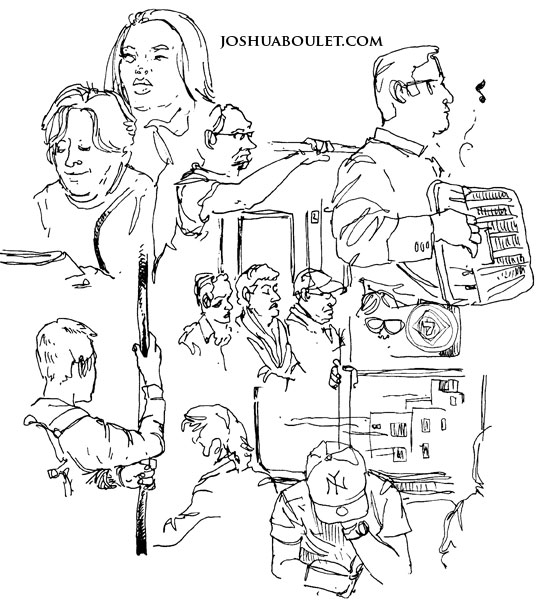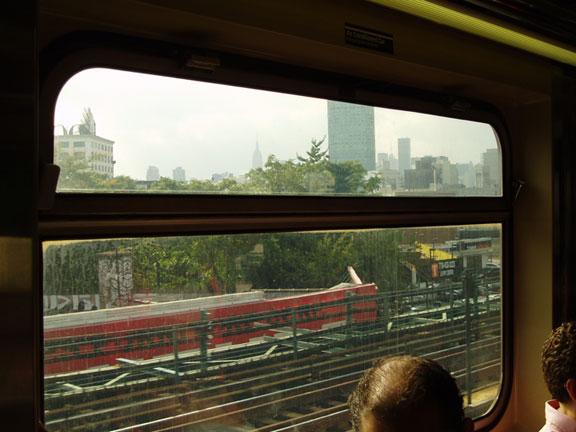 I'm headed to METS Stadium to catch the last game of the season.
Free tickets. Why not? One of the perks of my career.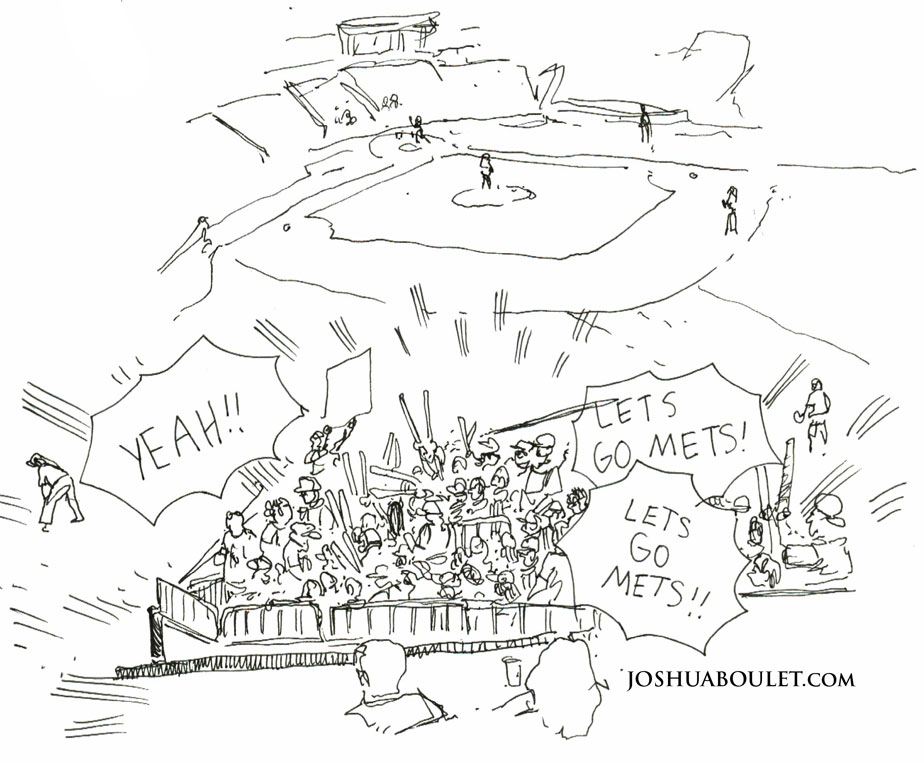 Without a ticket I am sneaked in the back door. One of the perks of my career.
I won't have a seat, but I'm inside and can wander around.
A great moment when the rival team hits a home run into the stands.
This sea of blue chats "THROW IT BACK! THROW IT BACK!"
and you see a small white baseball thrown back onto the field.
There is something cool about catching live games.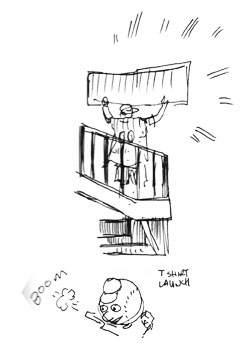 METS WIN.
Now Manhattan bound...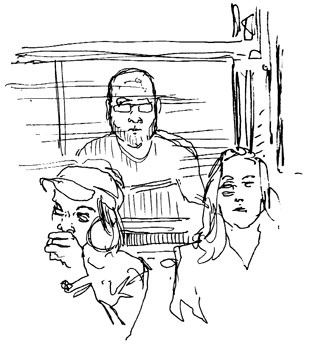 Of course I get lost. 2nd and 2nd?
How can the same street intersect with itself?
I must be at the nexus of the universe!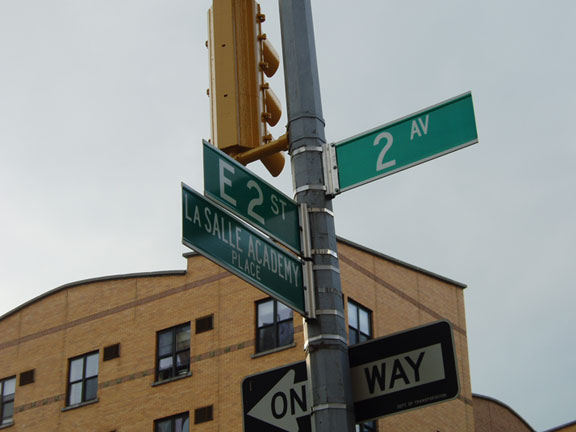 More drawing tomorrow....
09-24-2012
Sketch the World is about to begin again. BlackBook 22 starts today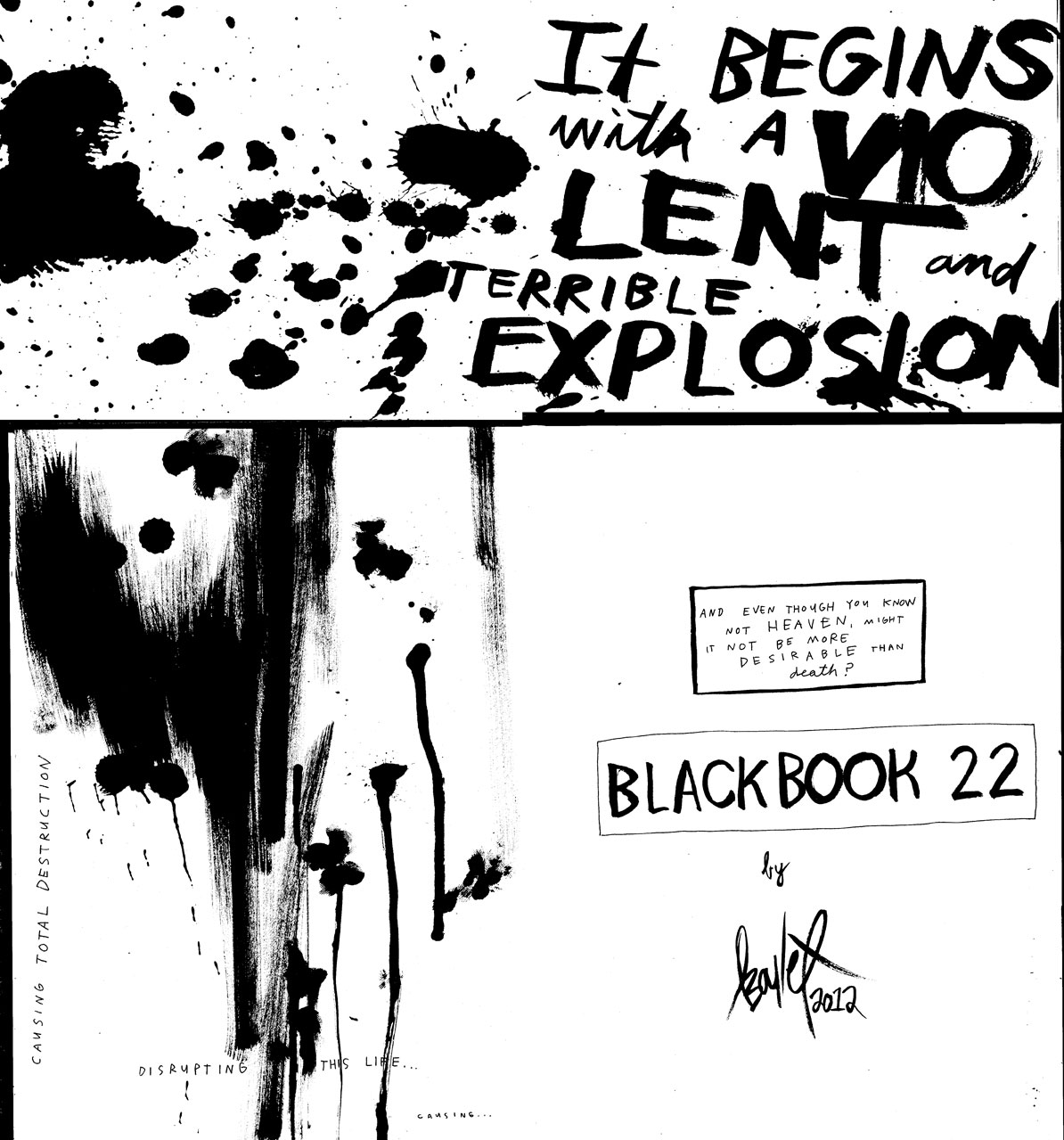 09-05-2012
Shhh... top secret project. More to come, but it will be some time.
"IT ALL BEGAN WITH A STARVING DOG."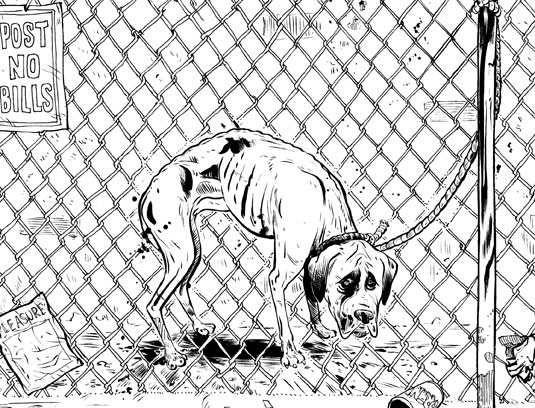 08-24-2012
Just because it's Laundry time doesn't mean I can't find something to draw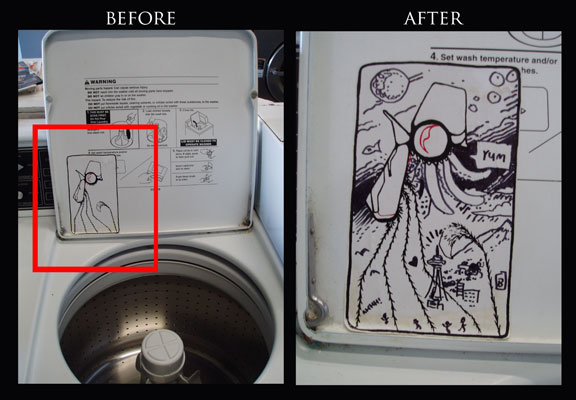 The Seattle Space Needle. Not my greatest drawing, but the only one with ink so far. Sketch the World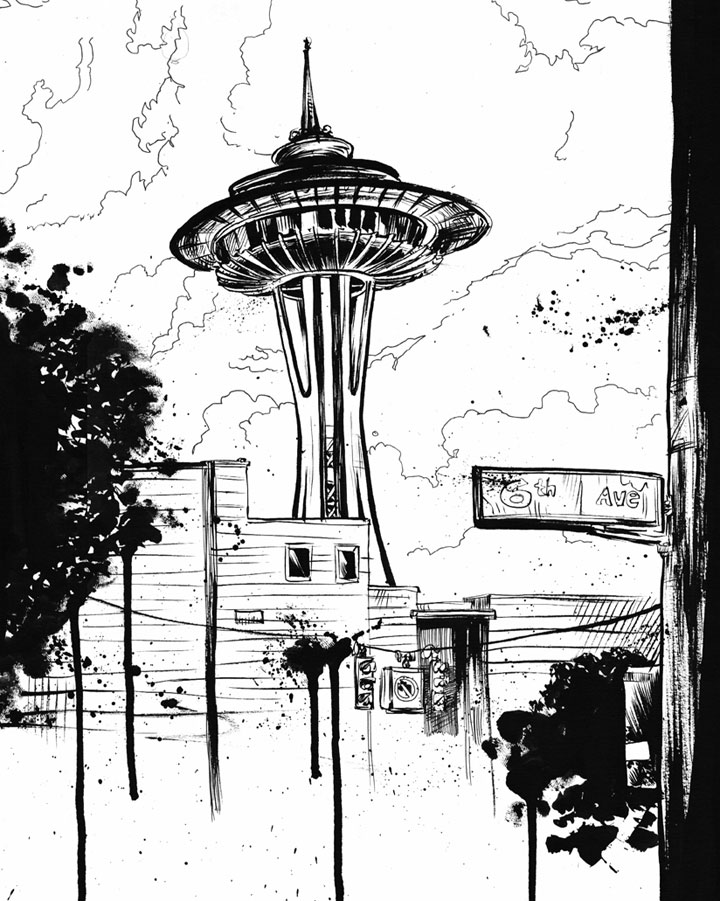 08-23-2012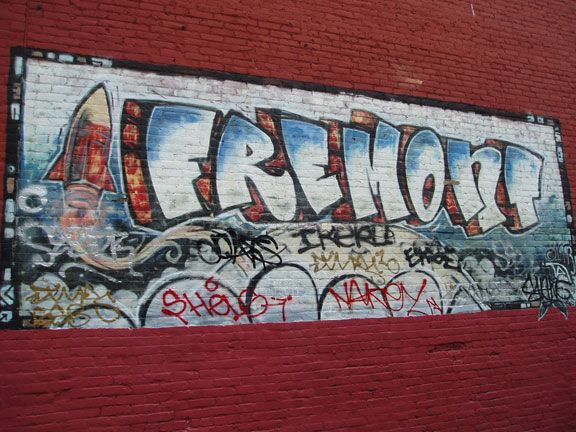 Under the Aurora Bridge in Fremont there is a Troll waiting for three billy goats and little lost children....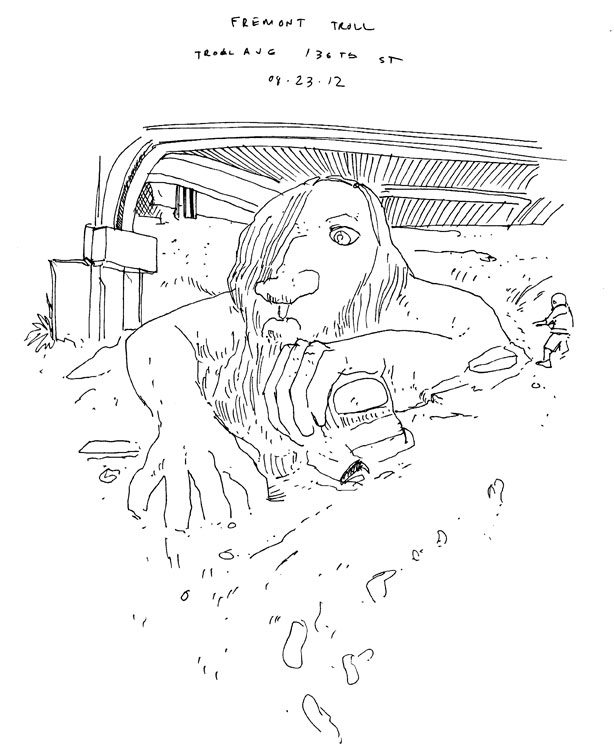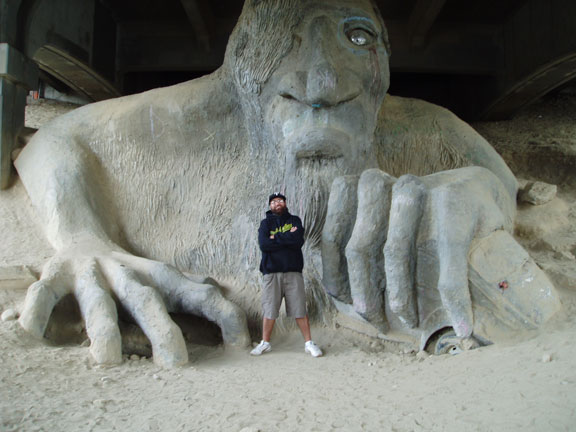 Under another bridge is a live painting class. People drawing and creating art? What do you think I'm going to do?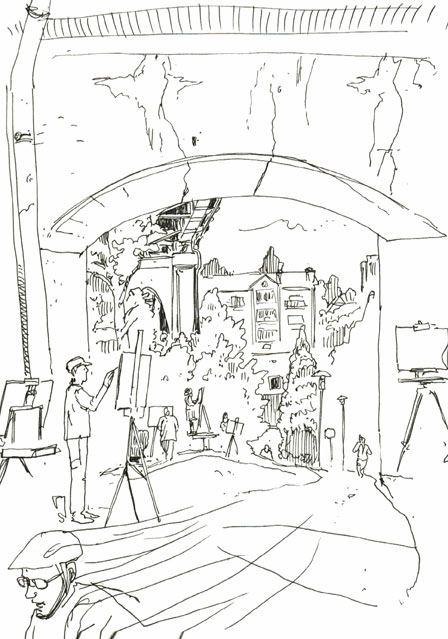 So I follow the path and walk to the Gasworks
Another artist. Meg. A college student waiting for her friends to get off work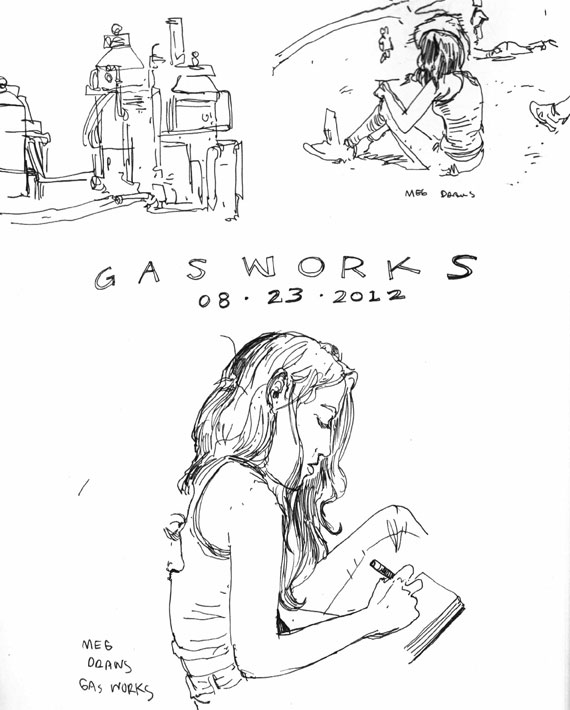 ...and I get another great view of Seattle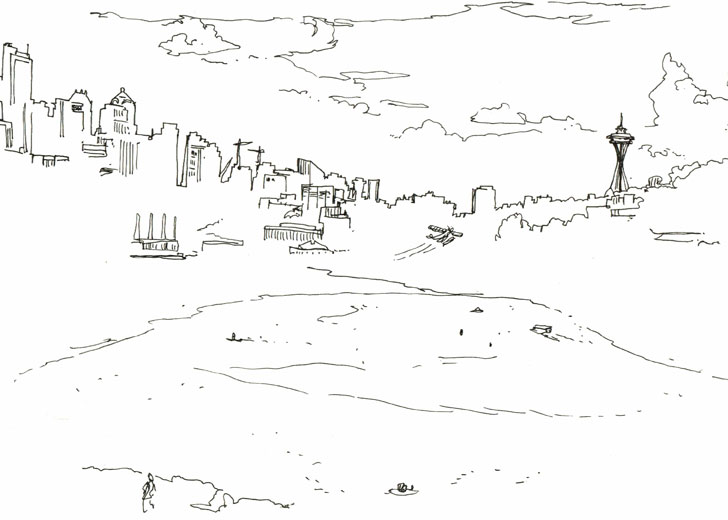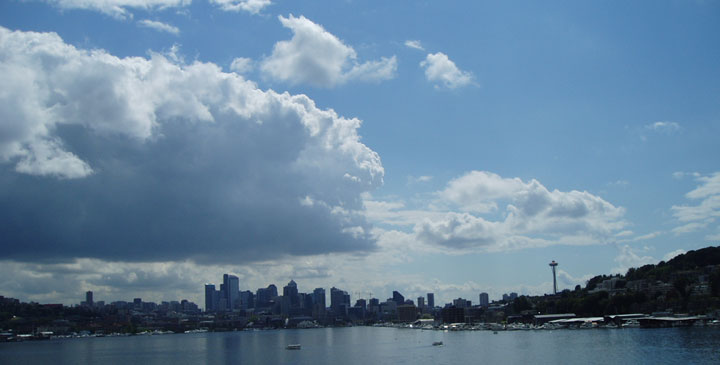 08-22-2012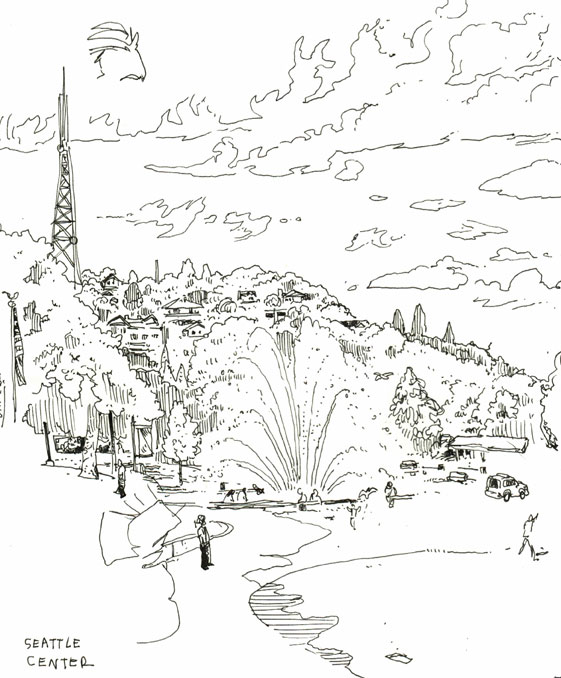 Meet me by the space needle. I'm waiting.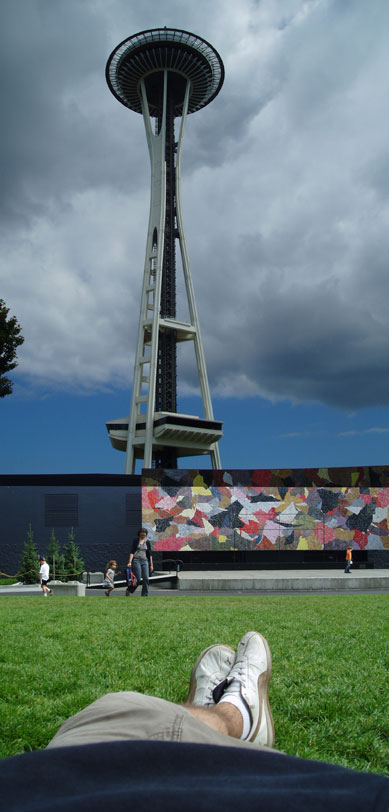 I have a fascination with the Space Needle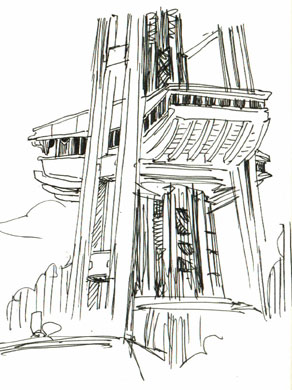 After a quick nap under the Space Needle, I decide that sleeping in the airport tonight isn't such a good idea.
I book a room at Hotel Hotel in Fremont.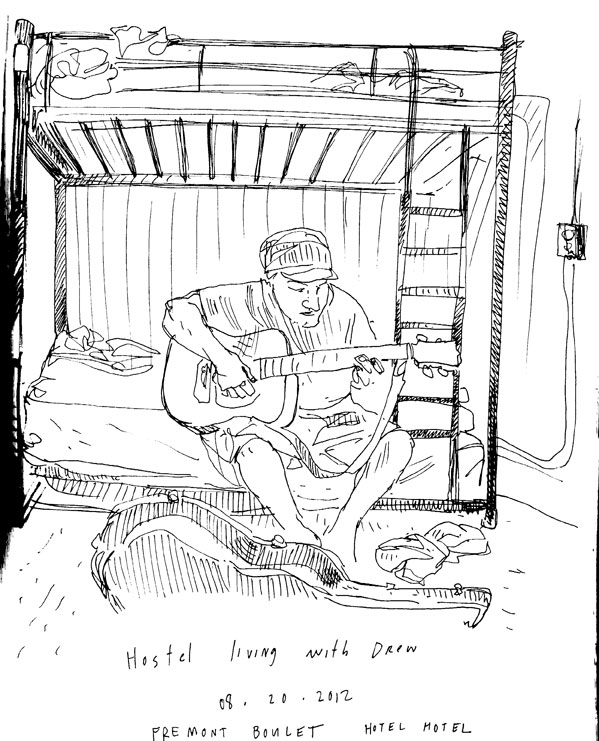 Fremont. A 10 minute bus ride from downtown Seattle. It is peaceful here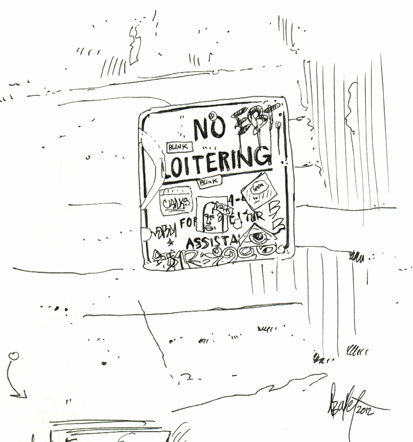 Fremont wandering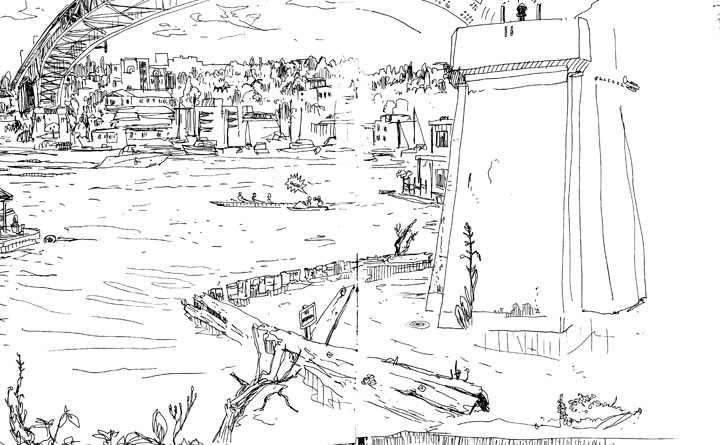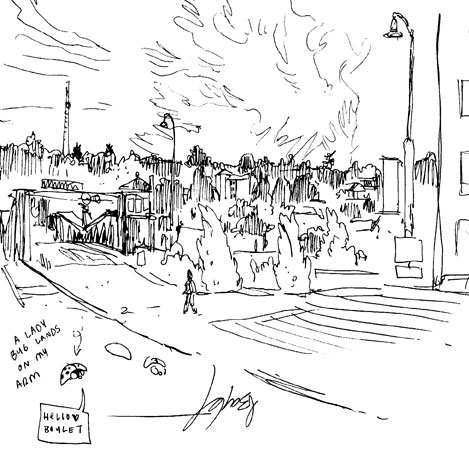 The center of the universe, according to this Fremont rocket. Either way it's pretty cool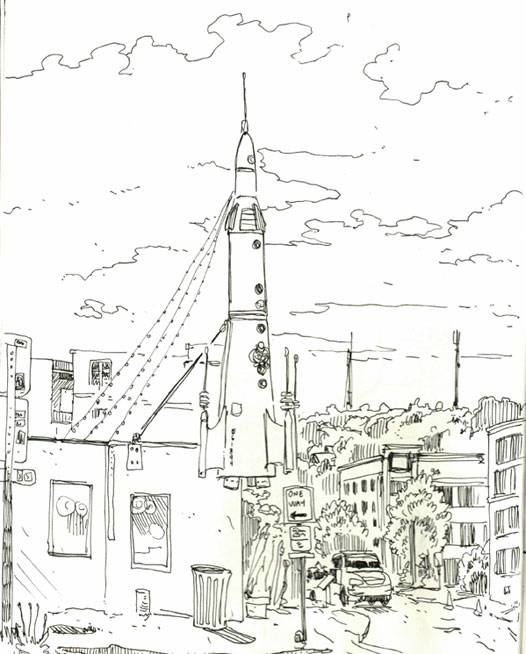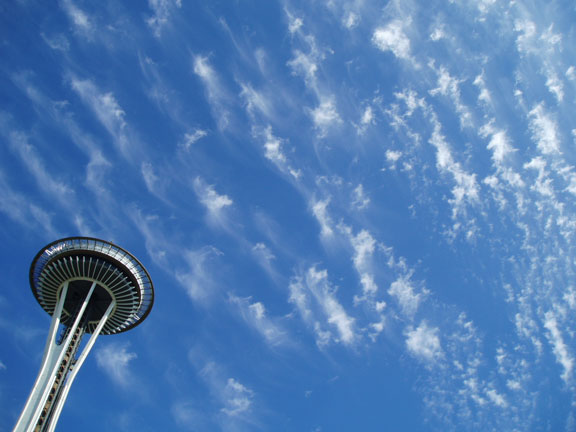 TOUCH DOWN SEATTLE
08-16-2012
The Light Rail takes me to my hostel. I booked the hostel in the airport before leaving.
I'm doing this trip no reservations. Will it bite me in the butt? Most likely, but it
should be fun. Follow along.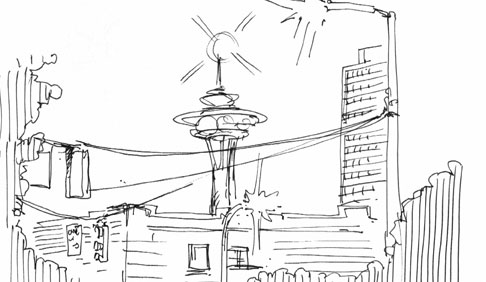 I'm here for
SEATTLE HEMPFEST 2012
Don't get there too early, or you'll be waiting in this line. Oh, well, new friends, smoking buddies, and a beach ball
makes it way around.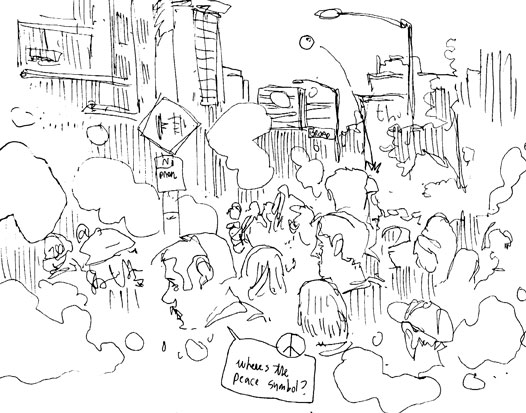 Seattle Hempfest spans three waterfront parks. Centennial, Myrtle Edwards, and Olympic Sculpture Park. It's big,
and they say it's the biggest But don't take my word for it. Look at these drawings.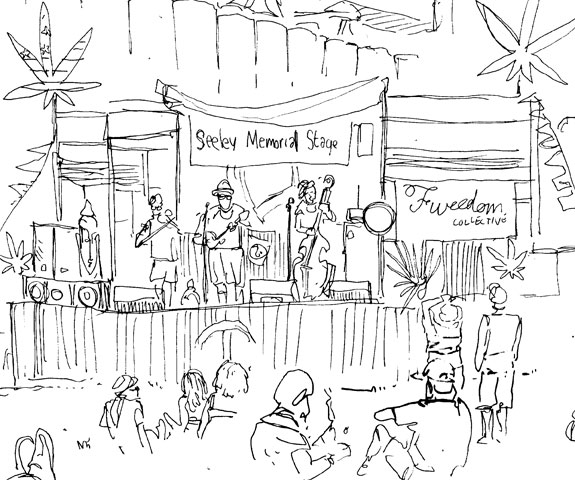 2 of 5 stages.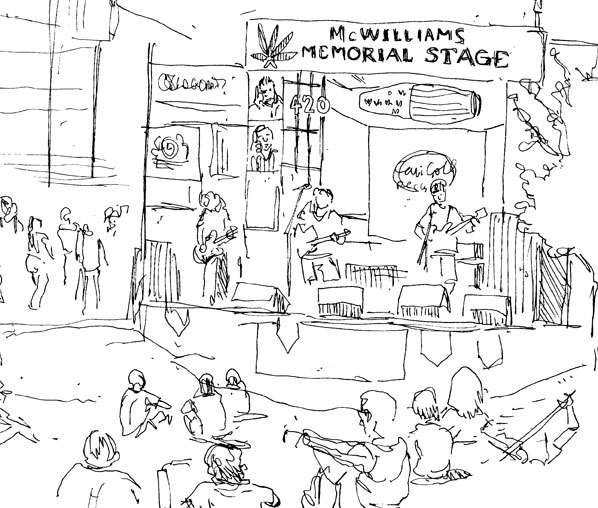 MAKO
He comes up to me and tells me he is an artist and wants to draw, but doesn't have
anything. I always carry my blackbook so I bust it out and he sketches me as I draw the main stage.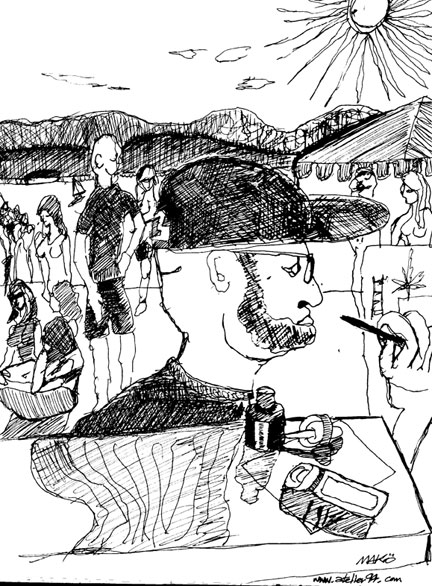 So I draw him.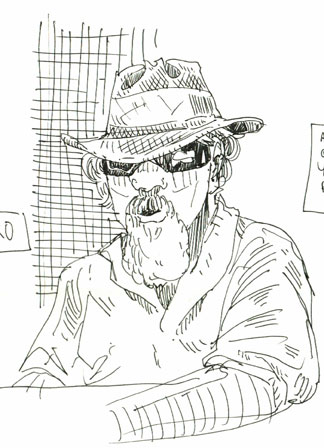 Night falls on Hempfest and I sketch Puget Sound's sea life.
Since I still don't have a place to stay, a friend lets me crash at his hotel.
We grab a taxi to take us to the Light Rail.
You know how in the movies you have those crazy cabbies that run lights and drives INSANE?
Never have I had a cab ride like this one. It was straight out of one of those movies. The only
thing he didn't do was drive on the sidewalk. I laugh as he cuts people off,
blares the horn, shouting, and I wished this ride had been just a little bit longer.
At the Light Rail
I get yelled at as I try to cross the street to ask directions. The way the security guard screamed I thought I was about to step
on the third rail. I saw the sign later.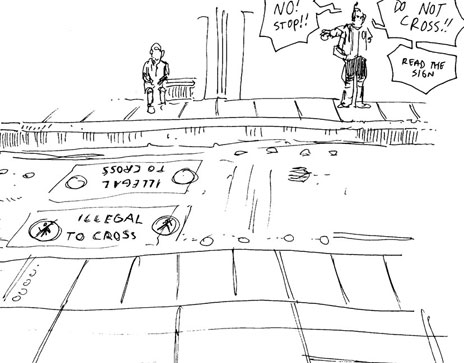 We go back to the hotel room and blaze like there is no tomorrow, but there is.
DAY TWO
Out front of Hempfest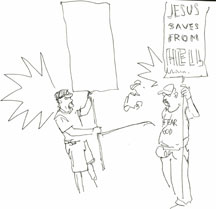 The two above yelled and argued with anyone who approached them. I couldn't help but
feel that maybe they got the message wrong.
It's about love, right?
LEGALIZE MARIJUANA?
The panel below discusses. The Hemposium, where many lectures were held.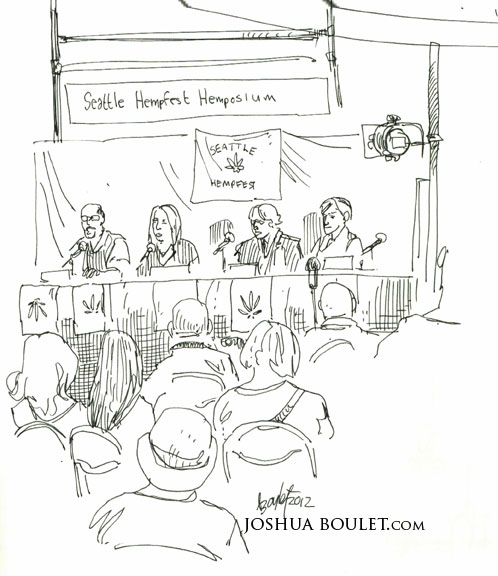 I mostly work on the main drawing today and visit vendors. I pick up a few more things
for friends back home.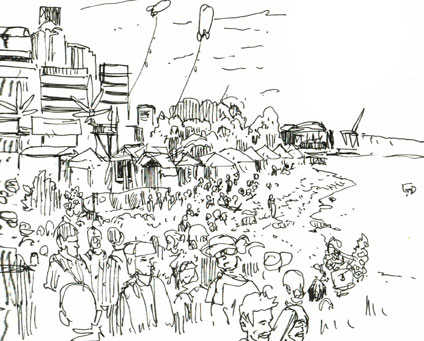 Another Puget Sound night.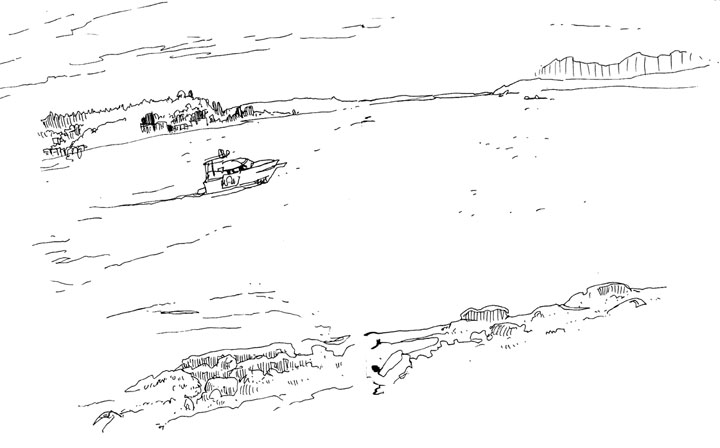 KICKED OUT OF THE HOTEL 8-18-2012

Why? Well I'm at Hempfest what do you think it was for? My friend comes back in the room and tells me "because of the
OVER whelming smell of marijuana smoke.&quot
"Are you serious!?"
We scramble to find a hotel, motel, or hostel, but because of Hempfest everything is sold out or starting out at
$400. That's even for the cheap ones, like the one we just got kicked out of.
Maybe bad karma falls on the hotel as they sends us on our way- to the airport, for a roof over our head and a cold hard floor to sleep on.
Eh, I'm alive, it could always be worse.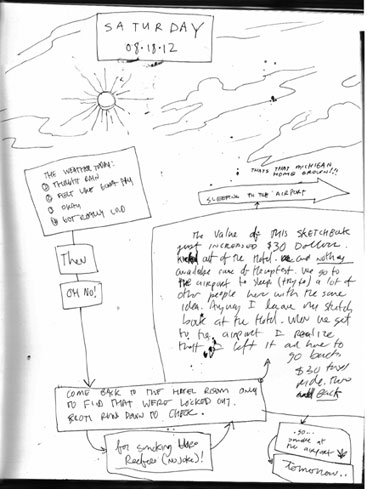 (A Scan of the notes on the night.)
3:43 am
I am awoken by an Alaskan Indian Chief playing the Transcendent Double Flute. He serenades me back to sleep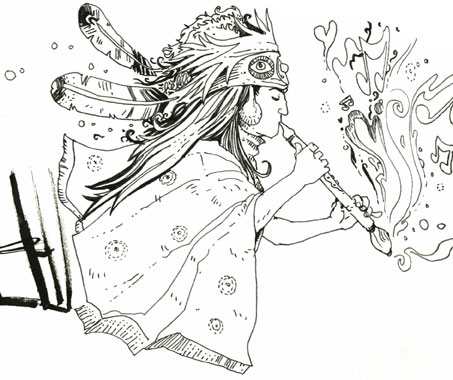 The airport gets real busy around 5am. We leave, grab some breakfast, and get to HempFest early. Its the last day
I get gifts for friends and do some final drawings.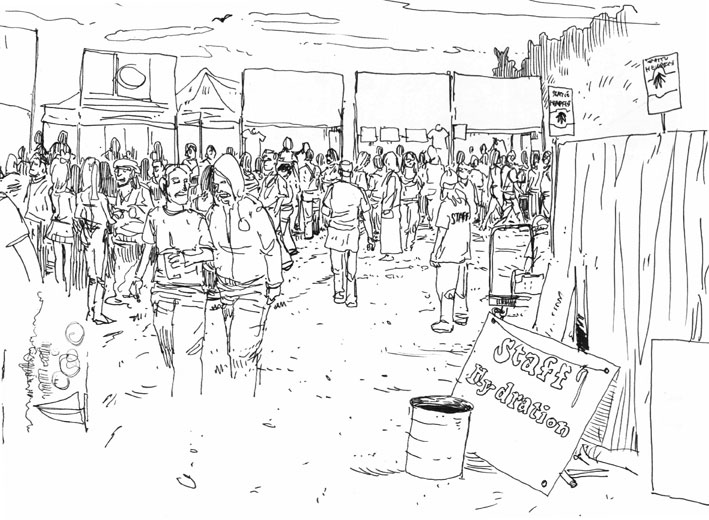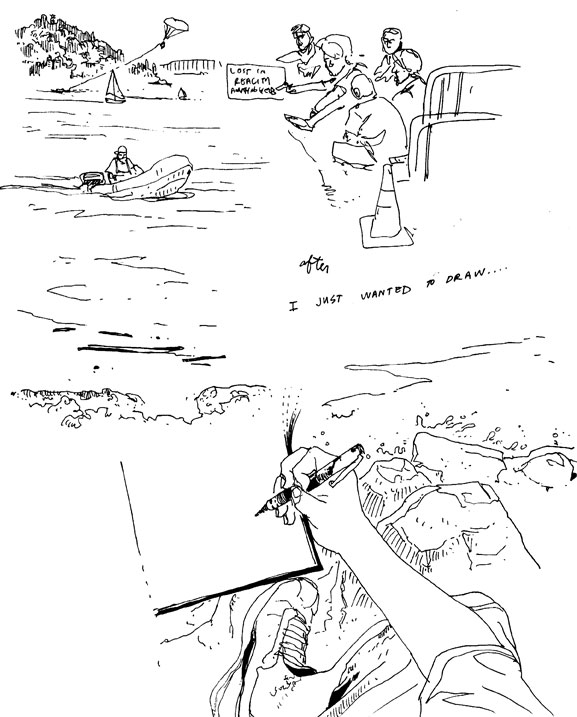 My main drawing for the Seattle Hempfest 2012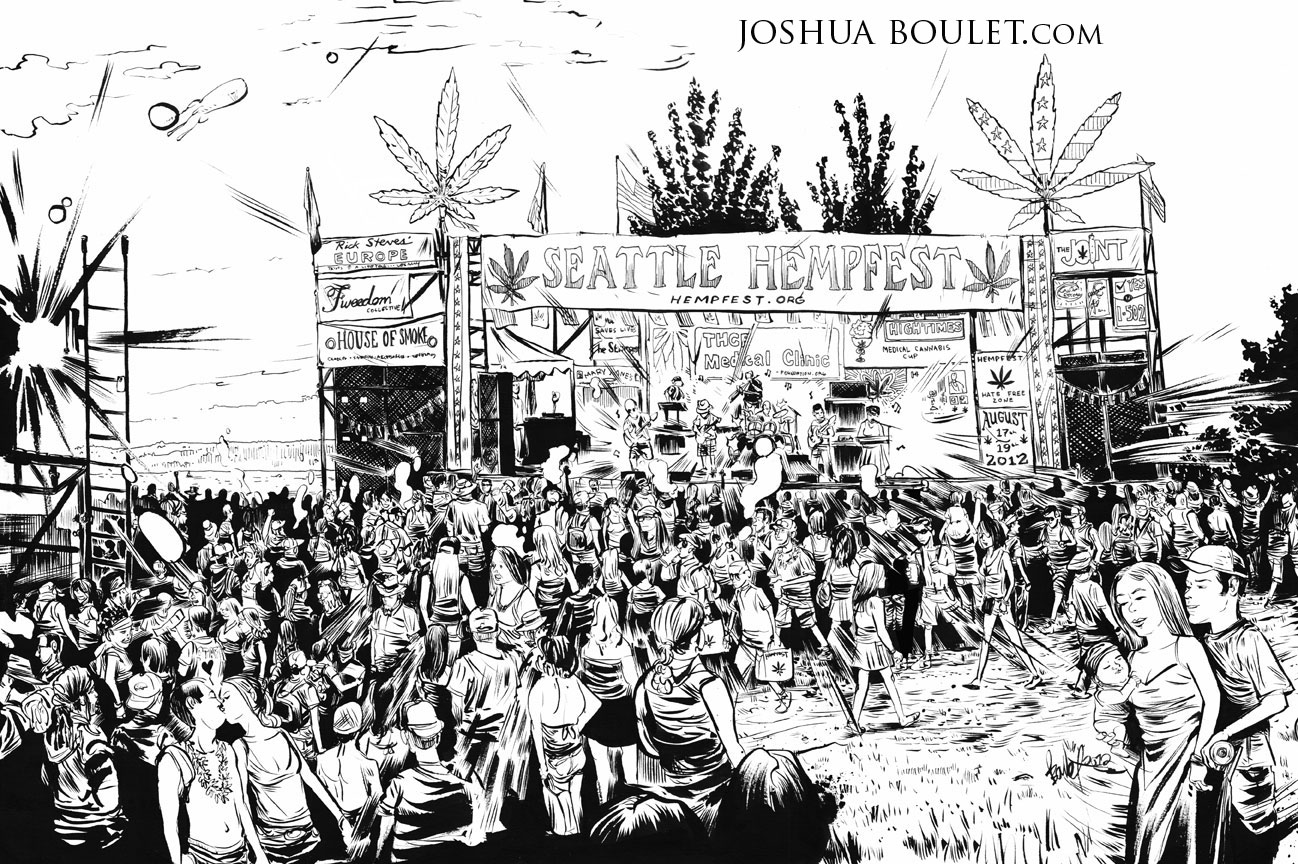 It takes me all three days of smoking weed and drawing to complete this, but I felt it was worth it.
I walk to the end of the park for the last time, and fall in love with the DJ.
She jams, and sings to the records she spins.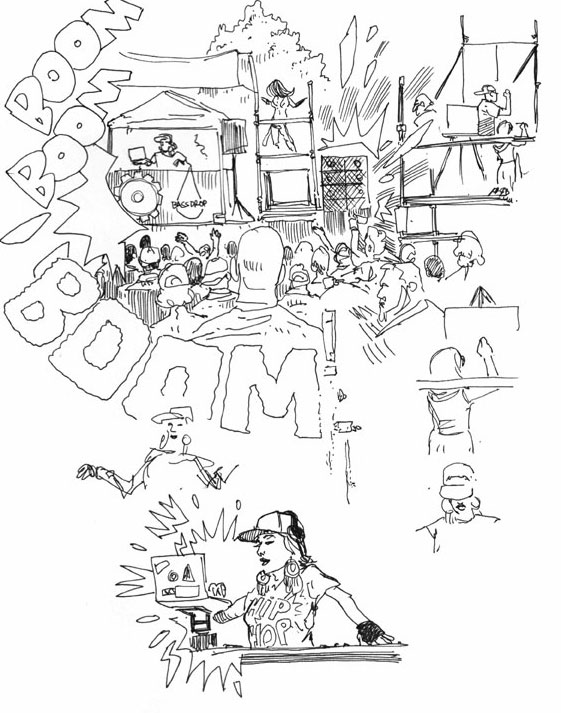 See ya next year Hempfest. Now the Seattle adventure begins....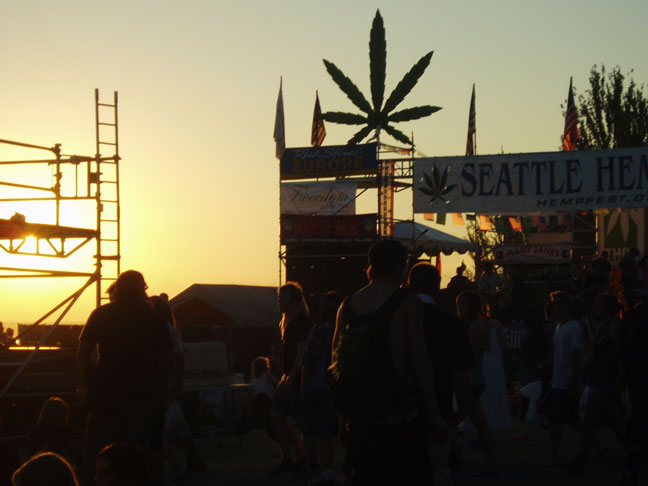 Boulet's adventures in the year of our world 2013